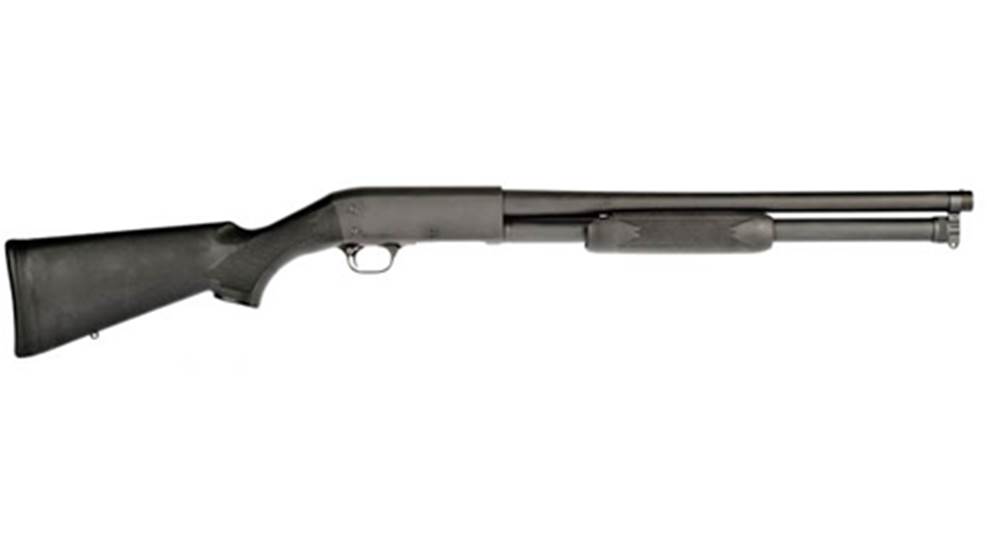 The original, wood-stocked version of this self-defense shotgun was introduced in 1937, although its roots stretch back to a John Moses Browning-designed shotgun so effective in the trenches of World War I that the Germans wanted it outlawed. At the time, someone called that shotgun a "trench sweeper," probably one of our doughboys who know the quickest way to tidy up the other side of no man's land was to use a 12 gauge.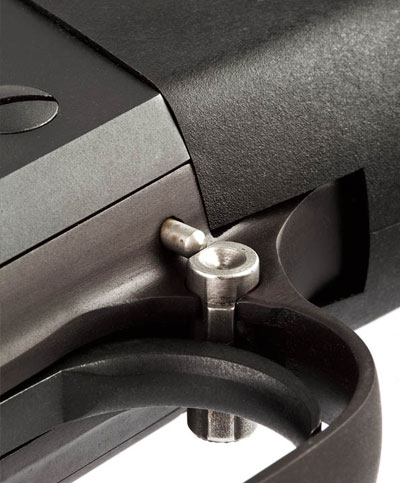 The wood-stocked Model 37 continued that heritage, with wartime service in World War II and Vietnam, where it not only survived, but thrived. It may be old school in appearance—even with the polymer furniture—but the sleek lines and performance are timeless.
The Ithaca Model 37 also has some features that may make it ideal for your home-defense situation. For example, spent shotshells eject from the bottom of the receiver. If you're going to be on the move, it could produce a rather slippery situation, but in home-defense, the first rule of thumb is to bunker down and wait for authorities—not to launch a search-and-destroy mission.
With bottom ejection, the ability to run the gun with either hand is a decided advantage. Even if you're not clearing rooms after three home invaders strike, consider the moves you must make to secure your safe-room door, under stress and with the threat of incoming fire.
Obviously, you'll use drywall to hide your movement as you make your way to the door. But, if the hinges are on the right and you're approaching from the right, southpaw shooters have an edge. If the hinges are on the right, and you're using drywall to the left for cover, with the Model 37 you can transition as needed to minimize exposure and maximize your ability—if needed—to deliver a fight-ending, 12-gauge payload. You'll be moving fast, but under concealement.
A bottom port also has a tendency to collect slightly less dirt, and for a gun that may sit patiently for months, waiting to be deployed, that's also a good thing.
Reloads are more traditional, also through the bottom of the receiver. That brings up what may be the only drawback to the battle-proven Model 37 Defense, because grappling with a stoppage may require inverting the shotgun, not just turning it on its side.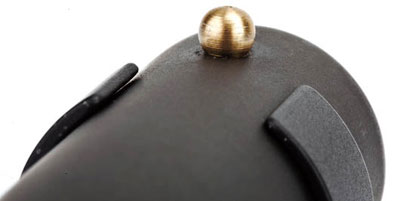 After testing the Model 37 Defense, I'm glad Ithaca Gun Company has held on to its rich gunmaking history. Ithaca was originally founded in 1883 in western New York, specializing at first in classic side-by-side shotguns. Some of the guns produced during the company's infancy were favored by Annie Oakley—who knew a thing or two about guns. In 1916, Lefever Arms Company, which introduced the first hammerless shotgun, became part of Ithaca.
The company changed hands several times, including in 1967, 1987, 1995 and 2005, when it relocated from western New York to Sandusky, OH, and finally in 2007. The turnover, in part, was due to the challenges of keeping up with modern, cost-effective manufacturing.
A good example is found in the Model 37's rugged, battle-proven receiver. It starts life as a single block of steel. In the past, that meant it would be processed by hand and no two receivers were identical, so hand-fitting and assembly were also a manpower drain.
Today, Ithaca Gun Company employs state-of-the-art CNC machinery to turn out Model 37s at space-age tolerances that rival Oakley's legendary accuracy. Since the new ownership took over assets and operations in 2007, modern equipment and manufacturing techniques have been harnessed to improve the lengedary design.
This bears mentioning when we're talking about a company whose customers also included John Philip Sousa: All Ithaca guns are built in the United States, using parts exclusively produced here. Some claim the Model 37 is composed of the fewest parts of any currently produced shotgun. I can't verify that claim, but I do know its rugged simplicy is a thing of beauty.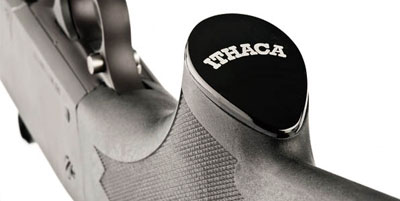 The manual of arms is straightforward on the Model 37 Defense, as it needed to be when cleaning an otherwise dirty trench. The safety is at the rear of the triggerguard. Finding it in the dark is intuitive and will be familiar for most shooters.
To release the bolt and pump the slide, a lever at the top front (right-hand side) of the trigger guard is depressed. If a right-handed shooter has practiced and developed the muscle memory enough that their trigger finger is always horizontal along the receiver until it's time to shoot, finding it will be natural. As for left handers, a slight modification of your manual of arms will be necessary.
The Model 37 Defense has a 3-inch chamber, so it also handles 23⁄4-inch shotshells. Barrel length is 20 inches and Ithaca Gun Company uses a solderless barrel system, because "soldering warps the barrel and solder joints can fail," according to the company website.
With fixed-cylinder constriction, I expected a little more dispersion from the Hornady 00 Tap FPD load during testing. I used VisiColor targets, which I admit are a little more brittle than standard paper targets, but at 7 yards, five times in a row, 1- to 2-inch single holes were the result. Yes, you could see the rounded edges of single pellets along the edges, but at room distances with this shotgun and load, if you don't aim, you miss.
I was also a little concerned about that gold bead for a front sight. But even in extremely low light, the finish reflects a nice corona that quickened my ability to get a good sight picture. The receiver is tapped for the addition of aftermarket sights, a nice touch. I didn't have any problem delivering fight-ending shots on 6-inch circles using the existing sights.
A synthetic stock modernizes the gun's looks and a Pachmayr Decelerator pad helps tame recoil. I wouldn't be signing up for any extended training session with this light of a gun and buckshot, though. OK, maybe I would because it's cool to pile up spent shotshells at your feet.
Length of pull is 14 inches. Drop at comb is 1.375 inches and drop at heel is 2 inches. The gun came up naturally and pointed well during testing. The 20-inch barrel seemed a little slow, but since you get a 7+1 capacity, it's a decent trade-off.
Should today's self-defense shooter consider a gun that served well in Vietnam and World War II? There are reasons it served well—the same reasons it's a viable home-defense option. It's simple to operate, it can deliver fight-stopping firepower and fewer parts means there's less to break or malfunction.
Manufacturer: Ithaca Gun Company; (877) 648-4222, www.ithacagun.com
Action Type: Pump
Gauge: 12 gauge, 3-inch chamber
Capacity: 7+1
Receiver: Machined from a solid block of stainless steel
Barrel Length: 20 inches
Constriction: Cylinder
Finish: Matte blue
Trigger Pull Weight: 6 pounds, 12 ounces
Sights: Gold-bead front sight; ramp tapped for mounting optics
Stock: Polymer
Length: 39.5 inches
Weight: 7.1 pounds
Accessories: Owner's manual
MSRP: $519