Trends come and go in all industries. One need look no further than the fashion industry—take bell-bottom jeans and polo shirts with "popped" collars—to realize what's cool today might be out of favor tomorrow. The firearms and related accessories industry is not immune from such trends and fashion. From "tacticool" black and olive drab to coyote tan, color schemes seem to run in cycles just like everyday clothing, kitchens and automobiles. Black is still the reigning king, of course—most urban police squads have a SWAT or special operations team that dons the ninja-colored garb when duty calls—but we've seen different color schemes come and go as the flavor of the month, all to be supplanted by the next big thing.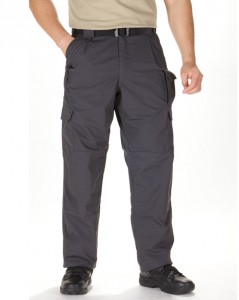 When it comes to our accessories, we all want to be a little bit different. Offering a new variant of an existing product that makes it stand out from the pack is a marketing staple. With the AR-15, it is only natural that "new" accessories—even if they are just the same thing in a different color—should enjoy such favor as we search for the ultimate in customization. Having a twist for an existing item, like a sharp new color scheme, is certainly one way to make a company stand out in the field.
With that in mind, it sure seems like gray is the new black. Talking to folks in the industry who manufacture and market a variety of products, from accessories like stocks, fore-ends and pistol grips to clothing and other gear, it appears gray—in predominantly darker hues—is today's hot tactical color. 5.11 Tactical has lightweight TacLite Pro pants in "charcoal," a darker gray, and RECON shorts in "scorched earth." Where a few years ago you could get any color as long as you wanted black or khaki, now it seems tactical clothing comes in nearly as many shades as the latest offerings from LL Bean. Using the TacLite series as an example, there are currently seven different colors available.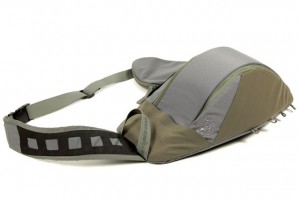 Blue Force Gear recently came out with a new line it calls Urban Wolf in its "Wolf Grey" color. It is designed for urban environments, with the gray color chosen to blend in with everyday life in the concrete jungle. Among the products offered in the new color are its SPLITminus chest rig and Hive Satchel discreet shoulder bag. Urban Wolf is aimed at security and law enforcement, and as in many areas of gear and accessories, what is new and exciting for those in the field often translates to interest in the civilian market. In much the same manner that a new running shoe might benefit from being the chosen supplier of professional athletes, the tactical gear favored by professionals in the field enjoys similar popularity in the civilian market.
ATI has added gray to its line of shotgun and AR-15 stocks and fore-ends. The company's designated gray color is called "Destroyer Gray," and is on the lighter side of the spectrum. Stocks and pistol grips for AR-15s and AK-47s use this light gray as more of an accent color, but the company's shotgun stocks and forends are produced entirely in the new gray. It seems everywhere you look there's a custom accessory in the new flavor.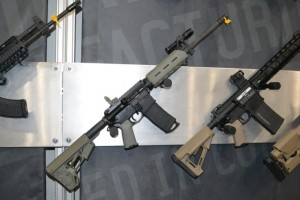 Magpul has not one, but two different shades of gray available in its lineup on products like its MOE handguards and ACS buttstock, among many others. With everything Magpul has on its plate—being one of the premier suppliers of magazines, stocks and other accessories for the AR-15, as well as orchestrating a move of the company's production facility—one could forgive it for passing on the latest in trends. As a sign of the emerging popularity of gray, Magpul was willing to devote precious time and effort into researching and developing a strategy for bringing this color to market. If Magpul is willing to devote so much to this new effort, it's bound to have staying power.
Other accessory manufacturers have plans in place to add gray-hued items to their offerings, too, but none would commit to a specific timeline. One manufacturing insider, who asked to be left unnamed, has been pitching gray accessories as the "latest and greatest" to its internal R&D staff for several months. Due to extremely high demand for current inventory, though, the company hasn't had time to add any new items. This was a recurring theme at the NRA Annual Meetings & Exhibits in Houston in May—companies were so busy simply trying to meet current demand, new products were scarcer than usual.
Even with demand as high as it has been, we're still pulled in by the allure of something new and different. Right now that something might take the form of a new shade of stock, or a new color in the tactical-pants lineup. Gray certainly seems to be the flavor of the day, enjoying its moment in the sun as the new hotness. There will almost certainly be new colors, shades and twists down the road—at least zombie green seems to be fading in the rearview mirror—but for now, if you're looking for the "in" thing, it's going to be in shades of gray.