At SHOT Show 2016, 5.11 Tactical rocked the range world by introducing range leggings for women to wear while shooting.

"A lot of people actually thought it was a joke," said Tiffany Yerby Dillon, director of design at 5.11. People asked 'Are you serious?' It took the whole athleisure concept to a new level."

At the 2017 show, the good stuff for women shooters kept on coming.
A little history lesson before we reveal pieces from the new and noteworthy line. It's helpful to recall that 5.11 Tactical started as a uniform company for law enforcement and military, and branched out to enthusiasts in the shooting sports. Yerby Dillon began her career at Royal Robbins, an outdoor and travel clothing company that designed a best-seller duty pant. When her boss moved from Royal Robbins to 5.11, he convinced her to make the move as well. Yerby Dillon, along with a support team of mostly women, is one of the main reasons for this new look and super functionality of the line for women who are into the shooting sports.
She said women asked her, "Can you please make stuff that fits us? Don't just take a men's shirt and make it small."

"I thought, I've got to be their voice," Yerby Dillon said. "I've met a lot of women who are competition shooters or regular average persons that might have a CCW permit or who want to get into shooting or who just do it for fun… so we've taken a lot of information from those women and become friends with them. A lot of our wear testers are either instructors or competition shooters or actually in law enforcement. We supply apparel that they want to wear and look good in. You don't want to look like your husband or boyfriend when you're on the range."
With extensive wear testing in force, it can take up to 18 months from start to finish. Let's look at new and noteworthy designs.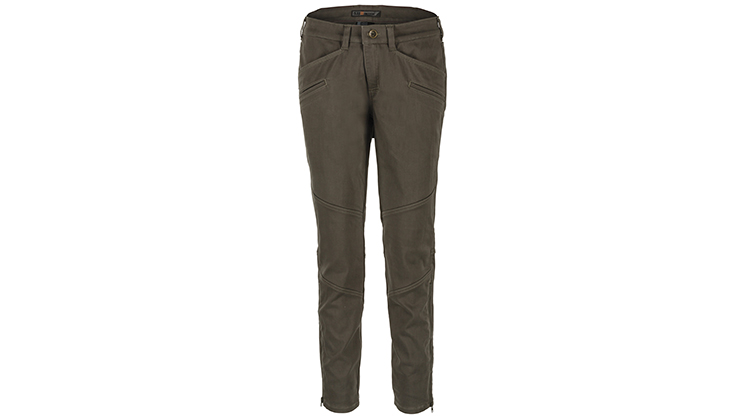 Wyldcat Tactical Pants
"It's the trend," Yerby Dillon said, pointing back to the athleisure concept. "A lot of folks want to wear something that's fashionable that functions all day long."
Enter, the company's new Wyldcat range pant – or is it a pair of skinny jeans? Born from the success of the Raven Range pant and input of women 3-gun shooters, this design can be worn skinny or boot cut. Side-zip gussets on the outside of the pants allow users to take them from straight leg pants that easily fit inside boots, to boot-cut. Made of stretch sateen material in a microsand finish, this pant comes with eight pockets. Two welted pockets, along with regular deep pockets in front make four. Two welted pockets (for AR mags if needed) plus two regular size pockets in back add up to eight. I've worn mine to the range a few times, and women have wanted to a) feel the material (I don't ask why) and b) buy these pants. The stretch allows me to bend and kneel while shooting without getting slowed down by fabric restrictions.
The Wyldcat will be available until this summer in black, khaki, blush and green. MSRP: $74.99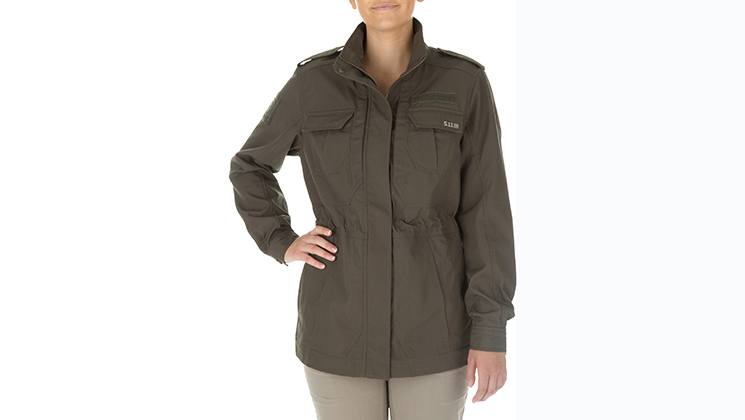 Women's Wovens: TacLite M65 Jacket
"We incorporated stretch into women's wovens so you get movement while you're shooting," Yerby Dillon said.

She loves and wears the new TacLite M65 jacket, a military canvas jacket made of 65 percent polyester and 35 percent cotton with ripstop fabric that is Teflon-treated. Yerby Dillon noted that this jacket is lined with pink satin for a feminine touch. The M65 has been designed with open-entry hand pockets on each side for IWB carry, along with 5.11's hidden document pocket and external cargo pockets. "Little tiny details make it more functional than a regular jacket," added Yerby Dillon. This piece comes in black, tundra and khaki. MSRP: $149.99
I recently wore the Glacier Half-Zip in berry on the range this winter during a Gunsite Academy 250 pistol course. It's tapered, so it didn't flop around the gun belt or mag pouches. Made of 94 percent polyester and 6 percent spandex fleece knit, the pullover kept me warm and comfortable. A full underarm gusset allowed me to move, draw, drop down to the ground and ravine without feeling any flinching from fabric. The zippered chest pocket easily stores a cellphone or car keys. It comes in berry and skyfall (blue). MSRP: $74.99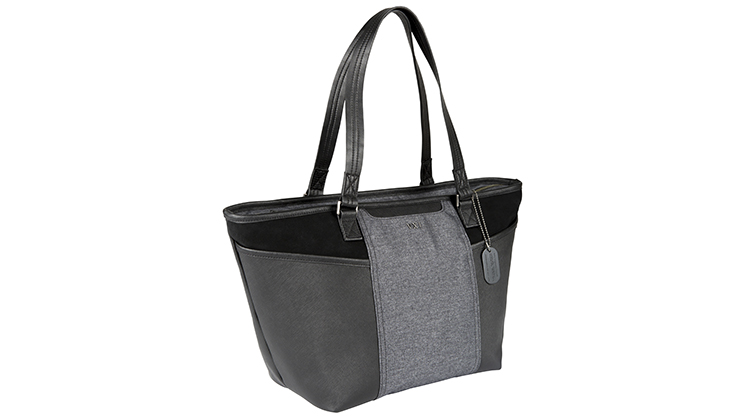 I've been toting around an original Lucy tote bag from 5.11 for two years. It's flown around the country, and is my go-to bag for travel, especially if I plan on carrying concealed at the other end of the trip. "Everybody seems to love that one, and I've had more comments from women saying that they're using this one as their range bag," said Yerby Dillon.
Lucy gets an upgrade this year in leather.
Designed to be an "off-duty CCW bag," the Leather Lucy features an ambidextrous pistol compartment in the front of the bag and two new exterior pockets. Inside, there are more pockets and a generous main compartment. Measuring 11 inches high by 19.5 long and 7.5 inches wide, the bag accommodates the 5.11 TacTec holster and holster pouch, sold separately. MSRP: $204.99
Yerby Dillon says to watch for more bags making debuts this spring. Customers are encouraged to write reviews of the products online.