Over the last decade, the demand for thermal imaging units has surged. Thermal is being adopted by more and more specialized law enforcement units and the military, and that popularity is also reflected in the civilian tactical and hunting markets.
Along with this surge in use and popularity has come a steady improvement in the quality of thermal rifle scopes and handheld monoculars; and while still not inexpensive, these products have experienced steady price decreases even as options and features have increased.
Among the newest thermal rifle scopes is the RICO Mk1 640 3x50mm from iRayUSA, a Texas-based designer and manufacturer of thermal and night vision devices. I recently received and used the Mk1 640 3x50mm and found it to be a very high-quality thermal, as good as any I've used over the last ten years and actually better than most. I was able to shoot some of the more accurate groups with the Mk1 3x50mm that I've ever shot with a thermal rifle scope, and the images were outstanding.  
And, yes, it is expensive, with a suggested retail of $5,999.
Technically speaking, thermal scopes and monoculars are thermal cameras. These cameras detect invisible infrared energy, what we non-scientists usually call "heat," and transform the heat energy into images. Essentially, a thermal camera/scope/monocular takes a rapid series of heat image pictures, which are then transmitted back to the ocular lens or eyepiece.
The new Mk1 640 3x50mm is the newest addition to iRayUSA's RICO Series, and features the company's high-performance iRay Micro II core and an extremely high contrast AMOLED HD display. AMOLED stands for Active Matrix Organic Light Emitting Diodes, and is the type of high definition display used in many smartphones.
RICO takes its image processing one step further with Advanced Image Correction and Automatic Image Optimization courtesy of its MATRIX III Processor. The unit also features picture-in-picture function and a six-hour run time from its rechargeable battery.
An aluminum alloy tube rated at a 1000-G level of shock resistance houses all this hi-tech.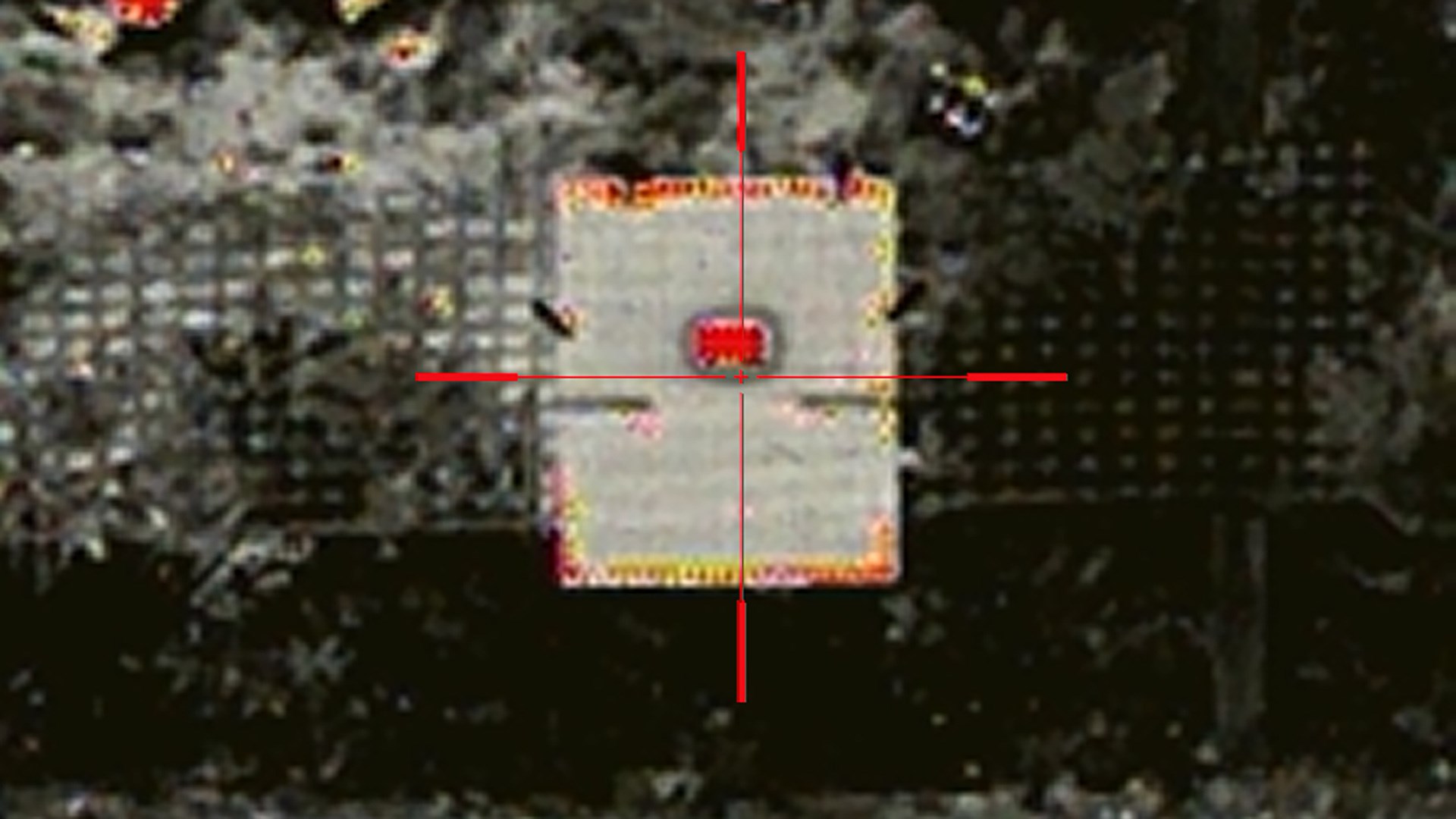 The Mk1 3x50MM is powered via a rechargeable Li-Ion Battery Pack and the unit came with a charger. First step, charge the battery.
The thermal is sold standard with a QD Picatinny/Weaver Mount. iRay also sent along its optional QDM Quick Release Mount (sold separately), and I chose the later with which to mount the Mk1, attaching the QDM device to the bottom of the thermal unit's frame.
I mounted the Mk1 onto an FM-15 AR-style rifle from Foxtrot Mike sold by Brownell's. The rifle featured a forward-placed, non-reciprocating charging handle, and a 16-inch nitride finished barrel chambered in .223 Wylde. The rifle also sported a Magpul Zhukov folding stock, and the rifle itself weighed in at a svelte 6.5 pounds unloaded.
Before I got to my outdoor range, I spent a good hour going over the instruction manual that came with the RICO Mk1 unit. This one can't be stressed enough: use the manual. Know the manual. Be the manual!
Why? As with most thermals, the RICO uses the "Menu" approach to control and adjust the unit. Once the unit it turned on, a shooter presses the "M" button atop the Mk1 and menu choices appear in the eyepiece, including reticle choices, color palettes, (white hot, red hot, etc.) and zeroing functions.
The menus on the RICO are not the most complex ones I've ever used, but they are rather extensive and it took this reviewer a significant amount of time to learn the many options and adjustments.   
At my outdoor range, and during the day, I initially zeroed the rifle and Mk1 at 50 yards, with the magnification set at 6x. For a target heat source, I used a HotHands heat pack taped to a rectangle of clean cardboard. Using the Zeroing Menu, I first set the zeroing distance at 50 yards, and then fired my initial shots. They grouped nicely but hit many inches low and many more inches to the right.
At this point, I access the unit's "Freeze" function, which essentially froze the image of the target along with my first group to the low and right. Then, using the Up and Down buttons, I moved the reticle over and onto the group, pressed and held down the Menu button to save the reticle position, and exited back to the home screen.
The Mk1 was now zeroed for that distance, which I proved by shooting five shots into the HotHands center that measured just under one inch, with three of those shots clustering at just .40-inches.
At 100 yards, my shots were off the bullseye by several inches, so I went back into the Zeroing Menu, changed the zeroing distance and did another freeze. Once zeroed for this distance, I shot off several four and five shot groups. My best four shots came in at .90-inches, my worst five shots at 1.5-inches, and with an overall average of groups at 1.20 inches.
During all my shooting, I used Federal Premium's American Eagle MSR ammunition in 5.56 NATO, launching a 55-grain FMJ bullet.
Next, I used the Mk1 as a handheld unit to take photos and video. I found a perfect place to observe people and animals: a raised platform at the end of a pond, the pond area  frequented by nature lovers. The platform also stood near the high fence of our local zoo.
I got onto the platform before dark and ranged my various landmarks and the zoo's deer and elk wandering around behind the fence. Distances varied from 420 yards to just over 80 yards.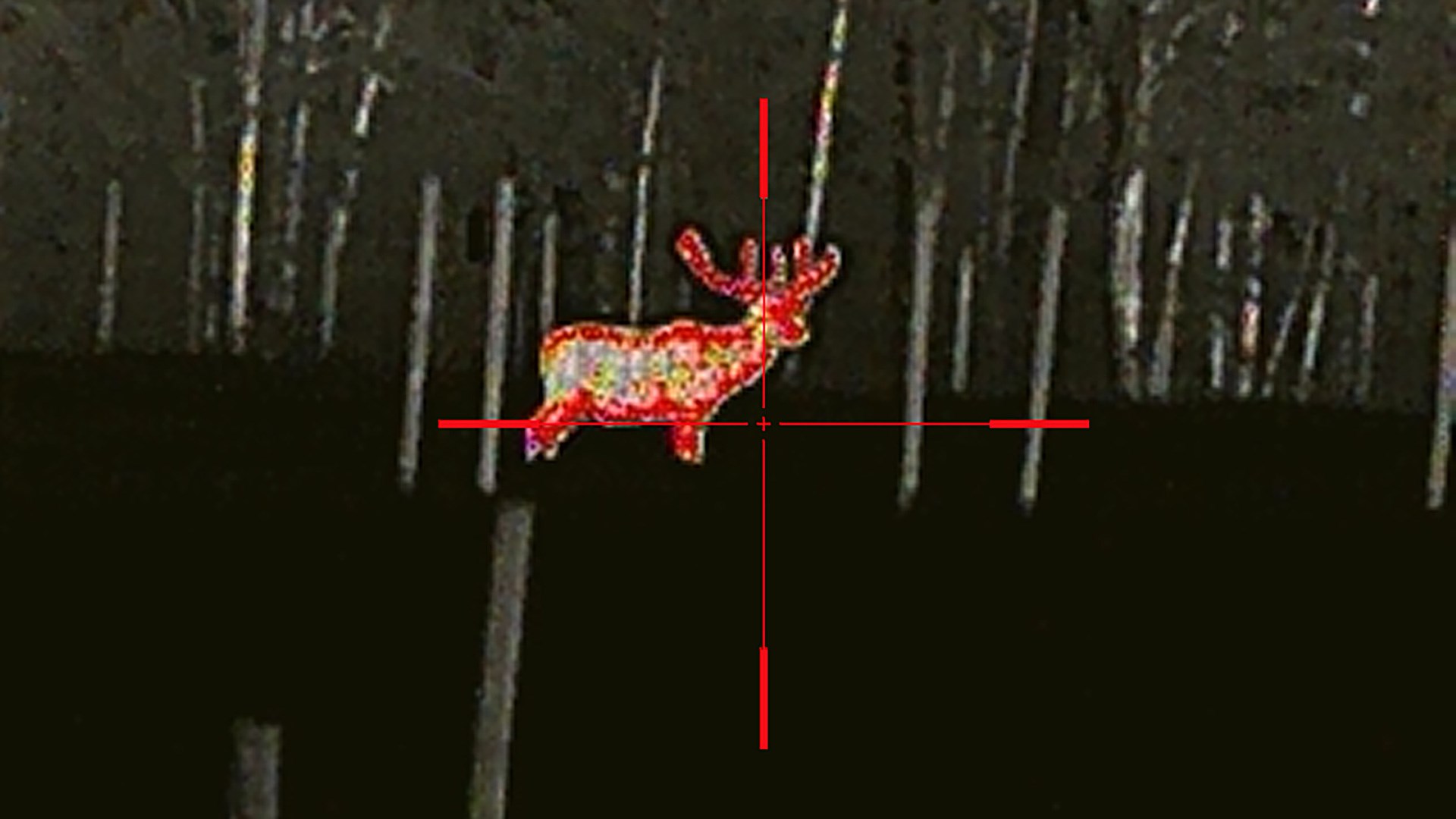 The images I saw and photographed were really amazing. I spotted, for example, a couple heading from their vehicle to the pond at approximately 220 yards and ending at pond's edge at 170 yards. Not only were they clearly a male and female, the male's heat imaging revealed he was only wearing a pair of shorts, his legs and upper body radiating more heat than his shorts-covered waist area.
I tracked geese flying a couple hundred yards overhead and heading past me, elk and deer at 100 yards, and ducks bobbing on pond water nearly four football fields away.
Given that overall image quality and the accuracy possible, the RICO Mk1 640 50mm is  one of the best thermal rifle scopes I've used in the last decade. While the $5,999 suggested retail isn't pocket change, that price actually puts the RICO at just above the mid-point price for thermal scopes--and many thousands less than supposedly higher end thermal scopes I've used.
Specifications: RICO SERIES Mk1 640 50mm Mk1 384 42mm
Sensor Resolution: 640x480
Pixel Size: 12 μm
Framerate: 50 hz
Image Processing: MATRIX III Core iRay Micro II 640
Objective Lens: 50 mm
Magnification: 2X, 3X, 4X Digital Zoom
Detection Range: 2400 Yards
Display Type: AMOLED
Display Resolution: 1024x768
Imaging Modes: White Hot, Black Hot, Red Hot, Highlight
Reticle Types: 7
Reticle Colors: Black, White, Red, Green
Mounting System Included: Picatinny STD-1913 rail
Size: 9.84×2.40×2.28 inches
Weight: 29.63 ounces
Operation Temp: -4 to 122 degrees Fahrenheit
Max. Recoil: 300 Win. Mag/7mm Rem. Mag.
Misc: Onboard Photo (JPEG format) and MP4 Video Recording, Power Supply of one (1) Li-Ion Battery Pack, 6 hours run time, rechargeable and charger included.
MSRP for the RICO MK1 640 3x50mm thermal scope is $5,999, and more information and this product and other products from iRayUSA can be found at irayusa.com.