Support NRA Shooting Illustrated
DONATE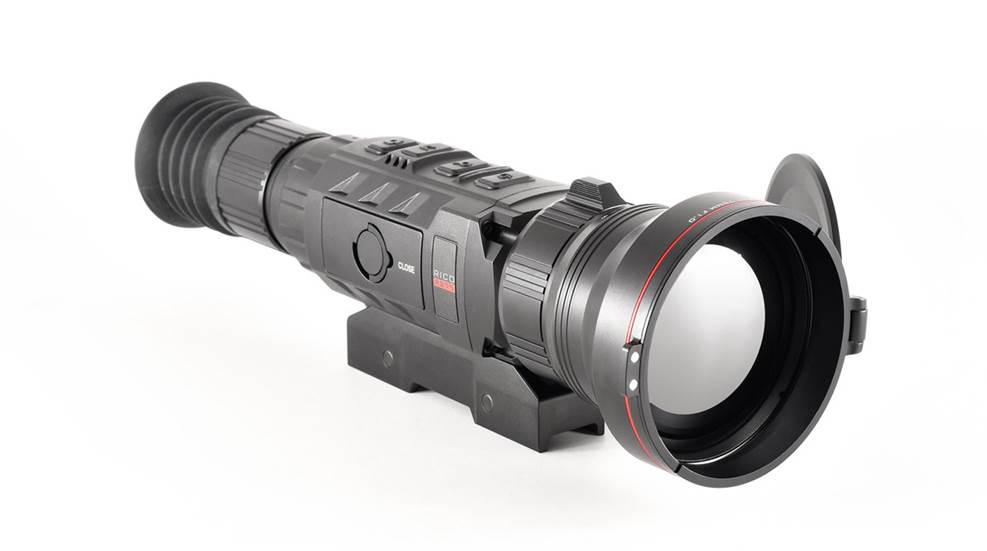 iRayUSA, a north Texas based manufacturer and distributor of night vision and thermal optics devices is announcing its release of the first commercially available 1280x1024 resolution thermal firearm sight, the RICO HD RS75. RICO is an acronym for "rugged infrared combat optic), and the sight is laid out and has controls that are similar to iRayUSA's RICO Mk1 optic.
"It has taken more than 10 years for something to change night hunting like this," stated Angelo Brewer, Director of Operations, iRayUSA. "This jump to 1280 resolution allows for double the field of view, double the detection range, or a combination of both. InfiRay's self-developed, groundbreaking sensor technology has resulted in a thermal scope that can truly do it all," added Brewer. iRayUSA ensured this optic was rugged enough to be used confidently in all night hunting conditions, as it is can handle recoil for firearms of up to the 7mm Remington Magnum caliber. The RICO HD RS75's mount is also designed to mitigate recoil while its ingress protection rating is IP67.
The RICO HD RS75 offers approximately four times the resolution of current 640x512 thermal devices. In addition to this, the RICO HD RS75 boasts a 12-degree horizontal field of view along with a 3,600 yard detection range. With these attributes and a total of 1,310,720 pixels, there are no other comparable thermal optics currently on the market. The RICO HD RS75's eyepiece offers edge to edge image clarity when paired with its 2560x2560 1.03-inch AMOLED micro display. This thermal optic has the capability to record audio and video and includes 128gb of internal storage space.  
The RICO HD RS75 retails for $17,999 and will begin to ship shortly in October of 2022 through select iRayUSA dealers. This thermal optic, like all other iRayUSA products includes a five year warranty with a one week turn around time. For more comprehensive information on the RICO HD RS75 or more information about iRayUSA and its products, please visit their website at irayusa.com.