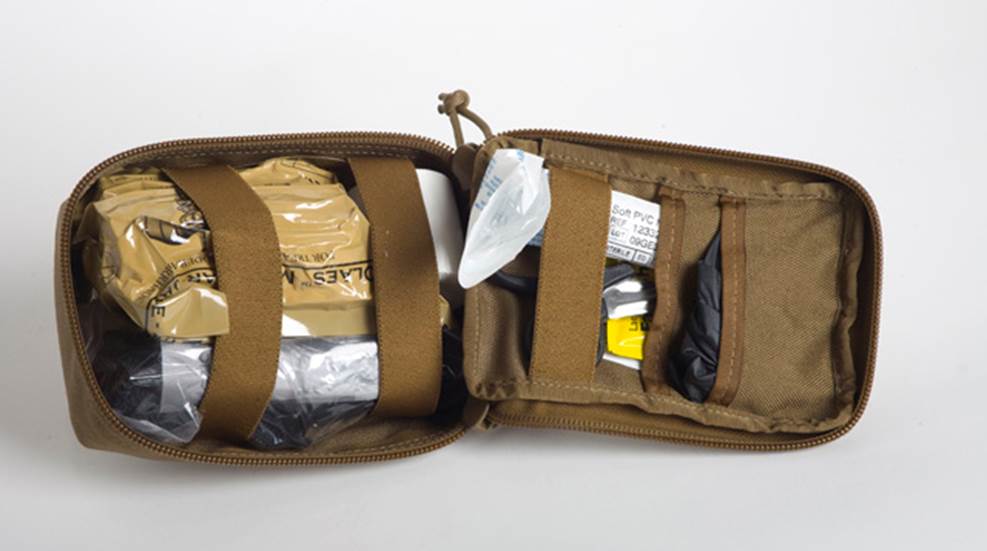 As rare as it may be, any of us can suffer a medical emergency at the range.
Accidents, assaults or event the very rare catastrophic failure of firearms or cartridges can leave a shooter broken and bleeding.
In each of these instances, a simple medical kit optimized to stop bleeding can mean the difference between a trip to the hospital and a trip to the morgue. Do you have the right kind of equipment on hand to provide first aid until the paramedics arrive?
Individual first-aid kits (IFAKs) continue to evolve. Most were originally designed for Soldiers to treat battlefield trauma at or soon after the moment of wounding. Military-grade IFAKs can be found just about anywhere these days, from eBay to Amazon.com to sporting goods and military surplus stores, but what do we actually need, and how much training does it take to save a life?
R. Allen Hester, director of research and development for Tactical Medical Solutions, gives a enthusiastic "Yes!" to the idea of civilians carrying IFAKs, noting, "We have received many testimonials from range owners and recreational shooters that have used our equipment to treat and stabilize victims of accidental shootings until the casualty could be evacuated, generally after extended times due to distance from facilities."
Former Navy SEAL medic Chris Heben is also big on the idea. In addition to his time in the service as a medic, Heben went on to become a physician's assistant in civilian life and became the co-founder of Medical Security International (MSI), which specializes in trauma-related medical care and training geared for law enforcement, the military and industrial safety.
I asked him the same question I asked Hester: Should civilian shooters consider carrying an IFAK?
"Absolutely," he said. "92 percent of wounds in combat are extremities... guys bleed out." He also pointed out that with more than 4 million Americans on blood thinners, hemorrhage control kits are a smart idea anywhere people gather, whether at is a shooting range or in a workplace.
In the event of a wound producing moderate to severe bleeding, a properly stocked IFAK and someone with minimal training can keep the victim alive until professional medical care arrives.
The problem with IFAKs is they come in a bewildering number of sizes, shapes and price points. Heben helped me cut through the confusion to focus on the essential elements so you can purchase a prepared kit or create your own IFAK.
A basic bleeding-control kit can use as few as three simple items.
Self-adhering compression bandage
bleeding-control gauze
tactical tourniquet
Each of these items can play a vital roll in slowing or stopping blood loss from moderate to severe injuries prior to paramedics arriving on scene.
Self-Adhering Compression Bandage
Compression bandages are designed to be directly applied to the wound, slowing blood loss and allowing the body time to start clotting and stop the bleeding. They can be used alone on moderate injuries to control bleeding on the extremities or to hold hemostatics (such as the bleeding-control gauze) in place.
Recommended compression bandages include the Olaes Modular Bandage, the ever-popular "Israeli" bandage and the the CoFlex Bandage, which is a combination of a foam-pad dressing and cohesive non-stick bandage capable of significant compression.
Bleeding-Control Gauze
Hemostatic (blood controlling) gauze is a technological leap forward from the simple cotton pads once used to treat severe wounds. It uses gauze impregnated with materials that rapidly accelerate clotting, even in severe wounds. The most common forms of clotting agents are clay- or sand-based and chitosan, which comes from shellfish. While compression bandages excel on wounds to the extremities, they don't work well on wounds to the head, neck torso or groin. Hemostatic gauze can be placed against shallow wounds or packed into deeper wounds to control the most serious bleeding.
QuikClot is a popular brand of bleed-control agent you can commonly find based upon the sand/silica/clay clotting model, but MSI recommends chitosan-based products because they promote more rapid clotting. HemCon is one chitosan-based hemostatic now used by the U.S. and U.K. militaries due to its fast-clotting and anti-bacterial properties. Celox is another chitosan-based product worth considering.
Tactical Tourniquet
Catastrophic wounds to the arms or legs are best treated by the proper placement/application of a tourniquet. Many modern tourniquets are designed to be operated by one hand, and are cranked down tight enough to stop arterial and venous blood flow. While some civilian doctors are leery of the permanent damage that can come from a properly applied tourniquet, significant limb damage will generally not occur within two hours of application.
MSI recommends the SOFTT, though the Combat Application Tourniquet (CAT) is also very popular. Hester noted that an off-duty police officer recently used a TacMed SOFTT-NH to save a motorcyclist's life after the rider had an accident that severed his leg.
Training
Even if you don't seek out training, putting the three crucial items in a shooting response kit—self-adhering compression bandages, bleeding-control gauze and a tactical tourniquet—is a good idea. You may not have the expertise to use them yet, but someone at the site of the injury might. Many doctors, nurses and paramedics are shooters, too, and while they certainly know how to handle catastrophic injuries, they may not have the proper first-aid materials with them while they enjoy a day at the range.
Firearm owners interested in self-defense understand the critical role proper training and practice play, and it's the same if you will be the one using gear from your IFAK.
The appropriate level of training needed to use an IFAK correctly is a sticky subject. Unlike American Red Cross Basic First-Aid and CPR courses, there is no universal, formalized curriculum. A good start is with Red Cross Basic First-Aid. The odds are good once you attend the class your instructor or fellow classmates will also know about advanced courses available in your area. Specialized training in the use of use of tourniquets and hemostatic dressings can also be found online (MSI offers a "First 30" self- and buddy-aid class).
Essential kits can vary in price from less than $50 to more than $100, which is still less than many of us spend on ammo for a single weekend's range session, making it a common-sense bit of front-line insurance.