by
Evan Brune, Associate Editor, Shooting Illustrated
posted on May 19, 2017
Support NRA Shooting Illustrated
DONATE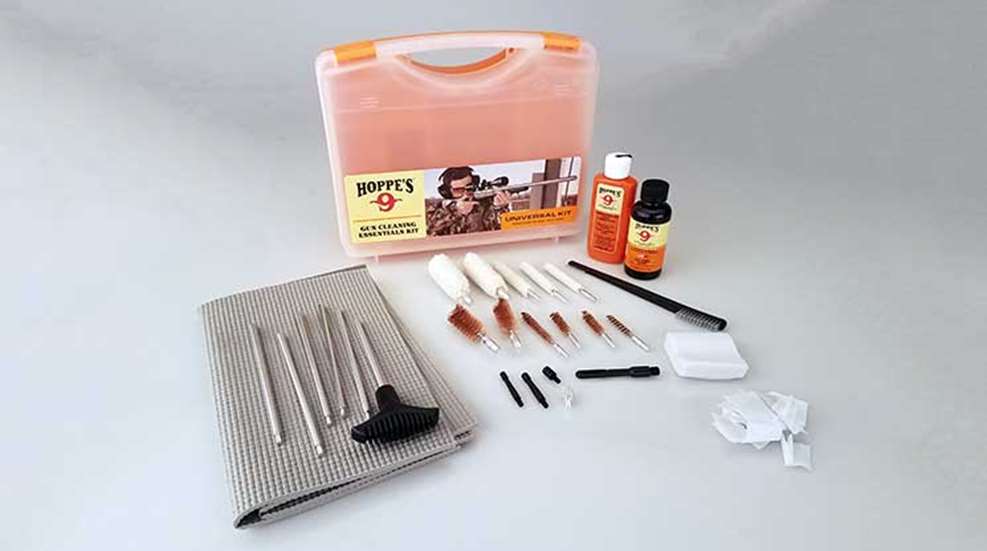 One of the biggest problems with cleaning essentials has always been keeping tools and cleaners in an organized space. Brushes get lost, dirtied up, bent, broken or otherwise abused, while other accessories get scattered around the house, shop or garage. Luckily,
Hoppe's
gives gun owners an answer with its Universal Gun-Cleaning Essential Kit.
The Universal Gun-Cleaning Kit features 28 separate pieces, all designed to allow novice and experienced gun owners clean any kind of firearm in their collection. The kit includes every brush, swab, slotted end and other tools needed to clean shotguns, rifles and handguns. Best of all, the kit includes the company's famous Hoppe's No. 9 gun cleaner, along with lubricating oil.
However, one of the nicer features of the kit is the case itself. The universal cleaning kit comes with an incredibly useful storage case, which features a space for the included cleaning mat, along with an organizing tray that includes space for every tool in the cleaning arsenal. For storage and transportation, the translucent lid features a pair of snaps that allow owners to shut and secure the case when not in use.
The Hoppe's Universal Gun-Cleaning Kit features an aluminum cleaning rod that breaks down into six compact sections for easy transport and storage. The rod features a plastic T-handle for added leverage and comes with an adapter for larger jags and brushes. Along with the cleaning rod, a Nylon brush is also included with the kit for cleaning in hard-to-reach corners of any firearm.
The kit includes bronze bore brushes and swabs for popular calibers and gauges ranging from .22 all the way up to 12 gauge. The kit also includes patches for everything from .22 up to 45 caliber. Two ounces of the company's popular bore cleaner are include, as well as 2.25 ounces of Hoppe's lubricating oil. A silicone gun cloth is also included for quick exterior wiping to eliminate fingerprints and corrosive oils left by human hands.
For new shooters, Hoppe's also provides a "Gun Care Guide," which covers the basics of giving guns a quick range wipe-down to a full clean at home. The guide covers rifles, shotguns, semi-auto pistols and revolvers and even gives a primer on getting black-powder guns cleaned up.
Best of all? The entire kit costs $39.99, enabling shooters to clean everything in their safe for the cost of a couple boxes of premium ammo.