Sometimes, you can't leave well-enough alone, you know? The AR-15 platform is both blessed and cursed with modularity—it is very easy to change parts out as whim or need strike. Even in the realm of custom or semi-custom rifles, it's not uncommon to see components swapped out down the road in favor of upgrading things.
Several years ago I had a friend who owned a small, custom shop that made ARs and suppressors build me a long-range, precision AR-15 rifle. I had been on a prairie dog excursion with a lovely K-Yote rifle from MG Arms, and was impressed with the rifle's handling and accuracy—taking out a varmint the size of a football from four football fields away is impressive, especially when your rifle skills are, well, rudimentary to say the least.
The end result was a 25-inch-barrel, precision-shooting-based rifle that has served me very well over the years. It's easily a sub-MOA shooter, has shown itself capable out to 400 yards (the longest range available nearby) and I have no reason whatsoever for making any changes to it. Everything in the rifle works very well with no function problems of any sort, etc., but there are areas where it could be even better. These areas are some of the common places where upgrades might take place: Trigger, stock and scope.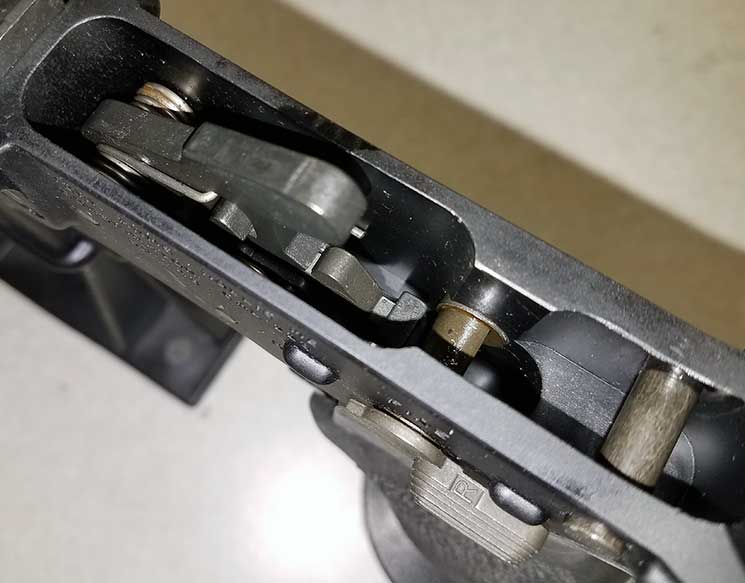 A new, single-stage trigger from Timney was installed to replace the custom, two-stage that came with the rifle. Now, the original trigger was excellent—my friend knows his stuff—but it comes down to my personal preference for a single-stage in a long-range rifle. Timney's 3-pound Competition AR-15 trigger offers drop-in installation and a buttery-smooth pull that will wring even more performance out of this already-wonderful shooter. A quick test with our trigger-pull gauge revealed a 3 pound, 1.8 ounce pull that varied less than 1 ounce over ten tries—not only is it a light pull, but it is supremely consistent.
In the case of the optic, it's really more that as I get older I can use every advantage possible. The Leupold Mark AR 4-12x24 mm scope on the rifle is very good, with crystal-clear clarity well out beyond the range of what I can discern. When I came across a VX-3 with 6.5-20x magnification, though, I knew I'd be able to put it to better use on the long-range AR. The VX-3 sported a standard duplex reticle, though, and I was looking for something better suited for long-range pursuits.
Fortunately, Leupold offers a reticle replacement service for the company's existing optics. Price varies depending on the type of scope, intended reticle and whether other services are requested, so contact Leupold for specifics. In this case, the Impact 32 reticle was chosen, which contains subtensions corresponding to known distances based on a known zero, as well as wind-shift corrections. It's a great reticle given this rifle's original purpose, and Leupold changed the reticle out and got the scope back to me in good time.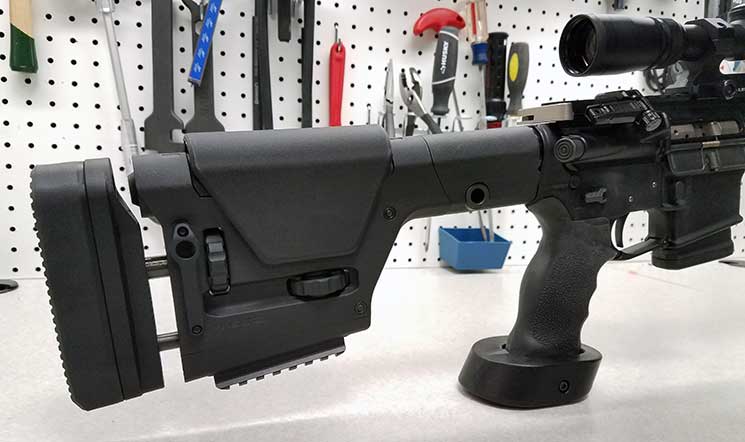 Lastly, the very good LUTH-AR MBA-1 stock was replaced by Magpul's new Gen3 PRS stock. While the MBA offers cheekpiece and length-of-pull adjustments similar to the PRS, the Gen3 offers an M-LOK attachment point for a bottom rail (in this case, supplied by LongShot Manufacturing) and monopod on the bottom of the stock as well as adjustments for buttpad height and angle. It allows a greater degree of customization to better fit the stock to the shooter, which translates (at least theoretically) into better shooting (this is all on me, mind you; the rifle and its components are top-notch).
Better trigger, more-powerful optics and a better fit to the shoulder all translate into a rifle that will serve well on the prairie dog fields and ringing steel at distance. I may not be ready for F-class-level shooting, but with the improvements made to an already-top-tier rifle, I'm getting closer. Even if you think you're done tinkering, chances are pretty good there's something else coming down the road…