Support NRA Shooting Illustrated
DONATE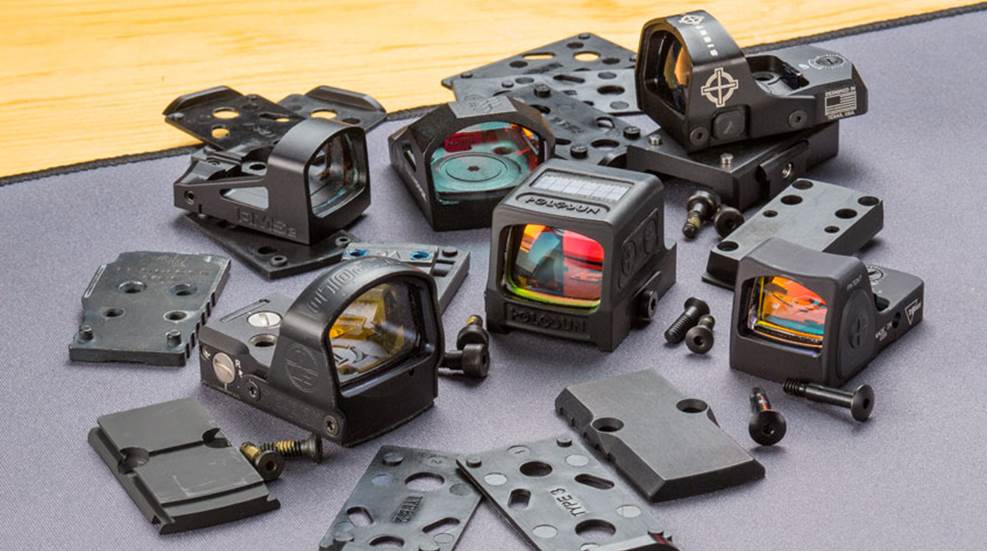 One size does not fit all when it comes to mounting a red-dot optic on a pistol. Bases on aftermarket units are not necessarily identical—so-called footprints—and the pattern milled into the slide of guns made to accept them varies by manufacturer, sometimes model. Adapters and plates remedy the conflict, but the number of incorrect combinations is dizzying. Shooting Illustrated contacted the experts to help clear up the confusion. 
A semi-automatic pistol designed to accept an aftermarket red-dot sight has a combination of grooves, dimples or lugs milled into its slide. Its configuration is often company-specific, proprietary and will only match up perfectly with certain aftermarket optics. Manufacturers that make handguns designed for optics address conflicting profiles by providing a selection of adapter plates. The approach is today's most efficient method of mounting.
Tom Victa, pistol product manager for FN America, explained "FN's optics-ready FN 509s feature our patented Low-Profile Optics Mounting System, which has everything users need to mount most pistol red-dot optics straight out of the box, including a handy reference guide to tell you what MRD insert and screw set go with which optic."
Smith & Wesson Senior Director of New Product Development Tony Miele said the company uses the Competition Optics Ready Equipment (C.O.R.E.) mounting system. Purchase a C.O.R.E. model and, "Six mounting plates are supplied with the pistol that accommodate many of the popular optics for sale," he said.
Glock cuts its slides for the company's Modular Optic System. "We include an adapter set with every MOS [except Slimline models] that has four different plates to cover the vast majority of pistol optics offered," according to PR and Communications Manager Brandie Collins. "If an optic does not fit, then the manufacturer typically provides an adequate plate. Slimline does not come with adapter plates and are specific to some of the new micro dots for narrow-profile CCW pistols."
You can also purchase a new slide or have a current one machined to anchor without adapter intervention. Rival Arms, a Texas-based firm with an enviable reputation for that service, explained, "We offer two different optic cuts, RMR and DOC. The RMR cut, as you can imagine, is the same optic cut as the Trijicon RMR sight and will also work with other optics that follow this footprint (Trijicon SRO, Holosun 507c, Swampfox Kingslayer, TruGlo TRU-Tec Micro RMR variant, etc.). The DOC refers to Docter Optic footprint/setscrew pattern, which is compatible with the following popular sights: Vortex Viper [and] Venom, Burris FastFire, etc."
Optic-ready slides are available. "Currently we have three different footprints, the RMR, RMRcc and the Shield RMSc," a Brownells gunsmith who asked to remain nameless responded. "Leupold DeltaPoint and Burris FastFire are in the works and should be available second quarter [of this year]." As for which profile is currently most popular, he said the RMR because, "…there are other companies that use that footprint, so a person isn't tied to a specific brand of optic."
Experts agree enthusiasts should check their preferred optic's footprint, compare it to the slide cut or adapters provided and, when in doubt, contact customer service to ensure your purchase is the right one.