When the AR-15 was designed, its hallmark was portability. Everything on the rifle, to include its often-maligned direct-gas-impingement system, was engineered to cut weight. Fast-forward a few decades, add miles of Picatinny rail, optics, bipods, lasers, lights and who knows that else, and we have turned Stoner's lightweight masterpiece into a poorly balanced albatross. Houlding Precision Firearms takes the AR back to its featherweight roots with the 6.2-pound Wraith.  
If you ask me, there's a right way and a wrong way to cut weight on a rifle. Pencil-thin barrels are nice to carry, but aren't much use on a rifle in the sustained fire of events like training classes or 3-gun competition. Cutting weight while maintaining performance and a rifle's balance is a challenge. The key is to leave the major components such as the barrel and receiver alone and focus on the ounces that add up to pounds. The Wraith replaces two of the AR-15's largest components (the handguard and buffer tube) with lightweight carbon fiber and discards the traditional buttstock in favor of a minimalistic aluminum buttplate. The result is a rifle that is light, well-balanced and handles incredibly well.  
The core of the Wraith is a Houlding HPF-15 receiver, which is machined from a solid billet of 7075 aluminum. The lower receiver's trigger guard is integral, and the magazine well is flared for fast mag changes. While the upper receiver has a forward assist and brass deflector, it deletes the AR's traditional dust cover. The entire receiver is anodized a pewter gray, which contrasts nicely with the carbon-fiber furniture.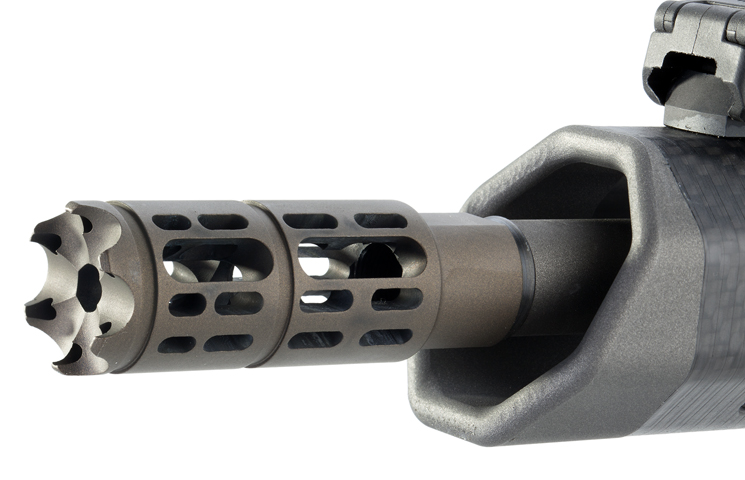 Though the outside lines of the HPF receiver are attractive, it's what's inside that makes the rifle so sweet to shoot. The Wraith's bolt carrier is CNC-machined from Carpenter 158 steel, an ultra-hard case-hardened alloy with incredible mechanical properties. Every spare ounce of the carrier has been machined away to reduce mass. Virtually all serious 3-gun match rifles are set up with lightweight bolt carriers: A properly timed rifle with a low-mass carrier and matching buffer prevents the carrier from slamming rearward and transferring its momentum to the shooter. This race-gun feature keeps the shooter on-target shot after shot and must be experienced to be believed.  The entire bolt carrier group is nickel-Teflon coated, making parts slick and easy to clean.      
Houlding uses match-grade, cold-hammer-forged barrels from Lothar-Walther—barrels known for their accuracy and longevity—for the Wraith. The mid-length gas system dumps less heat and pressure into the working parts of the receiver than a carbine-length system. At the muzzle, the Wraith wears a HPF Curse dual-chamber multi-port muzzle brake, which, in conjunction with the aforementioned gas system and bolt carrier, virtually eliminates recoil and muzzle rise. The brake makes the rifle a bit louder than a standard AR, but it's not really noticeable when wearing ear protection. There are no ports on the bottom of the brake, so you won't kick up a dust storm when shooting prone.    
I'm a little bit of a trigger snob and, let's face it, if you're going to build a $2,500 race gun, you've got to have a great trigger. The Geissele Super Dynamic 3-Gun on the Wraith is just that. There is no "wall" in this trigger pull—you give it pressure and it breaks. Its reset is extremely short, making follow-up shots ultra-fast. This trigger is simply fantastic for practical shooting, but it took a lot of concentration to shoot from the bench since it was so light and short. That's not a complaint, just a reality. This is not a benchrest rifle, and the trigger does exactly what it is designed to do.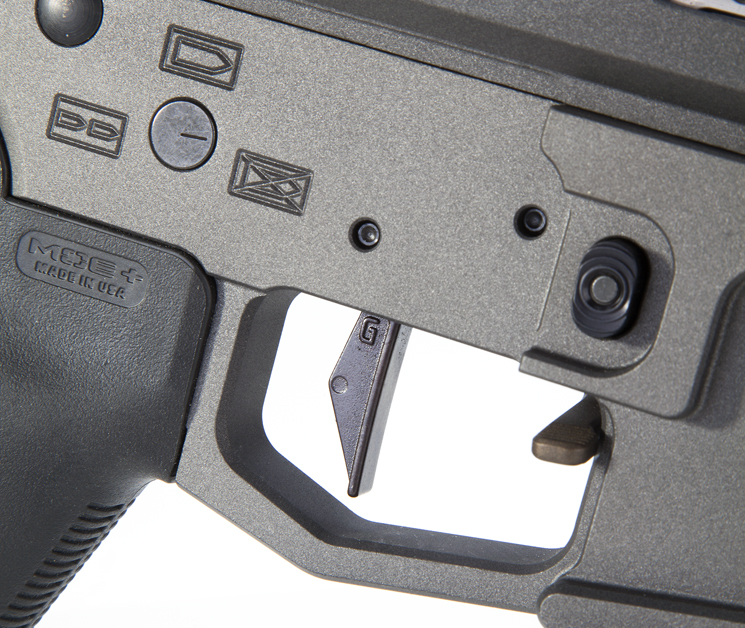 Carbon fiber isn't new, but the firearm industry has been slow to incorporate it into designs because it is tricky to work with and expensive. The octagon-shaped NMX handguard used on the Wraith isn't wrapped in carbon fiber, it is carbon fiber—the entire thing weighs a mere 8.8 ounces. The handguard is smooth and totally devoid of obtrusions, but it is entirely compatible with M-LOK accessories. The NMX attaches to the receiver via a proprietary barrel nut that also acts as a heat sink; a concept where extruded aluminum is used to draw heat away from steel and allow it to dissipate faster. The handguard feels great in the hand and is narrow enough to achieve good purchase. Both ends of the handguard are capped in aluminum to protect the more delicate end grain of the carbon fiber.
The aluminum buffer tube on an AR is crucial to the gun's operation, but HPF saw it as a waste of weight. The company solved that problem by constructing the entire tube from carbon-fiber. Its ULS (Ultra Light Stock) is minimalist to say the least—the carbon-fiber buffer tube is capped by a vertical aluminum plate that serves as the buttpad. It may not look comfortable, but believe me, it is. A special aluminum receiver extension connects the stock to the lower, and the butt is engraved with the Stars and Stripes as well as horizontal ridges to keep it from slipping.  
I shot the Wraith from the bench to test the mechanical accuracy and found the rifle prone to fairly significant vertical stringing with each of the three loads used. The groups were incredibly tight horizontally (despite a gusty crosswind), but would run 1.5 to 2 inches from 12- to 6-o'clock. The test scope was a known quantity, and I experimented with different bench techniques as light rifles can often be finicky when shot from a rest, but the stringing continued. The gun showed some serious accuracy potential, with three shots landing well inside a 1-inch box at 100 yards, but it just couldn't crack the five-shot code.
However, this isn't a benchrest rifle. When I stepped away from the concrete, the Wraith found its groove. I set up a 3-gun style course that involved lots of movement and ran it. My homemade course involved running up a steep hill, and the featherweight Wraith's advantage became immediately evident. Carrying the rifle with a full 20-round PMAG in the well felt like carrying a handgun around. Hitting steel poppers as fast as I could pull the trigger was possible out to about 35 yards due to the recoil-dampening features incorporated throughout the rifle's design. This rifle is a great choice for anyone needing to rapidly move long distances and hit multiple targets with speed.
Specifications
Manufacturer: Houlding Precision Firearms; (559) 675-9922
Action type: Direct-gas-impingement, semi-automatic
Caliber: 5.56 NATO
Receiver: 7075 billet-machined aluminum
Barrel Length: 16 inches
Rifling: 5 grooves; 1:8-inch RH twist
Sights: Magpul MBUS; Picatinny rail for mounting optics
Trigger Pull Weight: 2 pounds, 15 ounces
Stock: Carbon-fiber ULS
Length: 36 inches
Weight: 6 pounds, 2 ounces
MSRP: $2,499
Velocity measured in fps 10 feet from the muzzle for 10 consecutive shots with an Oehler Model 35P Chronograph. Temperature: 52 degrees Fahrenheit. Accuracy measured in inches for five consecutive, five-shot groups at 100 yards from a benchrest.