by
Shooting Illustrated Staff
posted on January 17, 2017
Support NRA Shooting Illustrated
DONATE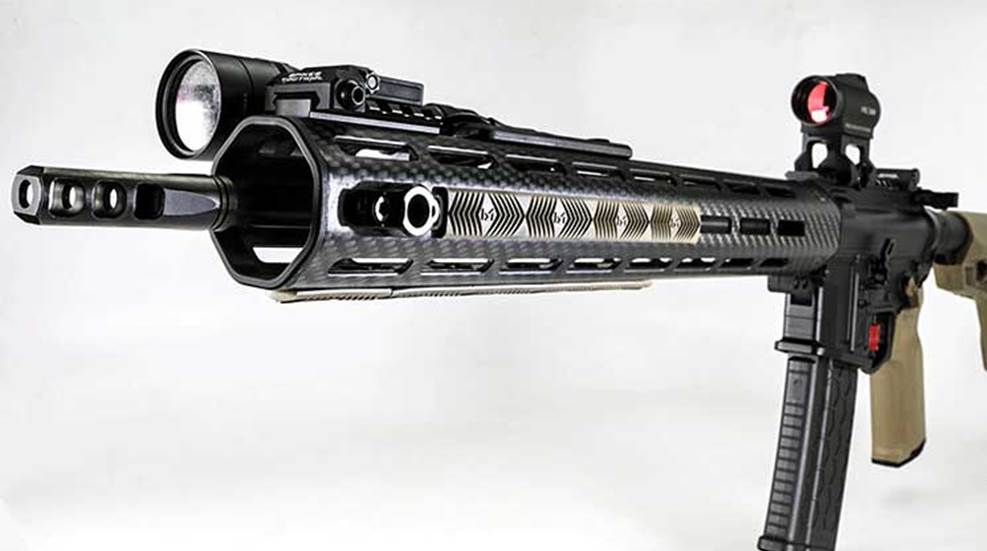 Faxon Firearms released of the Streamline Carbon series of handguards for the AR-15. The Streamline Carbon series of carbon-fiber handguards melds lightweight and functionality into a single rugged, easy-to-install M-LOK handguard.
The Streamline Carbon fuses Faxon's patent-pending mounting architecture and quality machining with Lancer Systems' carbon-fiber know-how.  The rails mount to the AR-15 using the common mil-spec AR-15 barrel nut, ensuring anyone with standard tools can mount the rail quickly and easily. When mounted correctly, the rail is locked into position across three different positions, ensuring rigged and rugged performance under the most demanding circumstances. The 15"-inch rail weighs in at less than 8 ounces in its standard configuration including all mounting hardware. An optional titanium barrel nut reduces weight further by 0.8 ounces.

The rails feature full-length Magpul M-LOK across all eight faces of the octagonal handguard. Using an optional low-profile M-LOK rail, shooters have the option of mounting on-plane BUIS. Overall size balances a slim profile (OD is 2.05 inches) while being able to fit suppressors up to 1.6 inches in diameter.

"As shooters, we designed the Streamline Carbon series of handguards like our Gunner barrels. We wanted all the functionality possible while reducing weight to the maximum extent possible," commented Bob Faxon, president of Faxon Firearms. "Usability and modularity were absolutely critical to our design process. We want shooters to pick up the Streamline Carbon option not just for its weight, but for superior utility for mounting accessories while handling arduous courses of fire."

The Streamline Carbon handguard will launch at Rainier Arms in a 15-inch configuration. 13.3-inch and 10.2-inch lengths are in production and will be available Q1/Q2 2017. The 13.3-inch handguard is the ideal companion for pinned and welded 14.5-inch barrels, giving just enough space for the hand to extend all the way to the end without being concussed by muzzle devices. Retail for the carbon-fiber rails is set at $349 for the 15-inch, $339 for the 13.3-inch and $329 for the 10.2-inch.