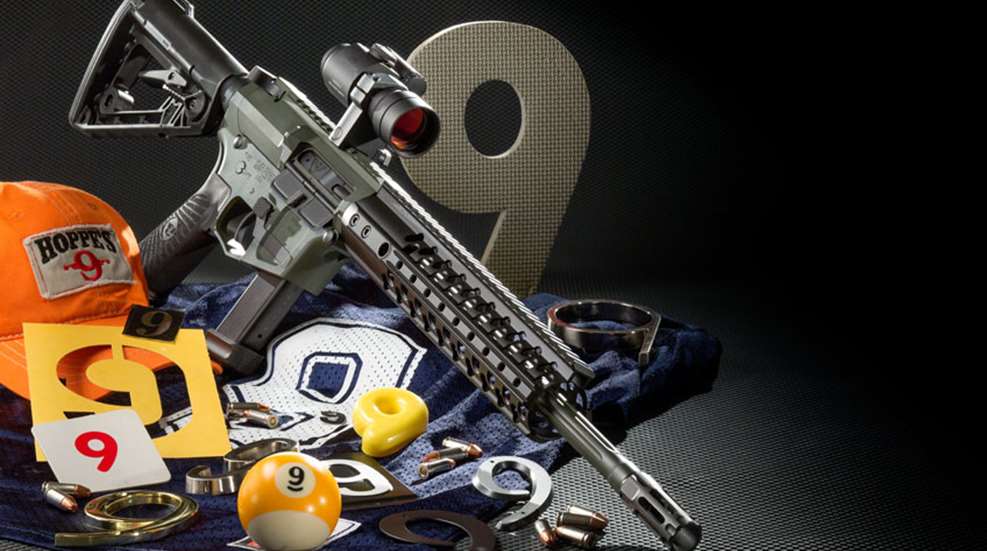 If you examined the armory of a SWAT team or special operations unit in the 1980s or 1990s, you would likely find a pile of often-used 9 mm submachine guns such as the Heckler & Koch MP5. These days, however, pistol-caliber carbines are relics of a forgotten mindset in most military and law enforcement circles. While 5.56 NATO carbines dominate today's fighting-long-gun landscape, they are not necessarily right for every task. Carbines chambered in handgun cartridges fill a key void in the self-defense, training and shooting arsenals. Wilson Combat's AR9 is a quality example of a carbine that sits within this important niche.
The politics of procurement aside, to understand a unit's firearm choice is to understand the expected threat at hand. As international terrorism emerged in the latter part of the 20th century, it reared its head in the close confines of places like the Iranian Embassy in London or the cabin of TWA Flight 847. Close Quarter Battle (CQB) was the fight of the day, and the submachine gun was the tool for the job. Counterterrorism operations were considered in sort of a vacuum, with the concept of fighting one's way to or from a target rarely considered. Jump ahead to the Global War on Terror, and we saw situations where elite units found themselves fighting room to room one minute, then fighting a quarter-mile street battle the next. At roughly the same time, law enforcement saw the rise of bad guys wearing body armor, as exemplified by the 1997 North Hollywood Shootout. Overnight, the 9 mm long gun became obsolete and the 5.56 NATO carbine became ubiquitous.
We civilians are often dazzled by the cool factor of using similar firearms to those used by elite military and law enforcement units, but let's be honest—our roles are often vastly different. Absent the complete breakdown of civil order (which I'm not suggesting you rule out), legally applied self-defense is a close-range proposition, and the prospect of fighting with a long gun away from the home or place of business is for the most part unlikely. In the confined spaces where you might need one, however, a 9 mm carbine could be just as effective and practical a tool today as it was for counterterrorism units decades ago.


Wilson Combat's answer to the 9 mm carbine question is the AR9—a platform that maintains the familiar ergonomics and positive features of the AR-15, but was engineered from the beginning around the 9 mm cartridge. Unlike "conversion kits" designed to retrofit a 5.56 NATO AR to accommodate the 9 mm, the AR9 is a dedicated design that is not readily adaptable to rifle cartridges.
The magazine well on the AR9's milled 7075-aluminum lower receiver is proportioned to fit a double-stack handgun magazine, which allows ample space for a funnel-shaped opening to guide magazines into place in a hurry. Because handgun magazines lock into place at the front rather than the sides, the AR9s magazine release has to dogleg its way around to the front of the magazine well in order to serve its purpose. This is moot from the user's perspective, though, as a generous magazine-release button sits right where your brain wants it to be, if you're as programmed to the AR as many of us are. The trigger, safety/selector and bolt stop are in the traditional AR style and positions. The trigger on my test sample broke cleanly and repeatedly at 3.5 pounds.


While the AR9 looks nearly identical to the AR-15 from the outside, the operating system under the hood is completely different. Unlike the AR-15's direct-gas-impingement system that vents propellant gas from the barrel to a tube that leads back to the bolt carrier, the AR9 uses a simple blowback design. The simplicity of the blowback system results in fewer moving parts to break and, in my experience, a cleaner-running carbine—there are no gas tubes or gas rings, parts that sometimes cause trouble. The plunger-style ejector and spring-loaded M16 extractor on the bolt are retained, but the locking lugs that have become a trademark of Stoner's AR design are deleted. Wilson's milled upper has a brass deflector machined into the space just aft of the ejection port, and there is no forward assist. A standard, familiar, spring-loaded ejection-port cover and an AR-style charging handle are incorporated into the AR9. The bolt is heavier than that found in most 5.56 NATO ARs and a heavier buffer spring is used, therefore the force required to operate the charging handle is a bit greater than usual.
The AR9 uses a flattop receiver with an integral Picatinny rail, which mates (with rail interruption) to the identical height of the T.R.I.M. aluminum fore-end. T.R.I.M. stands for "Tactical Rail Interface, Modular" and, like most similar products on the market, allows the user to attach a variety of accessories to the carbine's handguard. Instead of covering the fore-end with sharp Picatinny-rail edges, rail sections can be attached where desired (leaving the rest of the handguard smooth). Both the 6- and 9-o'clock positions of the fore-end incorporate female interfaces for QD sling swivels.
The AR9 is available with either a 14.7-inch (16 inches with the muzzle device) or 16-inch barrel, and shorter options are available (though NFA rules apply, of course). The 16-inch, fluted barrel on the test carbine came fitted with a five-port Wilson Combat flash suppressor. Given its chambering, the AR9 is a natural host for a sound suppressor, and the 5⁄8x24 barrel threads allow for either a direct-thread mount or a muzzle device designed for suppressor attachment. There is no need to re-regulate the gas system when using a suppressor, because, as a blowback-operated gun, the AR9 has no gas system.


The Mil-Spec buffer tube and stock on the AR9 are interchangeable with the full complement of aftermarket parts available for ARs, though the Rogers Super-Stoc comes standard. This stock was designed by Bill Rogers, and is one of my favorite options on the market. The Super-Stoc has a six-position collapsible buttstock incorporating a throw lever that cams the stock into place and eliminates the wobble that is nearly universal among collapsible-stock designs.
AR9s are designed to be compatible with either Glock, Smith & Wesson M&P or Beretta magazines—the user must choose which magazine is preferred when ordering, as they are not interchangeable. My test gun used Beretta magazines and, while I'm not the Beretta 92's biggest fan, it would be my first choice for a carbine magazine. Though the Beretta's magazine is a dual-column design, it tapers to a single column at the top, which allows cartridges to feed directly into the carbine's chamber. Anytime we can simplify the feeding process, we are ahead of the game when it comes to reliability.
Enough about specs, let's talk about shooting this thing. I fed my test AR9 from a single Mec-Gar 18-round Beretta magazine that was provided with the sample. During accuracy testing, I experienced two failures to feed as the noses of the budget-priced GA Arms ammunition hung-up on the barrel's feed ramp. I was unable to duplicate those malfunctions, and no other hiccups were encountered. Those isolated issues aside, the sample carbine worked as advertised. Wilson Combat used some ingenuity to ensure that the bolt holds open on an empty chamber, one of the challenges of adapting the geometry of handgun magazines to a carbine. Accuracy was excellent, particularly with L-Tech's Full-Stop ammunition.


After performing the required accuracy testing from the bench with a 12X target scope, I mounted an Aimpoint Micro T-1 2-MOA dot sight for some practical shooting. Compared to the muzzle blast and overpressure of firing a 5.56 NATO carbine—particularly those with short barrels—the AR9 is a pure pleasure to shoot. The 9 mm creates significantly less blast than a 5.56 NATO, especially out of a carbine-length barrel. For new or inexperienced shooters, muzzle blast is a significant factor in poor shooting; one that is probably far more significant than actual recoil. For this reason, 9 mm carbines are a fantastic training tool. With the AR9, you have the familiarity of the AR-15's manual-of-arms without the noise, blast and considerably costlier ammunition.
Steel targets are a lot of fun to shoot and are outstanding training tools due to the instant indication of a hit or miss. Safely shooting steel targets at close range with a 5.56 NATO requires expensive frangible ammunition due to the risk of high-velocity jacketed-bullet fragments causing injury. With a 9 mm carbine, however, inexpensive plated bullets can be used with minimal care. Using 115-grain TMJ ammunition and starting from the ready position, I fired the AR9 at 10-inch steel targets from a variety of distances from 5 to 25 yards. First-round hits in less than a second were common, and the speed developed from completing such drills transfers seamlessly when using more powerful cartridges. Due to the lack of recoil or muzzle rise, follow-up hits were achievable in well under .5 second—transition drills were completed with ego-boosting numbers on the timer. If you want to look like a really good shooter, shoot steel with an AR9.


One could devote an entire article to the topic, but I would not feel at all under-gunned with an AR9 as a primary home-defense carbine. The longest visible distance in most homes is 25 yards or less, so any disadvantage in terms of external ballistics is a non-issue. I'm sure that putting on ear protection would be a great idea if you knew that you were going to fire a gun indoors, but candidly, it's rather unlikely to happen when the alarm goes off at 3 a.m. If I were forced by a life-or-death scenario to fire a carbine inside a room, I would far rather do it with a 9 mm than with a 5.56 NATO. Additionally, a spouse or roommate who is not a shooting enthusiast could be trained to use a 9 mm carbine such as the AR9 much more easily than a 5.56 NATO AR or even a handgun. I am less concerned with terminal ballistics than I am with hitting the target, and this carbine is highly conducive to hitting the target quickly and often.
If I could only have one carbine, it would not be a 9 mm. Fortunately, I've never been faced with such a painful dilemma and can choose the right tool for the job at hand. I own a 9 mm SBR and use it frequently as a training tool for myself and others. The AR9 fits that same niche and does so with the quality you'd expect from a Wilson Combat firearm. Fitted with a suppressor, such a long arm becomes even more appealing. It is a great complement to a rifle-caliber carbine and is, on its own, an excellent choice as a home-defense firearm.