An all-new, three-episode series called "Designing Spaces of Hope—Military Makeover," hosted by "The Gunny" R. Lee Ermey, launches this Friday on the Lifetime channel. As expected, he dispenses liberal doses of his tougher-than-nails Marine Corps D.I. discipline, laying it on thick when lethargic workers seem to have missed naptime.
There's good reason for his "Gunny" attitude in this case, though. The show chronicles work on the home of Stephen and Ashley Lunt, along with their young son. Lunt is a former United States Marine Corps S/SGT who received the Purple Heart after an insurgent attacked him from behind with a pickaxe. The South Carolina native saw three tours to the Sand Box, and wounds received in Afghanistan resulted in his medical discharge.
After undergoing a variety of surgeries, which included removal of a small part of his brain, Lunt went on to become part of the U.S. Paralympic Team. He failed to medal in archery during the 2012 Warrior Game—presented by Deloitte—but his positive attitude is that of a winner. "This injury has changed me," Lunt told the Orange County Register in 2011 when asked about competing, "but it won't define me."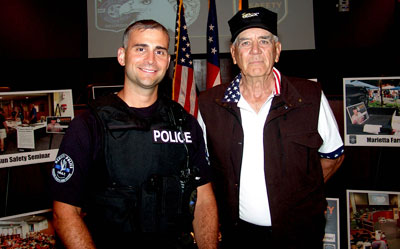 Part 1 of the Military Makeover series will also feature a segment on "Designing a Firearm Safe Home," with the "Gunny" discussing Glock's S.A.F.E. campaign, and the importance of firearm safety and how to handle and store firearms properly. The company's firearms-safety program has enlisted the aid of a variety of law enforcement agencies across the country.
"Designing Spaces" is entering its 10th year on the air, and has grown to become one of America's top home-improvement shows. The show inspires with decorating ideas, do-it-yourself projects and—as in this remodeling job—provides step-by-step instruction others can use or modify to fit their own needs. One of the show's most popular series is "Spaces of Hope," which prides itself on assisting people and places in dire need.
There would be no Lunt home to renovate, though, were it not for the efforts of Operation Homefront, which provides "help to the families of our service members and wounded warriors." The Lunts received the mortgage-free home through the organization's Homes on the Homefront program and Chase several years ago.
"Without the home from Operation Homefront, we may never have been able to have a child," said Stephen. "We never would have wanted to put a child into any sort of financial situation we may have been facing, and in our circumstance, this now allows us the opportunity to grow as a family, something we were unsure would ever happen. We are so thankful for everything!"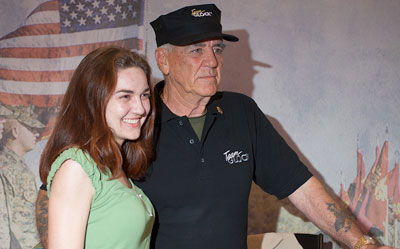 Stephen was born and raised in South Carolina and enlisted in the United States Marine Corps in 2004, but never lost the passion for the outdoors instilled in him as a youth. He remains active with veteran organizations, but plans on establishing a guide service that caters to first responders and veterans on camping, hunting and fishing outings. The home and its renovation will aid financially in helping him fulfill that goal.
As for a young Leatherneck finally meeting the "Gunny" who first found fame in 1987 playing GySgt. Hartman in Stanley Kubrick's "Full Metal Jacket," viewers will have to wait and see how many times someone is told to drop and give me 50. In reality, "Gunny" R. Lee Ermey, whose TV and movie career has spanned more than three decades, is one of the nicest gentlemen in the industry. The line awaiting his autograph is hours long at the SHOT Show and NRA Annual Meetings, but the staff at Shooting Illustrated has never—ever—witnessed him turning down a photo or signature request.
If you're ready for some military makeover maneuvering around a deserving vet's townhouse, report to your TV on Nov. 21, Nov. 28 and Dec. 5., promptly at 7:30 a.m. EST, and tune into "Designing Spaces of Hope—Military Makeover" on the Lifetime Channel.
That is all, maggots—DISMISSED.