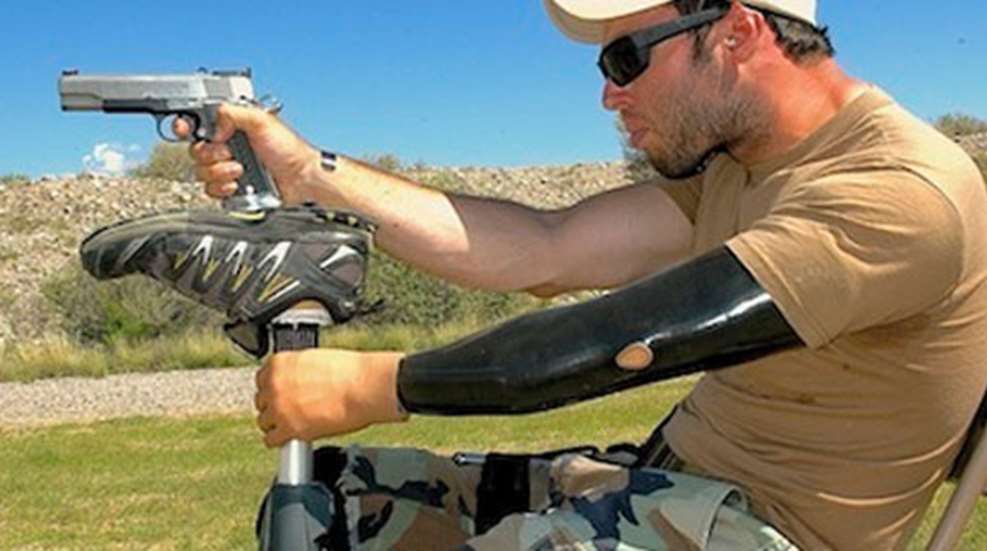 Although his eyes were shielded from the glaring Arizona sun by a pair of Revision shades, the black lenses couldn't hide the look of sheer determination on Andrew Bottrell's face as he gently pressed the trigger of his Predator Tactical 1911 Shrike. An instant later, his focus was rewarded when a neat little hole appeared in the center-mass region of the silhouette target. Bottrell was pleased, but not surprised. Missing at 15 yards is simply not an option, he reminded himself, as he lifted his sidearm from his prosthetic leg, rotated upwards 180 degrees to help support the pistol he held in his one remaining hand.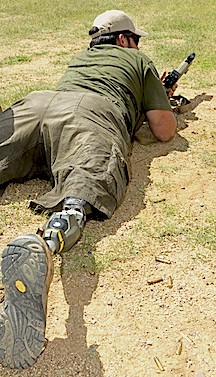 Bottrell, a Purple Heart and Bronze Star recipient, became a triple amputee when an IED took both his legs and his left arm during Operation Enduring Freedom in Afghanistan in 2011. But thanks in part to a combat-wounded veterans' organization called Rogue Corps, the Navy Explosive Ordnance Disposal (EOD) technician has retained the skills—and the mindset—of a warrior. Bottrell was one of nine recovering veterans who recently traveled from San Diego, CA, with Rogue Corps for five days at Gunsite to test their capabilities, push their limits and strengthen their convictions as unrelenting fighters.
Founded earlier this year by combat-wounded Marine EOD technicians David Lyon, Mark Hupp and Blake Smith, Rogue Corps stretches the boundaries of conventional recovery programs by giving participants the opportunity to attain aggressive goals while pursuing the same activities they enjoyed before their injuries. The organization began with backyard barbecues but soon progressed to fishing and hunting trips.
"We call it 'therapeutic adventure,'" said Lyon, standing on two prosthetic legs with a carbine slung across his chest. "We get these guys out of the hospital where they have no choice but to fend for themselves. We help them realize that despite whatever injuries they may have received, they don't have to give up."
A trip to Gunsite seemed like a logical next step, especially after the founders talked to the academy's marketing director, Jane Anne Shimizu. Gunsite agreed to host the event at no charge, while SIG Sauer provided rifles, EOTech donated optics and Black Hills shipped ammo. Other companies including 5.11, Crimson Trace, G-Code, Revision, SureFire, TAG, TSSi and TYR Tactical set the participants up with gear. And to make sure the guys didn't have to shoot on empty stomachs, Modern Day Marine kicked in a barbecue.
"Our sponsors really made this event happen," said Hupp, who, along with Rogue Corps' other founders, had shouldered a large portion of the expenses for previous outings. "We wouldn't have been able to do this without them, and their support takes our mission to the next level." Hupp said Rogue Corps has filed with the IRS for 501(c)(3) non-profit status and hopes to have approval in the next couple months.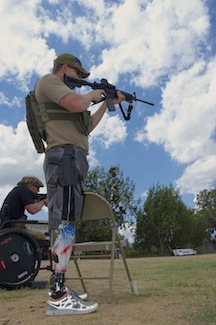 During their days at Gunsite, the veterans engaged paper and steel targets with carbines and pistols at ranges from 5 to more than 200 yards. They celebrated hits and laughed at each other's misses. When they weren't pulling triggers, they poked fun at Hollywood's version of EOD techs in "The Hurt Locker" and joked darkly about their injuries. ("My foot's asleep!" yelled Collin Raaz, a Marine Scout Sniper with two above-the-knee amputations.)
A mix of square-range drills and simulators tested the veterans' gun-handling skills and mindset. They traversed terrain that painfully challenged their balance. They sweated. They struggled. And ultimately, they conquered.
"This is why we have prosthetic limbs," said Bottrell. "They let us do the things we were born to do."