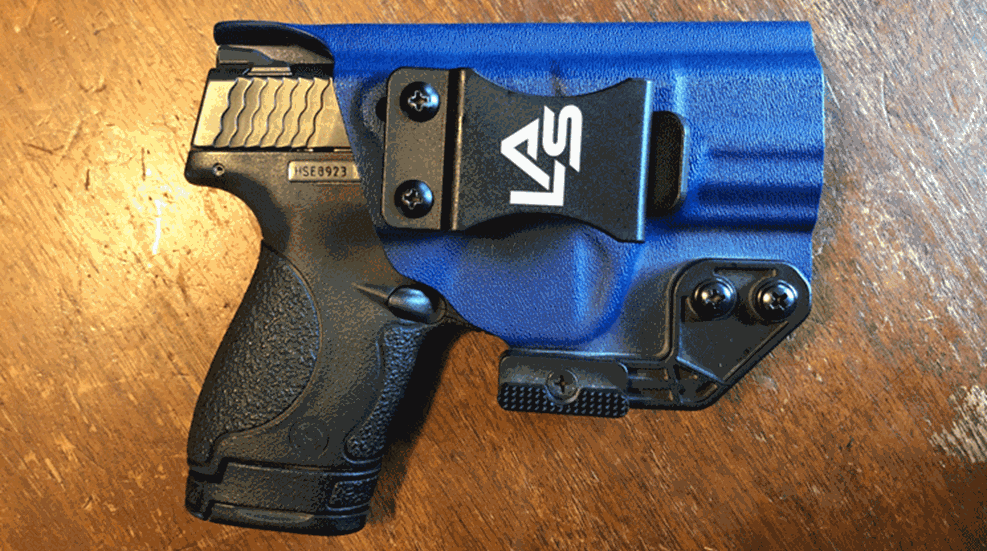 As a frequent reviewer of holsters, I get a lot of products from various companies to test and evaluate. Most holsters on the market are really good—well built, functional, comfortable, durable. After I'm done writing my review, the holster is typically relegated to the bulging box of holsters or is donated to someone who can't afford a good holster, but happens to carry a gun like mine. But every once in a while, I come across one that I can't stop using, a design so comfortable, practical and precisely what I look for in a holster that it finds its way into my EDC rotation.
One example is the LAS Concealment Rampart. Typically, I test a holster for at least two months before writing the review. With the Rampart, however, I've worn it since last spring and elevated it to my primary EDC very quickly. Here's why I like it.
Named for the district in Los Angeles, the Rampart starts with a taco-style Kydex shell, available in 15 solid colors and 16 specialty prints, that wraps around the gun—in this case a Smith & Wesson Shield 9 mm—and is held together by two retention screws that also affix the ModWing claw. I've become a big fan of claws because of the deeper concealment offered by pulling the pistol's grip back against the body, thus reducing the print. The ModWing has one big advantage over traditional claws: It comes with two thicknesses of claws that you can swap out with just a screwdriver.
A single inch-wide black Quick Clip holds the entire assembly firmly onto your 1.5-inch belt with enough flex to allow for easy one-handed on and off, yet is stiff enough to confidently grab onto the belt throughout a full day of walking, sitting, standing and getting in and out of the car without worry of the gun or holster popping free. In almost a year of testing, it never popped out a single time. The clip also has one angle adjustment that allows for a 15-degree forward cant.
In spite of the solid Kydex shell, the Rampart is extremely comfortable in both appendix and strong-side positions.
After almost a full year of testing, neither the Kydex nor the clip shows any signs of wear and tear. Available for $59.98 at lasconcealment.com, the Rampart is an excellent value in a comfortable, easy-to-use and reliable package.