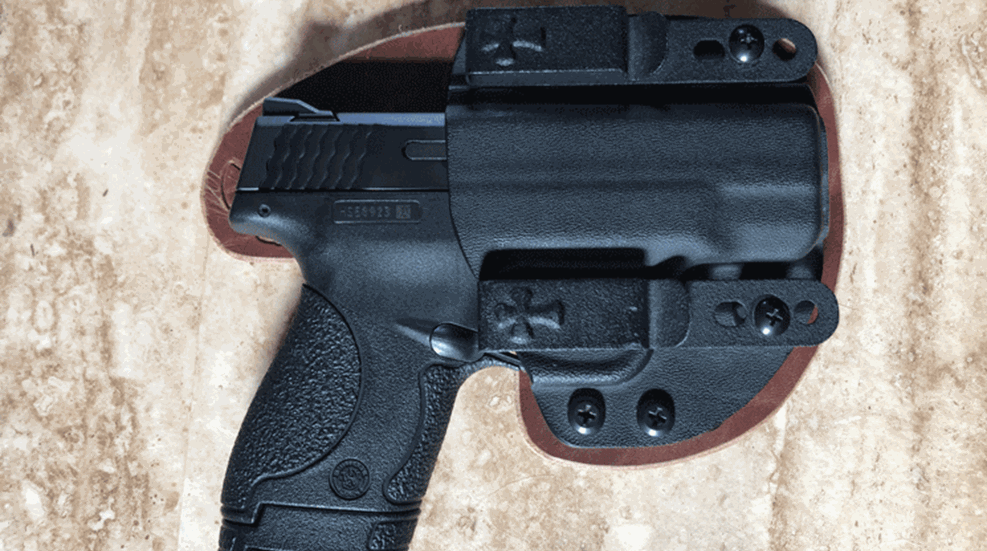 Crossbreed has always been known for its leather and kydex hybrid holsters that offer a custom kydex mold for maximum retention coupled with a leather backer for maximum comfort. What they have also been known for is maximum frustration when it comes to retention adjustment. Long time customers and new converts alike have complained that they can't tighten down or loosen the holster's hold on the gun because all the kydex and leather were held together by permanent binders.
However, with the Reckoning IWB, Crossbreed has not only answered those customer complaints, they added some extra features that addressed another concern: printing. And they did it all while adding a third feature nobody expected.
First, let's talk about retention. How do you add retention to a holster without totally changing its design? With the Reckoning, Crossbreed simply added an innovative adjustable retention device between the leather and kydex layers that features a plastic paddle that tightens down against the trigger guard with a 1/8-inch hex screw. Not only is this new system super simple to use, it can be tightened so hard that the gun locks into the holster and can't be pulled out at all—but not permanently because you can always back the screw out enough to set the retention where you want it. Additionally, the seven screws that hold the back to the front can be individually adjusted. Well done, Crossbreed. Retention adjustment problem solved.
The second issue is printing. In fairness, this is not a Crossbreed-only issue. It's a problem with any IWB holster that doesn't have a claw: the butt of the grip can stick out too much, a dead giveaway that you're carrying. The Reckoning tackles this two ways. The trigger guard clip at the rear of the holster is pushed up a bit on top of the guard instead of beside it, thus pressing the grip back a few degrees. Crossbreed also offers their optional Crux Concealment System, which consists of a kydex claw that attaches via the retention-device screws. Combine the two and the gun virtually disappears.
The bonus feature that nobody saw coming is an optional IWB/OWB convertible kit that features great clips that don't require you to take off your belt to strap on the holster. Instead, the OWB Speed Clips loop over your belt and hold fast with tabs. Converting from IWB to OWB is simple with a basic Philips screwdriver. It's not a quick process, as it requires moving several screws, but it's doubtful most customers will convert back and forth often enough for this to be an issue.
At a starting price of $55.96 and available in three leather backer options and kydex for a host of pistols, the Reckoning is a good value for a well-made, comfortable holster with many of the features Crossbreed customers have been missing for years.