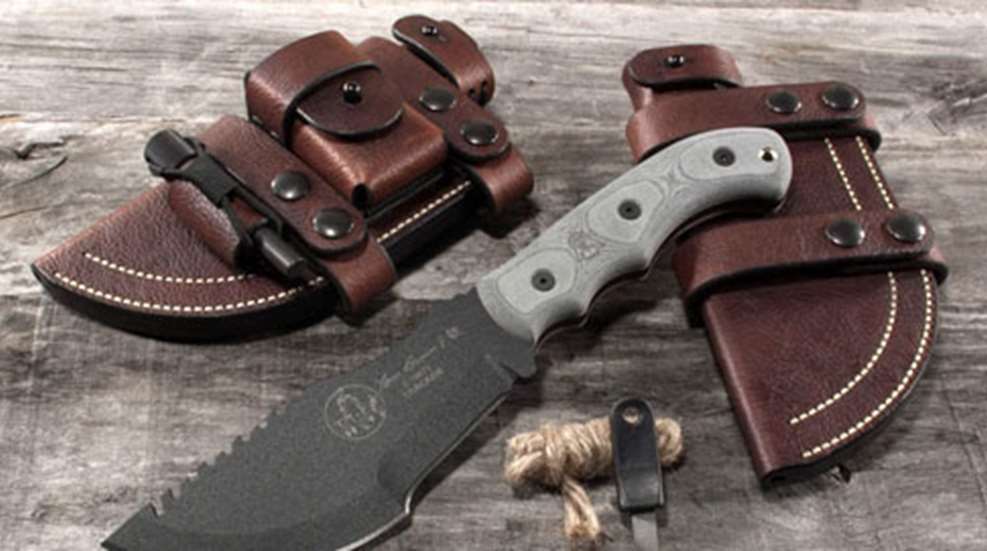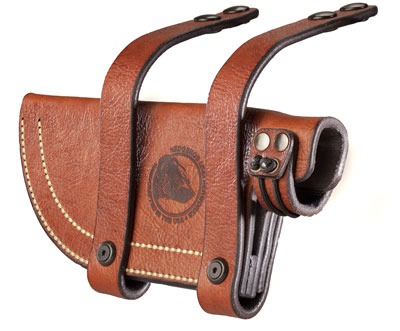 Most product reviews typically discuss the attributes and shortcomings of a single item such as a gun or a knife, but rarely does an article focus on a particular product's accessory. Case in point: Much has been written about the star-studded Tops Tom Brown Tracker survival knife seen in the 2003 film, "The Hunted." Its multipurpose blade is designed to accomplish several tasks like carving, chopping, drilling, notching, sawing, scraping, scoring and splitting antler, bone or wood. Yet, despite this versatility, the same can't be said about the knife's molded-Kydex sheath. For those who believe steel's only acceptable accouterment comes with the old-school flair only leather can provide, Hedgehog Leatherworks Tom Brown Tracker Sheath offers an alternative worthy enough for a knife as popular as the Tracker and as prestigious as the Tops brand.
Constructed from premium-grade, vegetable-tanned steer hide, the sheath is designed to carry the knife horizontally across the lower back in scout fashion, as seen in the film. Measuring slightly more than 8.25 inches long and an impressive .64 inch thick, it (like all of the company's offerings) is handmade and molded to fit the Tracker's blade perfectly. The sheath's exterior features what the company refers to as a rugged surface finish—a tooling pattern designed to enhance the product's camouflage capability while in wilderness terrain due to its texture, color tone and nonreflective finish. Double stitched, reinforced stress points provide greater stability, which proves essential considering the Tracker's 1095 carbon-steel blade is 4.25 inches long, 2.43 inches wide and .25 inch thick. Such robust construction ensures uncompromising durability for ultrahard use—even in rain and snow—thanks to its water-repellent finish.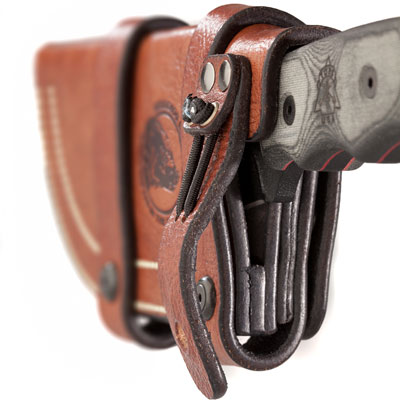 Other than superior craftsmanship, this product offers unparalleled retention. As an alternative to the rotating metal belt clips found on the Tracker's standard Kydex offering, the Hedgehog T1 sheath features dual snap-on loops that wrap around the sheath from the bottom. Each loop contains two vertically positioned snaps, keeping the massive knife secure (whether attached to a belt or MOLLE straps) and close at hand no matter where your adventures may lead.

Furthermore, the Hedgehog offering contains a patented rapid-release retention strap, which encircles the Tracker's handle and is held in place by a Sam Browne-style button stud—as opposed to the friction-fit method used by the Tops Kydex model. And when you consider the mass of the knife's hefty 1-pound blade, the strap provides an extra ounce of prevention. (A short piece of black nylon cord, arranged in two columns, spans along the bottom of the rapid-release retention strap. Rather than providing a means of durability, the added tension of the cord pulls the strap away, keeping the blade's edge from cutting it when the knife is drawn.) For me, it offers peace of mind. As a result of having to rely on mobility aids such as ATVs and crutches given my disability, my hands are usually needed for maintaining my balance, which is generally less than ideal even on level terrain. Therefore, the strap ensures my knife stays put should I fall.

The sample sheath I received for evaluation contained an optional exterior pouch, (between the snap-on loops, perfect for storing small accessories or a tinder bundle) along with a loop containing one of the company's fire starters, a 3/8 x 3-inch ferrocerium rod, attached to a knurled metal handle with a lanyard hole and held in place by a bungee. When used against the back of a knife, the rod produces a shower of hot sparks when you need to make a fire quickly. From a wilderness-survival standpoint, both additions place vital fire-making components at your fingertips. Unlike a lighter or matches, the fire starter will last for thousands of strikes and won't fail from mechanical damage or after being exposed to a heavy rain storm, a canoe tipping or any soaking-wet conditions you may encounter.

With unique blade design that lends itself to a variety of activities and real-life encounters, the Hedgehog Leatherworks T1 Sheath finally provides a conveyance for the Tom Brown Tracker with a level of craftsmanship and quality not only capable of withstanding whatever you or mother nature throw at it, but also a product worthy of the Tops brand and your adventures—whatever they are, and wherever they may take you. MSRP: Starting at $209