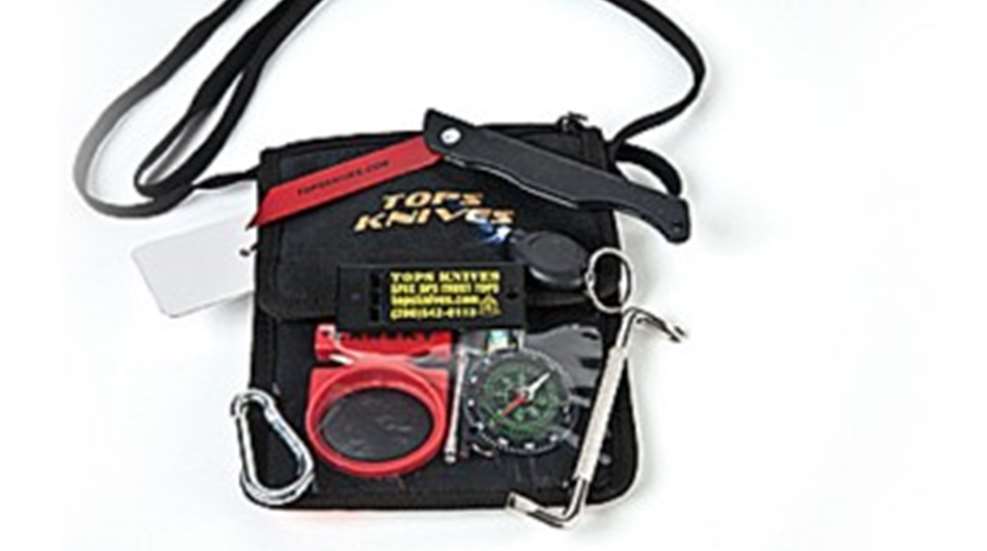 "You can never be too rich, too good looking, or too prepared."
No, the line isn't from one of those zero-dark-thirty infomercials, but a rather gruff, albeit reliable sidekick of a short-lived TV series from the early '90s. The line in question provided almost as much insight into the philosophy of Vietnam vet turned P.I., Herman "Ski" Jablonski as the pair of 9 mms he carried wedged in his belt concealed underneath his Hawaiian shirt.
I bring it up because it's the first thing that entered my mind the moment I caught sight of the Survival Neck Wallet (SNW) from T.O.P.S. (Tactical Operations) Knives. The company's products are designed to be used as tools, and are conceived from real-world experience of 12 Military and Law Enforcement Operators with backgrounds in various outdoor professions, martial arts and survival. Combined, TOPS' lexicon of knowledge and experience includes: Army Special Forces, Marine Force Recon, Navy SEALs, Rhodesian Selous Scouts and Phoenix SWAT, among others. 
Since my crystal ball has been in the shop for quite some time now, and few of us know when danger or tragedy may strike, most should see this product as beneficial—regardless of whether you consider yourself an optimist or pessimist. The best thing the SNW has going for it is convenience and versatility. It contains a collection of 14 of the most needed survival tools, packaged in a quality neck pouch made from ballistic nylon. Contents include: TOPS' own survival whistle (tested at 126 db), pocket-sized saw, a liquid-filled compass, a firestarter—complete with ferrocium rod and magnesium—a signal mirror, an LED flashlight and a Lansky knife sharpener, to name just a few.
Best of all, its packaging adds versatility to the kit. Whether you're planning a weekend hiking or a camping excursion, all you need to do is drape it around your neck and you're good to go. Even those who don't love the outdoors could benefit by adding the SNW to vehicle roadside emergency kits or glove compartments—especially those folks who live in areas known for severe weather. By the same token, recent natural and man-made disasters have brought the concept of what's come to be known as go, or bug-out, bags to the forefront of American consciousness. No matter what you call it, the Survival Neck Wallet is an ounce of prevention—or perhaps even a jigger.