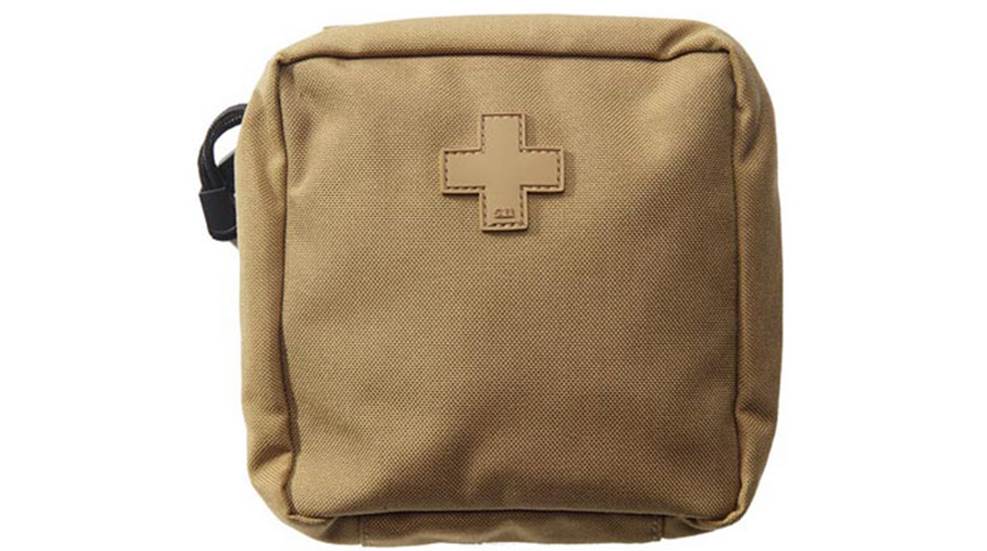 A vital, but often-overlooked, piece of range gear is a medical kit. Having the means to rapidly perform basic first aid is imperative when shooting, and a good kit should be standard fare in your range gear.
The 5.11 Tactical Med Pouch is an excellent way to accomplish this, with a 6 inch square bag containing two zippered interior pockets to hold essential medical supplies. Bandages and other necessary supplies such as we have covered previously can be stored together and tethered to any range bag with standard MOLLE web interface.
The "Slickstick" system of the Med Pouch is ingenious, as well. Standard straps that feed through the webbing conclude with a simple snap that coordinates on the pack itself. Thread the strap through your pack, snap the strap closed, and your Med Pouch and range bag are joined. Need to move the Med Pouch? It's a very simple procedure: Simply unsnap the strap and pull back through to liberate the pouch.
MSRP: $29.99. Available colors include black, flat dark earth, sandstone, storm and tac OD.