In July 2015, Gunsite Academy announced its inaugural 250 Pistol Class at Colonial Shooting Academy (CSA) in Richmond, VA. In this 5-day, 1,000-round course students study the components of the Combat Triad (marksmanship, mindset and tactics) on the range and in the classroom.
The Tactical Range and Shoot House
The 25-yard tactical range, designed by Paul LaFrance of Range Strategies, has 270 degrees of AR500 steel and blue rubber anti-ricochet paneling that absorbs light as well as sound. The trap has two angling steel plates with roughly 36 inches of granular rubber allowing for cross range shooting with minimal chance of ricochets. The air is fresh and clean, which was a primary consideration for Gunsite in selecting an east coast location. An AR500 steel shell encompasses the 1,600 square foot shoot house; boasting sliding ballistic panels to prevent the student from 'learning' the floor plan. 
With the ability to accommodate relays of twelve shooters simultaneously the course of fire remains the same in Richmond as at headquarters in Arizona. The Tactical Range at CSA currently uses the Targetbotics Control System, which is due for installation in Arizona during a range upgrade scheduled for 2016.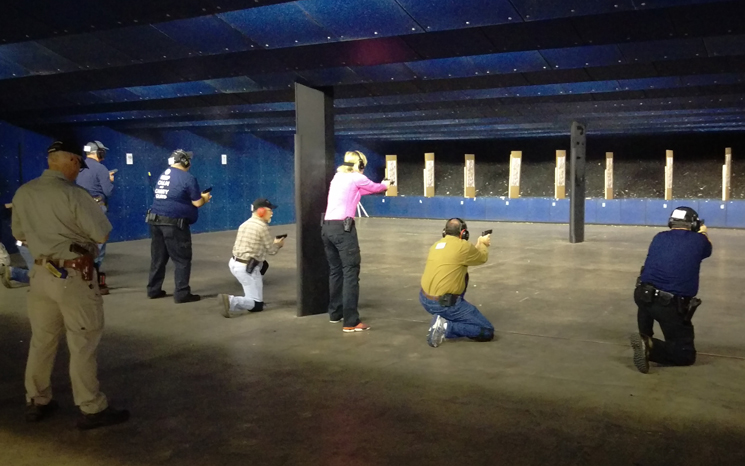 Advantages
The most obvious advantage to the Richmond location is plainly the tactical range is indoors. The shooter avoids sunburns, inclement weather and extra fatigue during the low light block (They can't flip a switch to turn off the Arizona sun!) A less obvious advantage but critical bit of information is at CSA the shooters do not have to concern themselves with Mojave rattlesnakes whilst visiting the latrine or moving through the shoot house.  
An additional perk of a Richmond graduation includes the ability to rent the Tactical Range and receive a 'Holster Qualification' card (for use on the Tactical Range only). Finally, the student receives the same quality curriculum, without breaking the bank in terms of time, airfare, and car rental, that is, if Richmond, VA is geographically closer to the shooter's hometown. 
Disadvantages 
While I explain why the indoor range is an advantage above, I believe it is also a disadvantage. I particularly enjoy training outside because I want to test the limits of my equipment, as well as my mindset. Besides, I imagine if I am in a defensive situation, it will probably be in low light, and I will be reasonably tired. Evaluating how I and my equipment perform under the stress of extreme heat, cold, rain, and fatigue coupled with low light is adding value to my training. Is this an important consideration for a beginner? Probably not, but I think it's at least worth mentioning.  
Upon graduation in Arizona, Mrs. Cooper provides tea, lemonade and brownies as well as a tour of her and Jeff Cooper's home. I hear this is a true gem but the snacks and tour may not be enough to offset the potential financial savings from attending the Richmond course.  
Student Reviews
R. Hal Young, an accomplished rifleman and reloader has some experience with revolver but shot the Gunsite 250 Pistol course with a brand new S&W M&P Shield. On day 5 he confessed to me, "I have never done anything so intense with a pistol." The experience for him was exactly what was promised on day 1 by Ken Campbell, Gunsite CEO, who intimated "The Gunsite epiphany will change your life."  
On the opposite end of the experience spectrum was firearms instructor Lynn Givens, who shared with me, "This Gunsite course was a great tune-up. Whatever your level of experience or skill, one can always learn, especially when exposed to time proven doctrine like that of Gunsite." 
The Gunsite 250 course is a sterling opportunity to develop a foundation for future defensive training. By offering the course at CSA, Gunsite is expanding accessibility of their historical "Modern Technique" to those seeking defensive training on the east coast.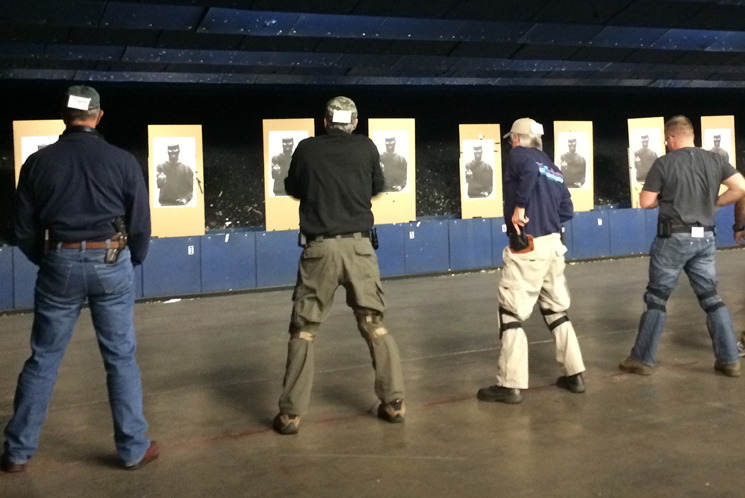 To answer the burning question, is the 250 Pistol course in Richmond the same quality we have come to know from their headquarters in Arizona?  The answer, is "Yes!"  
For more information on Gunsite's 250 course at Colonial Shooting Academy in Richmond please visit their website here.