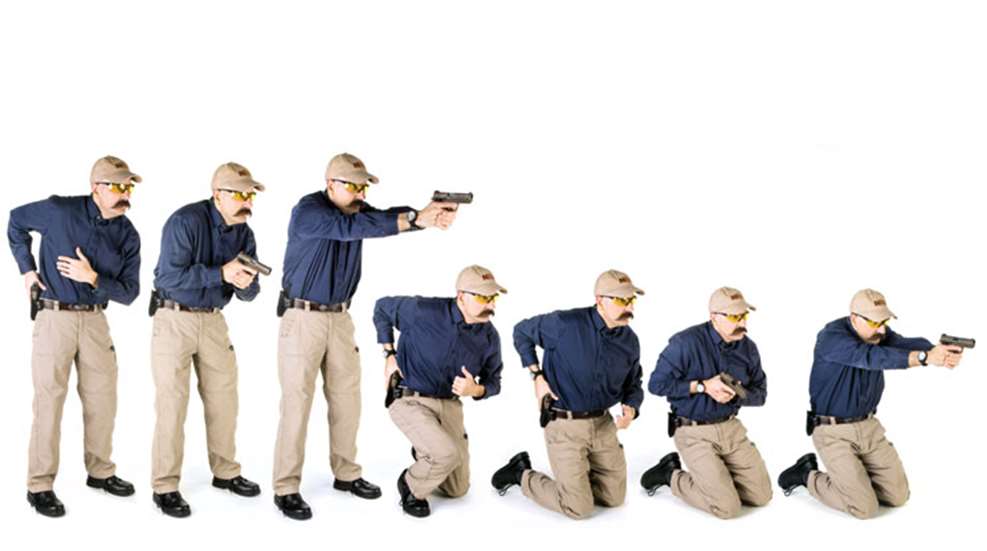 At Gunsite Academy, the shooting school founded by the late Jeff Cooper, and located in Paulden, AZ, the core pistol classes have always been known as 250, 350 and 499. Cooper felt Gunsite was the place for higher learning in the field of defensive firearms so he numbered the classes like those in a college curriculum. These five-day classes can also be described as 250 Defensive Pistol, 350 Intermediate Defensive Pistol and 499 Advanced Pistol. Each class has a qualification drill appropriate to the level of training. I've written up the 250 school drill in an earlier column, and we're going to get to the 350 and 499 drills in due course, but in the meantime there has been a change to the 250 drill and that's what we're going to cover here.
I shoot the 250 school drill often when testing new pistols, usually shooting them through the drill—as is, out of the box—at the beginning of my testing. If the gun and I work well together I can usually ace the drill, but it's not a forgone conclusion, as the school drill is harder than it looks and involves some complex skills. Here's the classic Gunsite 250 School Drill, all shots fired from the holster on an Option target:
At a distance of 3 yards, fire a single shot to the head within 1.5 seconds, then repeat. Next, advance to 7 yards and fire a pair to the body within 1.5 seconds. Move to 10 yards and fire a pair to the body within 2.0 seconds, then advance to 15 yards. Next, fire a pair to the body—starting from standing to kneeling—within 3.5 seconds. Finally, move back to 25 yards and fire a pair to the body (starting from standing to prone) within 7 seconds.
To be honest, I'm kind of lazy these days so I usually shoot this drill standing instead of kneeling at 15 yards and either standing or kneeling at 25 yards. I've found throwing myself rapidly to the ground has lost some of its appeal as I've gotten older. And that may be part of what's behind Gunsite's changing the drill to exclude the 25-yard prone stage, as many clients these days are older, or have back or knee problems that prevent them from getting down without pain. These problems often concern things like loss of balance. Not to worry; prone is still in the curriculum, but not as part of the 250 drill.
• Instead of the prone 25-yard stage, the new 250 Drill has an additional 3-yard stage:
• At a distance of 3 yards from the target, fire a pair to the body within 1.5 seconds.
To make the times and get the hits you'll need to be well-practiced at getting out of the holster and on target quickly. The pairs at 3 yards and
7 yards have to be fast shots, usually referred to as "hammers;" two shots based on one flash front-sight picture. The pairs at 10 and 15 yards can be quick "controlled pairs:" two shots, three sight pictures (front sight press, front sight press, front sight). At 15 yards you can use speed kneeling or double-knee kneeling, or shoot from standing if you need to due to physical concerns.
This short, 10-shot drill may be a bit tough to shoot well at first, but like tens of thousands of Gunsite graduates, if you persevere you'll make the grade.