Shooting is a team sport. I am not talking about a group of warm bodies here, but rather the components involved in the effective shooting equation. Gun, optic, ammunition, accessories and shooter must all to work together to place consistent hits where desired.
Occasionally I see someone on the firing line struggling to get all their "team members" to cooperate. More often than not, the magnified optic is the shirker of the bunch. It seems many folks—a younger version of the author included—prioritize their firearms-related money as follows: gun, ammunition, other somewhat-related stuff, optic. Oftentimes, problem scopes are either part of a package "deal" or are simply an afterthought. The old junk-in/junk-out theory is as true with optics as with anything else, and you really do get what you pay for with most scopes. Fortunately the technology trickledown allows us to have decent optics without plunking down $2,000 to $4,000 in hard-earned cash.
Technology and combat needs have pushed tactical optics far along the path to ultimate practicality. Premium-featured scopes normally come with similarly high price tags, but some manufacturers are now putting the most desirable characteristics in their mid-priced scope lines. The scope has to perform on the range or in the field. I always recommend asking fellow shooters about the optics you see on their rifles. Finding out the likes and dislikes of similarly minded people can often help you whittle down the list of potential sighting devices. You do not have to spend a small fortune to get a reliable riflescope; you just have to do your homework.
These five scopes are just a snapshot of what is available, and though they do not have every feature of high-end models, each has enough attributes to be reliably suited for a tight budget. I have purchased all but one of the scopes detailed here and have used all of them long enough to say each does its assigned job well.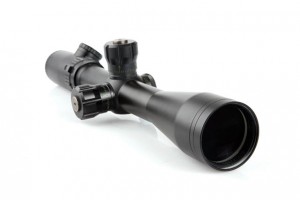 Bushnell Elite Tactical 3-12x44 mm
Average Price Online: $893.43
Bushnell has gone feet-first into the tactical pool's deep end over the past two years. New models are popping up regularly with advanced features like Horus reticles. I spotted the Elite Tactical 3-12X on sale in a flyer last year and grabbed one for my rifle tests. The gamble was a good one: This scope shows the features needed for a good long-range, practical rifle optic need not be super expensive.
Click values of .1 mil complement the mil-dot reticle nicely. Illumination is adequate for dusk and dawn, as well as night use when desired. Since purchasing my Elite Tactical, I have used it to test approximately two dozen rifles at ranges from 50 to 800 yards, and it has performed well.
My single complaint is I cannot focus the scope quite as crisply as higher-priced optics. After adjusting the side-parallax for a particular distance, the fast-focus eyepiece often needs a slight tweaking. I recently heard the same complaint from another ex-military sniper using a different Bushnell tactical scope, so it may be a slight quality problem with the company's lenses.
Magnification: 3-12X
Objective Lens Diameter: 44 mm
Reticle: First-focal-plane; mil dot (tested), G2DMR, BTR-Mil
Illumination: Green; mil-dot portion of reticle; 11 settings
Adjustability: 23 mils (80 MOA) windage and elevation in .1-mil increments
Field of View: 34.8 feet (3X), 8.96 feet (12X) at 100 yards
Eye Relief: 3.75 inches
Tube Diameter: 30 mm
Length: 13.2 inches
Weight: 24.5 ounces
MSRP: $1,435.95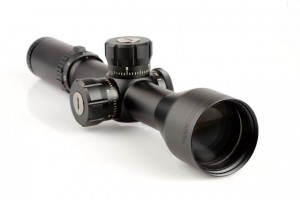 Bushnell DMR 3.5-21x50 mm
Average Price Online: $1,472.39
Bushnell's second entry on the list of reasonably priced scopes is actually a hybrid Bushnell/Horus Vision product. The companies combined their respective strengths for several projects last year in an effort to gain a solid foothold in the military and law enforcement markets. The DMR is their first riflescope effort, and it appears to be a strong step into the arena. (Horus offers essentially the same scope, but calls it the HDMR.)
My first impression upon seeing this optic was that it looked very beefy. But hefting and closely inspecting the DMR tells a different tale. Weight is the same or lighter than other 34 mm scopes in the same power range. It is also short enough to preserve forward rail space, which is normally at a premium with military snipers due to growing inline thermal and image-intensified night-vision devices.
Large elevation and windage knobs provide adjustments in .1-mil increments and positively lock down to prevent inadvertent zero loss. Side parallax adjustment helps fine-tune target and reticle focus, which is especially critical at the long ranges allowed by a 21X scope. Both the Horus H59 and TRMR2 reticles available in the DMR are geared toward rapid, near and far target acquisition through the use of holdovers, moving target leads and wind holds. I have tested a DMR on several rifles and found optical quality to be very good, though I have heard from other shooters that some early models have slight aberrations in the lenses.
For some reason, maybe cost or weight, Bushnell/Horus opted for no illumination in the DMR. I agree illuminated reticles are seldom used, but I am always hard-pressed to give up a capability once gained. In several situations during my deployments, an illuminated reticle was the only reason I could engage a target due to lighting conditions—so I prefer to have this feature.
Retail pricing bumps this scope into the upper tier of the "affordable" category, but the DMR's features make it an exceptional value when compared to other long-range, first-focal-plane scopes with similar prices. The price is not much below suggested retail right now, but I expect that once the initial interest rush is over, DMRs will be very competitively priced.
Magnification: 3.5-21X
Objective Lens Diameter: 50 mm
Reticle: First-focal-plane; Horus TRMR2 (tested), Horus H59, G2DMR, mil-dot
Illumination: None
Adjustability: 26 mils (90 MOA) windage and elevation in .1-mil increments
Field of View: 26 feet (3.5X), 5 feet (21X) at 100 yards
Eye Relief: 3.9 inches
Tube Diameter: 34 mm
Length: 13.2 inches
Weight: 35.2 ounces
MSRP: $1,599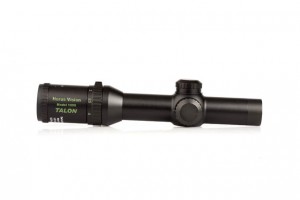 Horus Vision Talon 1-4x24 mm
Average Price Online: $650
The original impetus for Horus Vision's simplest riflescope was the culling of feral donkeys in rough terrain. Minor changes to the reticle helped adapt the Talon for tactical use on mid-range rifles and carbines. It has since become a good performer in combat and competition. I first encountered the Talon after returning from an overseas tour. It was in the hands of champion competitive shooter and instructor Bennie Cooley, who correctly guessed it may be useful on accurized carbines. I immediately liked the scope's inherently fast sighting capability. I mounted a Talon atop a 7.62 NATO carbine during my final two overseas deployments in the Army. Although I had access to better-known 1-4X scopes that cost several times as much, I preferred the Talon's light weight, small package size and advanced reticle system.
The H50 reticle in the Talon is an abbreviated version of the Horus system, divided in .5-mil increments for holdover and ranging. Admittedly, the scope's 4X top end is not ideal for using the reticle graduations. How-ever, those marks extend 12 mils below center and are more than adequate for engaging targets as far as your eyes are able to discern. Aiming references for moving targets are placed along the horizontal stadia in 4 mph increments.
Initially I found the glowing red center stadia lines and outer ring distracted my eye from quickly acquiring close targets. To counter the problem, I simply retrained my eye to look through the reticle, and my split times came back up. Nowadays, I own two Talons. This riflescope is well suited for a variety of purposes.
Magnification: 1-4X
Objective Lens Diameter: 24 mm
Reticle: First-focal-plane; Horus H50
Illumination: Red; outer ring and center stadia lines; 11 settings
Adjustability: 35 mils (120 MOA) windage and elevation in .1-mil increments
Field of View: 68.9 feet (1X), 29.5 feet (4X) at 100 yards
Eye Relief: 3.3-5.5 inches
Tube Diameter: 30 mm
Length: 9.75 inches
Weight: 18.3 ounces
MSRP: $650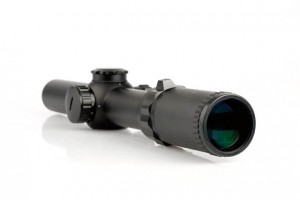 Millett Designated Marksman Scope 1-4x24 mm
Average Price Online: $231.49
This scope is really the odd man out in this collection. Employing a second-focal-plane, non-mil reticle, the Designated Marksmen Scope is nonetheless a good bargain. I stumbled upon it while looking for an optic to test carbines at close range. Normally I do not trust scopes in the $200 ballpark, but my gamble paid off in this case. I have since bought five more of these handy riflescopes for personal and family use, and have recommended them to several other satisfied shooters.
At 4X, the circle/dot-style reticle provides decent holdover references throughout the field of view for shots out to 300 yards with both 5.56 NATO and 7.62x39 mm carbines. With the scope set on its highest power, the "donut" portion of the reticle forms a 12.6-MOA circle around a 1-MOA dot, all of which are centered between three stadia. The bright illumination of the donut and dot aids in rapid target acquisition at 1X. Since the reticle is fully etched, the thick black lines are still very apparent even when the rheostat is off.
Windage and elevation knobs provide adjustments equal to .5 inch at 100 yards. A spare CR2032 battery can be conveniently stored under the windage cap. The Designated Marksman Scope is simple, packed with practical features and is a steal with street pricing in the $200 to $240 range.
Magnification: 1-4X
Objective Lens Diameter: 24 mm
Reticle: Second-focal-plane; Donut-Dot
Illumination: Red; donut and dot; 12 settings
Adjustability: 65 MOA windage and elevation in .5-inch increments at 100 yards
Field of View: 90 feet (1X), 23 feet (4X) at 100 yards
Eye Relief: 3.5 inches
Tube Diameter: 30 mm
Length: 11.8 inches
Weight: 18 ounces
MSRP: $404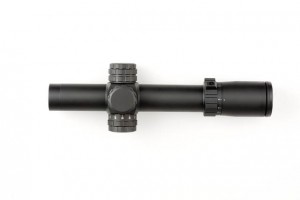 Weaver Tactical 1-5x24 mm
Average Price Online: $668.98
The past year revealed a huge uptick in first-focal-plane scopes. I wasted no time in arranging test samples, and Weaver was first on my list. This scope is tailor-made for quick-handling carbines, so naturally I mounted it on a 5.56 NATO AR. I found the Close-Intermediate Range Tactical (CIRT) reticle very fast to acquire at 1X, while the .5-mil center dot still allows aiming at far targets with the scope on 5X. The CIRT reticle is chock-full of mil-based measurements, as well as quick-ranging and holdover graduations. Dual-color illumination, which is particularly useful for different lighting conditions, brightens the mil-based stadia, center partial circle and dot. Weaver graciously provides two spare CR2032 batteries with each scope, one under each .25-MOA turret cap. Elevation and windage adjustments track perfectly, and optical clarity is very good for a mid-priced optic.
I have no serious complaints about Weaver's approach to a tactical carbine scope. If the company's other tactical optics are on par with the 1-5X model, Weaver's entry into the first-focal-plane world is certainly good for shooters. Street pricing is in the $650 to $700 range.
Magnification: 1-5X
Objective Lens Diameter: 24 mm
Reticle: First-focal-plane; Close-Intermediate Range Tactical (CIRT)
Illumination: Red and green; center dot, circle and stadia; 11 settings
Adjustability: 95 MOA windage and elevation in .25-MOA increments
Field of View: 100 feet (1X), 19.9 feet (4X) at 100 yards
Eye Relief: 4.25 inches
Tube Diameter: 30 mm
Length: 10.3 inches
Weight: 14.5 ounces
MSRP: $1,029.95