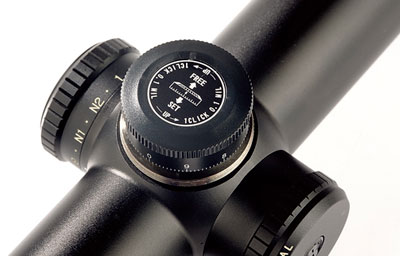 One great downstream result from the virtual explosion in tactical firearm ownership is the exponential increase in the available parts and pieces that support those guns. Tactical optics in particular have come a long way in a short span of time. You do not have to be long in the tooth to remember when most companies' tactical riflescope options were simple reincarnations of their target and hunting models, and not necessarily suitable for hard field use. Thankfully, those days are over. While some companies have made feeble inroads into the tactical-optics market, others like Bushnell Outdoor Products have begun to spit out multiple winners built for the rugged realities of modern tactical shooting.
Bushnell's SMRS 1-6.5x24 mm (Short/Mid-Range Scope) was recently added to the growing roster of low- to mid-power optics designed specifically for close-range rapid engagements and mid-range precision shooting. The 6.5X may be a step behind the top-end magnification of 1-8X scopes dominating this category, but its compact size, affordable pricing and excellent performance more than balance things out.
The SMRS family includes four models, each using the 1 to 6.5 power range of magnification. Two reticles are offered: the BTR-1 calibrated for 5.56 NATO rounds out to 600 meters, and the BTR-2 with a milliradian-based reticle offering 10 mils below center. Each reticle option is available in both first- (1FP) and second-focal-plane (2FP) variants.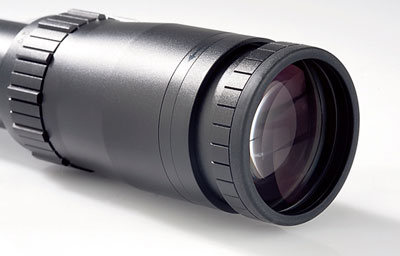 I tested the 1FP version with the BTR-2 reticle, because I am a firm believer in the use of mil-based holdovers and reticle subtensions that work at any power. Each variant has an illuminated-reticle portion that provides 11 brightness settings, with distinct off-position detents between each of them. Positions one through nine are for use during normal, limited-light and bright-day settings. Two settings—N1 and N2—are provided for use with night-vision optics positioned behind the riflescope. Each reticle has a 6-mil (approximately 20 MOA) ghost ring that surrounds the center dot, broken only by the vertical stadia line that extends below the reticle's center. Both the ring and center .3-mil (approximately 1-MOA) dot illuminate. Capped elevation and windage knobs provide .1-mil clicks that equal 1 centimeter at 100 meters, meshing very well with the BTR-2's mil-dot reticle (10 clicks=1 mil). A fast-focus eyepiece enables the shooter to adjust reticle focus to his or her individual eyes.
My fresh out-of-the-box impression of the SMRS 1-6.5X was very good. It is lightweight, the zoom ring does not require a strap wrench to rotate and the streamlined design and matte-black finish both urged me to slap it on a fighting rifle and get busy with some live ammo. I happened to have a semi-automatic .308 Win. missing its optic, so I mounted the Bushnell and went to work to see if it could hold its own on top of the big gun. This rifle previously wore a 1-4X scope and printed steady .7- to .9-inch groups with its preferred factory ammo, so I expected the additional magnification of the 6.5X to meet or beat that performance. The best group of the session at 100 yards was .56 inch with several groups of the same Hornady 168-grain A-Max load measuring between .6 inch and .7 inch.

Overall, I found the size of the center dot, the reticle's clarity and the scope's magnification range were all well-suited to shooting accurately. Using the appropriate mil-line holdover for my load at 300 yards facilitated easily repeatable hits on several steel "iron maiden" heads. The vertical stadia line starts at 1 mil below center, so between the center dot and that first mil is clear. If any holds require a holdover for elevation of less than 1 mil, you will have to guess where to hold in that area. My 200-yard hold fell between marks, and while hits were easy on fighting-sized targets, grouping at that distance was touch-and-go due to the holdover guesswork. Shooters who prefer to manage elevation in the reticle (versus dialing up elevation knobs) would be better served by a vertical stadia line that starts at the center of the reticle.
Bushnell advertises an Ultra Wide Band lens coating that helps reduce any loss of light in low-visibility environments as well as its Rainguard HD lens coatings. Both lens treatments worked as designed during my testing, the latter forcing water to bead and disperse off the front lens quickly during my 98-percent humidity range day.
Once I was satisfied with the 6.5X scope's ability to help place accurate shots, I mounted it on a pair of carbines, one a 16-inch flyweight .308 Win. and the other a bare-bones 5.56 NATO gun. I ripped through a variety of surplus 147-grain and 55-grain fodder at distances between 10 feet and 100 yards using various power settings and in both illuminated and nonilluminated reticle positions. The 1X setting is very fast for target acquisition when illuminated, but with the reticle turned off, the black semi-circle is noticeably slower to pick up. However, the reticle is far better than many competing 1X and 1.1X reticles, and I still found the aiming point easily enough to deliver shots quickly. I would have no problem using this scope for close-in fighting.
Bushnell's SMRS family consists of relatively affordable scopes that help bridge the gap between nonmagnified red-dot sights and higher-magnification riflescopes used for long-range work. The model I tested performed so well, I purchased it and gave the scope a permanent home on my 18-inch .308 Win. AR. The rifle and I are very happy with the pairing.
Specifications
Manufacturer: Bushnell; (800) 423-3537, bushnell.com
Magnification: 1-6.5X
Objective Lens Diameter: 24 mm
Adjustability: 23 mils/80 MOA elevation and 31 mils/106 MOA windage in .1-mil clicks (as tested)
Reticles: BTR-1 5.56 ballistic and BTR-2 mil-based (tested)
Illumination: 1-MOA 1FP dot and 20-MOA semi-circle
Field of View: 106 feet (1X)/16.3 feet (6.5X) at 100 yards
Eye Relief: 3.75 inches (6.5X)
Tube Diameter: 30 mm
Length: 10.6 inches
Weight:  18.5 ounces
MSRP: $1,399.99 (1FP), $1,299.99 (2FP)