Snubby revolvers are popular carry guns. Most, however, are not chambered in .44 Mag. The Ruger Super Redhawk Alaskan is built on Ruger's largest revolver frame, and weighs a portly 45 ounces. While Ruger may have originally designed the Alaskan for duty in the arctic wilderness, the gun has far more potential than just a bear-defense gun. 
As impressive as the stock Alaskan may be, master gunsmith Marc Morganti at Gemini Customs sees this big-bore revolver as the canvas for the ultimate self-defense snubby. Gemini Customs is a high-end shop that has been customizing 1911s and revolvers since 1997. For the last decade or so, Morganti has mostly limited his work to revolvers, and primarily Ruger revolvers. His work with the Alaskan platform, in particular, takes the personal-protection revolver to the next level.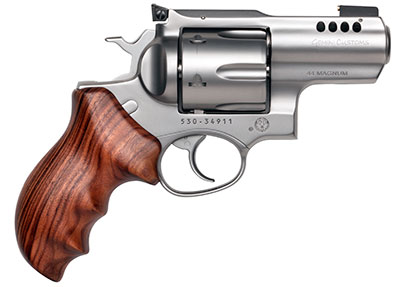 Reworking the Alaskan
Gemini Customs offers a variety of custom work on the Alaskan, with the goal of making a better tool for personal protection and concealed carry. Although some may scoff at an Alaskan for self-defense, spending time with one of Morganti's creations has convinced me this idea is not as crazy as it may seem.
As a defensive gun, the Alaskan has two obvious drawbacks—massive size and violent recoil. There is not much a gunsmith can do to reduce size and weight. Gemini Customs does, however, smooth and dehorn all the sharp edges for carry.
Gemini Customs also crafts custom wooden stocks fit to your hand. These wooden stocks are much better for carry than the rubber offerings from Hogue that come standard on the Alaskan. Rubber grips are comfortable for shooting, but are usually poor choices for concealed carry because they tend to snag on cover garments, making the gun less concealable and harder to draw.
As for recoil, Gemini Customs has at least a partial solution—V-8 Hybra-Porting. This proprietary porting technique, originally developed by Jack Weigand, involves drilling four ports on both sides of the barrel, at approximately the 2-o'clock and 10-o'clock positions. The Hybra-Ports re-direct a portion of the hot, expanding gases out of the top of the barrel, causing a downward force that counteracts the natural inclination of the barrel to rise sharply on recoil. Porting reduces muzzle rise and the "snapping" of the wrist that is part of the recoil impulse.
Snubby revolvers are notoriously difficult to shoot accurately, but Gemini Customs can address this shortcoming as well. The Gemini Customs complete action-tuning process results in a smooth 10-pound double-action (DA) trigger pull, and a light 2.5-pound single-action (SA) pull. The DA trigger is buttery smooth and about as good as a revolver can get. The SA trigger is as light and crisp as that of any target gun. It is amazing what a talented gunsmith can do with this Ruger action.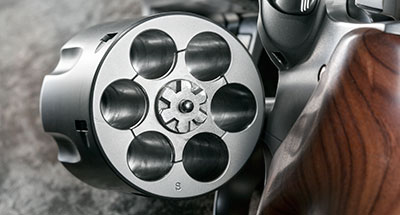 Snubby revolvers are also known for having poor sights. The Alaskan's factory sights are not bad, but Gemini Customs offers various upgrades, including a Bowen Classic Arms "Rough Country" rear sight. The Rough Country is adjustable, but has opposing tension screws for windage and elevation, making it much more durable than the factory rear sight. You can also upgrade the front post with a fiber-optic, tritium or even a 14k gold dot.
The basic Gemini Customs carry package for the Alaskan is $895, plus return shipping. This includes the action and tuning work, dehorning, a Bowen Classic Arms rear sight, a fiber-optic front sight, and a bead-blasted finish. My review gun included the optional V-8 Hybra-porting, a 14k gold bead front sight, custom Bolivian rosewood grips, and removal of various lettering and engraved warnings. All in all, my total bill came to about $1,800 in parts and labor. Of course, you also have to provide the Ruger Alaskan, which will cost you around $800 at typical retail prices.
Taming a Magnum
Without a doubt, the recoil of the Alaskan may be problematic for some shooters. Full-power .44 Mag. loads will always get your attention in a snubby revolver, but the porting makes this gun far more tolerable to shoot by significantly reducing the violent snapping sensation. I find shooting a single round is not particularly unpleasant, but repetitive shooting does start to take a toll on your hand and wrists. The weight of the Alaskan helps, as does the porting—but even a couple thousand dollars of custom work can't repeal the laws of physics. I found that a hard "crush grip" on the revolver is essential, and with good form, shooting 25 to 50 rounds in a session is tolerable. Of course, if you are sensitive to recoil, a snubby .44 Mag. is just not going to be the right gun for you.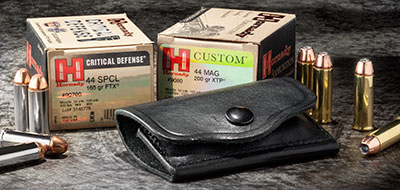 Another option is to shoot .44 Spl. ammunition rather than .44 Mag. Although factory ammunition is sometimes harder to find, shooting .44 Spl. is actually quite pleasant. The felt recoil and muzzle rise is minimal, and rapid follow-up shots are easy. My only serious caveat is the .44 Spl. loads I tested (Blazer 200-grain GDHP and Hornady Critical Defense 165-grain FTX) both achieved less than about 850 fps from the short barrel of the Alaskan. This is not fast enough for reliable hollow-point bullet expansion. While you still have a large projectile, you are not likely to get maximum performance from expanding bullets. Those who load their own ammunition may be able to tailor a hot .44 Spl. load that can exceed 1,000 fps and make a great defensive load.
I also fired about 200 rounds of premium defensive Magnum ammunition through the Alaskan, including loads from Federal (240-grain JHP and 240-grain Hydra-Shok JHP), Hornady (240-grain XTP), and Winchester (240-grain Soft HP). Each of these rounds averaged more than 1,100 fps, and would be a fine choice as a defensive round in the Alaskan. Even at 25 yards, this snubby revolver has no problem shooting in the black of a standard-size NRA bullseye target.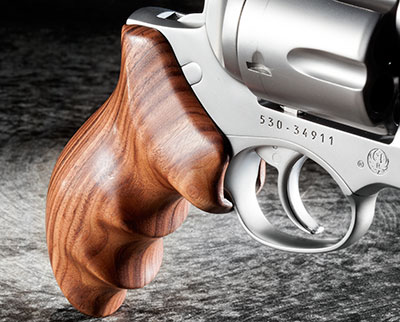 Carrying a Big-Bore Snub
So, the question is: Can you really carry an Alaskan concealed? Size is the real issue, but the Alaskan may not be as big as you think. A standard Series 70 Colt 1911 weighs about 38 ounces, while the Alaskan weighs only 45 ounces. The weight is manageable, but definitely requires a quality belt and holster. The width of the cylinder can also be a concern for inside-the-waistband (IWB) carry. I preferred to carry the Alaskan outside the waistband, using a Simply Rugged Sourdough pancake holster. This holster is versatile, with options for IWB and outside-the-waistband (OWB) carry. So long as you have a proper cover garment, carrying the Alaskan concealed is definitely possible. If you don't think you can carry this gun, you probably can't. But, if you really want to carry a gun this size, it can definitely be done.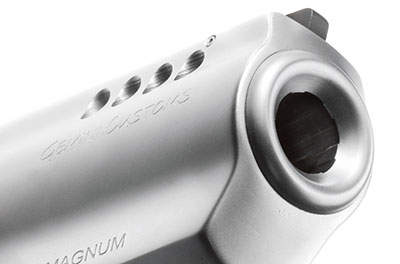 Even if you are not up to carrying a big-bore revolver concealed, the Alaskan makes a great car gun or home-protection candidate. A .44 Mag. revolver provides plenty of power, with a lot of versatility. One of the advantages of a revolver is the ability to shoot all manner of loads reliably, including snakeshot, lead round-nose, jacketed hollow-points and frangible bullets. You can certainly find a defensive load to meet your particular needs.
Maximizing the Alaskan
I have been exceptionally pleased with the work done by Morganti and Gemini Customs. Although custom work is never inexpensive, personal attention from a master gunsmith can turn an ordinary revolver into an amazingly accurate and efficient weapon. While Morganti's work is certainly beautiful, it is also very functional and turns a basic revolver into a custom defensive firearm worthy of protecting your life and your family.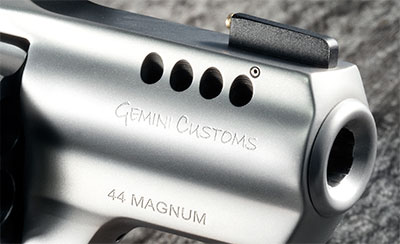 You can learn more about the services provided by Gemini Customs, and view more photos and pricing information, at geminicustoms.com. As you might expect, there is a waiting list for custom work, and your turn-around time will likely be at least three months. However, Morganti is very good about communicating with his customers and keeping you informed on the status of your project.
Many will see this Alaskan project gun as over the top, and I understand that reaction. The stock Alaskan is an "over the top" kind of gun chambered in an "over the top" caliber. Add in a few thousand dollars' worth of custom work, and you have what many readers will see as a whole lot of excess. However, you also have an exceptional revolver that will protect you for the rest of your life and will be passed down to protect the next generation. A Gemini Customs Alaskan is a rare, but obtainable, luxury.