by
Shooting Illustrated Staff
posted on December 12, 2017
Support NRA Shooting Illustrated
DONATE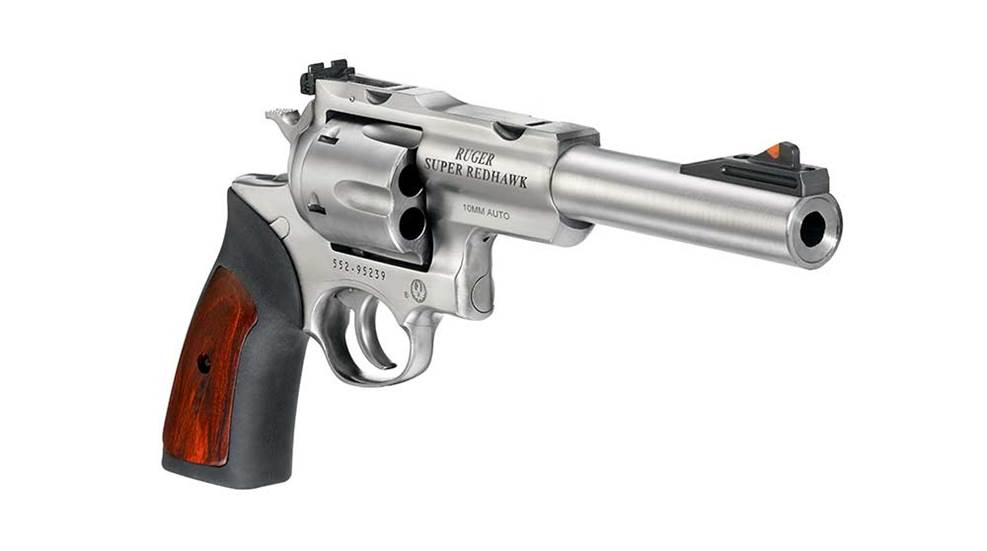 The 10mm Auto cartridge is widely renowned for its powerhouse characteristics, particularly when used in semi-automatic handguns. Now,
Ruger
is making this niche pistol cartridge available in a revolver format with the new Ruger Super Redhawk revolver chambered in 10mm Auto.
Sharing many of the same features as other Super Redhawk revolvers chambered in typical wheelgun cartridges, the 10mm Super Redhawk has a frame machined from stainless steel. In keeping with true Ruger fashion, extra material is left in key areas of the frame, including the top strap, sidewalls and barrel mount, enabling the gun to handle extra-powerful loads.
An added feature of the Super Redhawk revolver is the use of the company's triple-locking cylinder, which features locking points at the bottom, rear and front of the frame to ensure alignment and enhance durability and reliability over the lifetime of the gun. The frame is matched up to a barrel made from cold-hammer-forged steel, which features precision rifling for added accuracy and barrel life.
The frame also features the inclusion of the company's specially designed rubber grip, which works to dampen recoil, thanks to the integral recoil cushion perfectly placed in the web of the hand in order to bear the brunt of the recoil impulse from heavy loads. The frame is also designed to fit a wide range of aftermarket grips, should owners want to customize their revolvers.
Located at the top of the Ruger Super Redhawk in 10mm Auto, the barrel rib features machined mounting surfaces designed for use with scope rings, enabling hunters and precision shooters to attach an optic of their choice while ensuring that there's less room for error, thanks to the integrated mounts. The gun also features a built-in transfer bar for added safety, eliminating the chance of an accidental discharge. The revolver also features adjustable sights.
The Ruger Super Redhawk in 10mm Auto features a cylinder capacity of six rounds and ships with three full moon clips for easy loading and ejection of the rimless 10mm rounds. The revolver features a 6.5-inch barrel and has an overall length of 12 inches. The gun weighs 54 ounces and sells at a suggested retail price of $1,159.