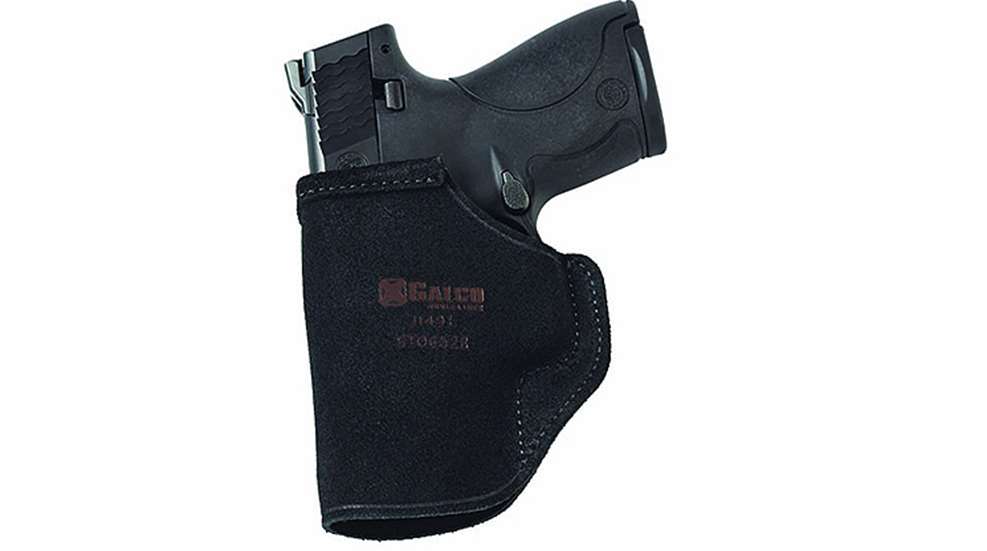 Galco Gunleather has introduced five new holsters designed specifically for the new Smith & Wesson M&P Shield in .45 ACP. The new line solely for the M&P 45 consists of Galco's most popular holsters: The Stow-N-Go, Tuck-N-Go, Pocket Protector, the Stinger and Side Snap Scabbard.
The Stow-N-Go inside-the-pant holster is made of premium center cut steerhide, features a metal-reinforced mouth for easy holstering, a neutral cant, an injection molded nylon belt clip and fits belts up to 1.75 inches. It's comfortable, durable and an affordable option for daily concealed-carry needs.
The Tuck-N-Go is another inside-the-pant holster that provides deeper concealment than the Stow-N-Go. It features Galco's patented Generation IIl Tuckable J-Hook, which hooks over the pants and behind the belt, hooking upward and only showing a small piece at the bottom. It allows for a tucked-in shirt to completely conceal your firearm.
The Pocket Protector for the S&W M&P 45 keeps the firearm upright while in a front pant or jacket pocket. Reinforcements at the holster mouth and beneath the trigger guard keep the holster stiff enough for a smooth draw and easy return.
The Stinger belt holster has a tunnel belt loop that uses minimal belt space, it positions in a butt-forward cant and it fits belts up to 1.5 inches thick. Safety, security and stealth are all addressed with a covered trigger guard and a deep molding.
Lastly, the Side Snap Scabbard is easy and fast to attach and remove from the belt. Its combat grip and accessibility make it quick and secure, and a tension unit allows for micro-adjustment to the feel of the draw and precision fit to the M&P 45.
For more information on Galco's new line of S&W M&P Shield in .45 ACP, please visit Galcogunleather.com.