Throughout the country, concealed carry has taken off in a big way. Many want a small gun, but in more-powerful cartridges than the ubiquitous .380 ACP. They also want a handgun that is easier to shoot accurately than micro pistols. Until just a few years ago, the next step up was to a much larger, heavier subcompact category of handguns. However, in 2012, this gap was filled by the Smith & Wesson M&P Shield.

This gun split the difference between the micro-pistols and subcompact sizes. The Smith & Wesson M&P Shield is small, light and easy to carry all day, yet it is chambered for full-grown defensive-pistol cartridges. The Shield has decent sights, a good trigger pull and as a result is much easier to shoot well than the smaller offerings, not to mention it hit the target with a lot more authority than the munchkin-size .380 ACP. Springfield Armory launched its XDs that same year, and Glock followed with the G43.
With a million-plus guns sold in the past five years, there is little doubt that the Smith & Wesson M&P Shield has become a favorite concealed carry gun for the American public, including me and most of my friends.
It also spawned a bunch of competitors. One thing that has kept the M&P Shield apart from that competition is, for the most part, the competitors have chased the largest market and kept their handguns to the 9 mm chambering. I have neither the word count nor the inclination here to start a debate on the merits of that cartridge verses the other options, except to say I always put my trust in more power and larger bullets. The Smith & Wesson Shield has always been offered in both the 9 mm and .40 S&W. That's what first attracted me to the gun. I believe in personal freedom and would not presume to tell anybody what cartridge their carry gun should be chambered in, but I have a pretty good working knowledge of terminal ballistics, including some "real-time" testing on live critters. I believe that all defensive handguns are underpowered, so I like to opt for the larger cartridges to gain every edge possible.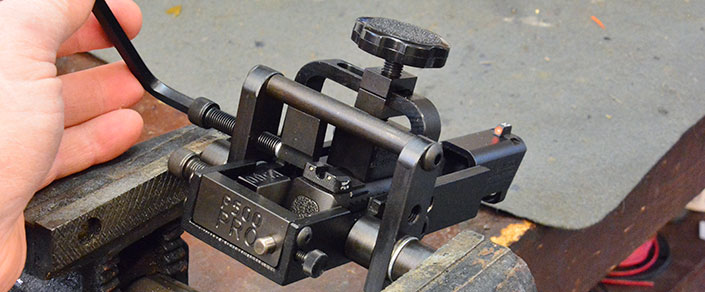 I can hear the arguments starting for a full-size carry gun and don't disagree with them, except that they are heavy and often hard to hide. A smaller gun that is with you is far better than the full-size pistol home in a drawer because it's heavy and you decided not to carry today. Short of out an all-out multi-shooter terrorist attack, the capacity of the M&P Shield is fine. A million-plus gun owners agree.
I liked the concept of a smaller carry gun and with the option of a more-powerful cartridge, I bought a Smith & Wesson M&P Shield in .40 S&W, and it has been one of my carry guns for many years. Actually, I like this gun so much I bought two in .40 S&W, one for me and one for my wife. I also bought one in 9 mm. I shoot thousands of 9 mm rounds for competition every year, so I always have a good supply of ammo on hand. Also, with NATO and many law enforcement agencies using the 9 mm, it's the handgun cartridge that is most likely to be available in hard times. A 9 mm with ammo is a far better defensive handgun than an empty anything else.
Then in 2016, Smith & Wesson upped the ante and brought out the M&P Shield in .45 ACP. I had to have one, of course, and find that I am preparing yet another Shield to be a carry gun. To be honest, I never thought we would see the two hook up, but they did. It may not be trendy to favor a big-bore handgun today, but I never was one to follow the crowd. The .45 ACP still packs the most horsepower and punches the biggest hole of the popular defensive-handgun rounds. I like that. Now that it's available in an easy-to-carry handgun like the Shield, I really like it. The extended magazine in the .45 ACP M&P Shield holds seven rounds, the same as the original 1911, but in a smaller package at half the weight. What's not to like? Besides, this lets me tinker on a new gun, tweaking it to become a carry gun.
One of the best improvements you can make to the Smith & Wesson M&P Shield is to add night sights. A carry gun should work for you in every conceivable scenario, and night sights are an important tool in achieving that goal.
Changing sights may look like an easy DIY project, but often it is not. The trend today with handgun manufacturers is to use rear sights with crush pads on the dovetails. This may make the manufacturing process a bit easier, but it often causes problems for the end user as the sights can stick tightly in the dovetail. Removing most sights installed with crush pads will require a very high-quality sight pusher. These are quite expensive, so this ends up being a job for a gunsmith. Any attempt to remove a tight-fitting sight without the proper tools can damage your firearm.


Besides, night sights should only be installed with a sight pusher. The tritium-filled glass vials that give the sights that glow in the dark quality can break if you try installing them with a hammer and punch. Have a gunsmith do the job; you will be much happier in the end.
While the gunsmith has the gun, you might ask him to upgrade the trigger. I have found the triggers in my Shields to be fine for a carry gun, but I have also received letters from people who have bought Shields on my recommendation who were very unhappy with their trigger pull. Apex Tactical Specialties has a drop-in kit that will improve a Shield's trigger. The results will be much better if a gunsmith installs it for you.
There are a few aftermarket night sights available and most are very good, but my current favorite sights for any carry gun and particularly for the Smith & Wesson M&P Shield are the Trijicon HD Night sights. They have tritium vials front and rear, while the front sight also has a large yellow or orange photo-luminescent dot that is easy to find in almost any lighting condition. One problem with night sights that use three vials all the same color is telling which one is the front sight when you are in a hurry. Since you have three dots, it can get confusing. If there is any ambient light at all, this front sight does not have that problem.
The front sight is tall and the rear sight uses a U-shaped notch. The notch is wide enough to provide plenty of daylight on each side of the front sight, so you can pick it up fast in most lighting conditions. The rear sight is cut on the front to provide an edge that can be hooked on a belt or boot for one-handed operation. Once they are installed, you can move the rear sight relatively easily with a soft punch and gentle taps with a hammer to adjust for windage. There is a setscrew provided to lock it down.
Another tool I like on all my carry guns is a laser sight. I think that this is probably one of the most-important tools you can use, for a lot of reasons. But not all laser sights are created equal. Activation must be instinctive and instantaneous. If you have to fumble around looking for buttons to push or switches to activate, you may as well not have a laser on your defensive handgun.
I am a big fan of the Crimson Trace Laserguard for the Smith & Wesson M&P Shield. It clamps around the trigger guard and on the rail under the lug. There is a section that fits to the front of the grip and contains the activation button. When you pick up the handgun your middle finger is positioned over the button and simply squeezing activates the laser. Crimson Trace offers green and red lasers, although I much prefer the green as it's visible in a wider spectrum of lighting conditions. Note that the units are not the same size and will require a different holster for each model. More on that later.
The M&P Shield chambered in .45 ACP has slightly different dimensions than the .40 S&W and 9 mm models and so requires a different Laserguard and holster. I fitted mine with a Laserguard Pro, which has a red laser and a weaponlight. They can be run independently or together, and the light has a strobe mode as well as constant-on. It's a bit bigger than the laser alone, but not so much as to be a burden—even on a small gun like the Shield.
Another interesting green laser is the Viridian. This one also clamps to the rail and the trigger guard. It features a magnetic switch that instantly turns on the laser as the handgun is drawn from the holster. It does require a special holster with a magnet installed to shut off the laser when the gun is holstered. But activation is positive and requires no action by the shooter other than drawing the gun.
Finding a good holster to fit the Smith & Wesson M&P Shield when it's equipped with a laser can be a bit of a difficulty. The fact that I am a left-handed handgun shooter only exacerbates the problem.
Crossbreed makes holsters for most configurations, including a holster with a magnet for the Viridian laser. I am a big fan of Kydex holsters for carry. (I love the smell, feel and look of leather, but nothing stands up to the sweat, stress and grime of everyday carry like Kydex.) The market is flooded with good holsters, but I have two sources I have had very good luck with. Blade-Tech has some great holsters. My friend Tim Wegner's products never disappoint. I carry my .40 S&W with a green Crimson Trace Laserguard in a Classic Eclipse outside-the-belt holster and in one of their Ambi Klipt holsters.


You can go the custom route for not a lot more money. Squared Away Customs in Enfield, NH, can make a holster to your specifications, including some interesting finish options. It built a holster for an M&P Shield fitted with a Crimson Trace green laser and worked with me to get the fit just the way I wanted it. I am having another made for the .45 Shield with a photo overlay of .45 ACP cartridges on the outside that should turn out to be striking.
An interesting way to carry a spare magazine is the SnagMag. This magazine holder fits in your off-side pocket with a clip and looks like a knife. It provides a fast reload and has become one of my preferred ways to carry a spare magazine for any handgun, including the Smith & Wesson M&P Shield.
To paraphrase, "This is my Shield. There are many like it, but this one is mine." This is how I have set mine up for everyday carry. It was a bumpy road to get here and I have tried other products that didn't work out. I thought I might save you a little time and money with these suggestions.
As famous trainer Clint Smith once said about the burden of carrying a firearm: "Carry guns should be comforting, not comfortable."
I believe that with a Smith & Wesson M&P Shield set up as described here, it can be both.