Support NRA Shooting Illustrated
DONATE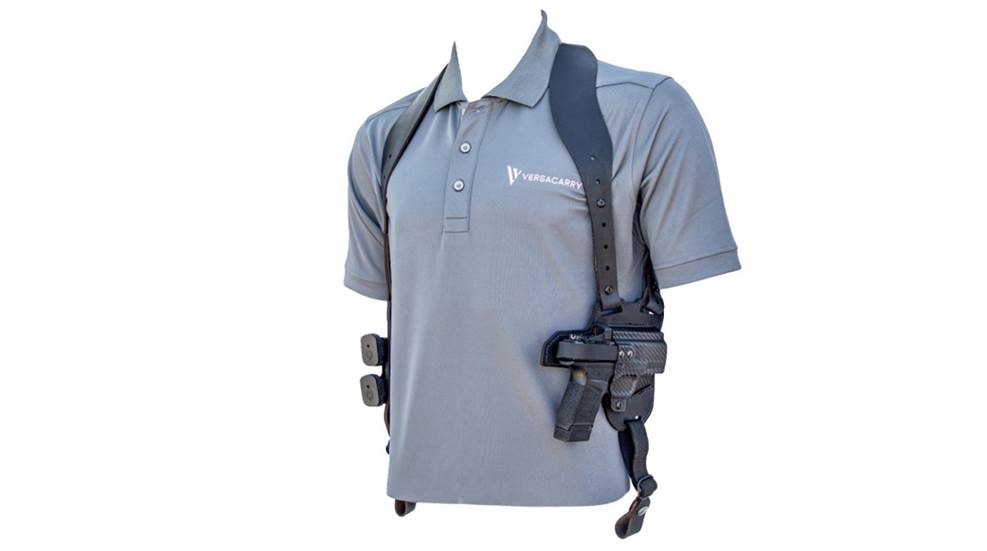 Versacarry, the holster company based in Bryan, TX, is now selling its new Mayhem shoulder holster system. The Mayhem shoulder holster system has a custom polymer molded retention adjustable front holster shell that is designed with pistols which have slide mounted electronic red dot sights. Furthermore, the mouth of the holster is open so as to not interfere with handguns that have threaded or extended muzzles. The Mayhem's harness system is made from premium tanned water buffalo hide. A dual magazine pouch also comes with the Mayhem system and it is carried on the other side of the body opposite of the holster. Currently, the Mayhem shoulder holster system is only available for right handed shooters and in the color black.
Versacarry set up the Mayhem shoulder holster system to be compatible with a selection of popular handguns currently available on the market. The pistols which currently fit the Mayhem holster include the Glock 19 or Glock 43, the H&K VP9 SK, the Kimber Mako, the Ruger Max 9, the Smith and Wesson M&P Shield (9mm or .40 S&W), the SIG Sauer P320, P365 and P365 XL, the Springfield Hellcat and XDM and the Taurus GX4 and G3C.
Mayhem Shoulder Holster System Specifications and Features:
Vegetable tanned water buffalo hide
Industrial grade bonded nylon threading
Designed for use with 1 ½ inch wide standard belts
100-percent American designed and manufactured
Versacarry's lifetime warranty
Custom molded polymer front shell
Slide mounted electronic red dot friendly
Adjustable straps
Dual magazine pouch with adjustable retention
Holster sits horizontally and includes thumb break
Anti-snag protection
Open holster shell mouth to accommodate threaded or extended muzzles
Retail pricing for the Mayhem shoulder holster system begins at $155. For more information on this product or other holsters and goods offered by Versacarry, please visit their website at versacarry.com.