by
Shooting Illustrated Staff
posted on April 7, 2023
Support NRA Shooting Illustrated
DONATE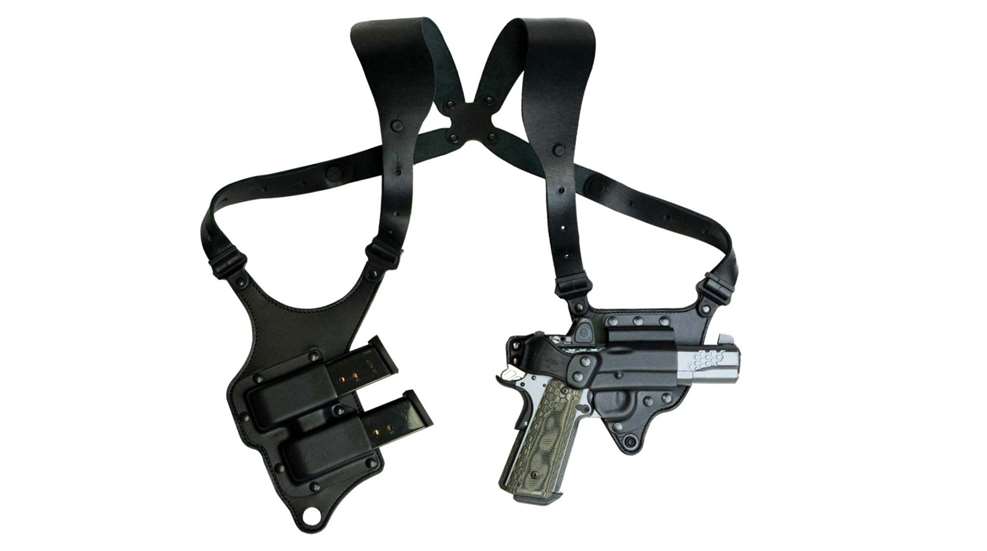 Galco Holsters is unveiling the new Galco Parabellum 2.0 Shoulder Holster system which features design cues from the original Parabellum holster, with a 21st century update.
The Galco Holsters Parabellum 2.0 uses a hybrid construction that combines kydex materials with top grain leather and premium center cut steerhide as well as a redefined and upgraded body harness. Both the pistol holster and the opposite offset magazine pouches are designed to sit horizontally in the harness. Pistol holsters for the Parabellum 2.0 Shoulder Holster system have a built-in thumb activated retention strap. The magazine carriers on the magazine pouch have an open-faced design uses a rubberized passive retention to hold spare magazines in place, without getting in the way of a smooth reload.
The redesigned harness on the Parabellum 2.0 is optimized for the wearer's comfort, and is 2.5 inches wide at the shoulder. This additional width spreads the weight of the holstered pistol and loaded magazines more evenly across the wearer's shoulders, increasing around the clock carry comfort. The harness is also recountoured to improve concealability, especially when paired with an open suit jacket or sports coat. The harness also makes use of a tool-free keyhole fastening system that replaces the older style screw and post system. This new system ends the worry over needing tools or hardware backing out and getting lost during use.
Galco Parabellum 2.0 Holster Features:
Hybrid kydex, top grain leather and premium center cut steerhide construction
Tool-less keyhole fastening design
Holsters include a thumb activated reinforced retention strap
Holsters suitable for the majority of pistols with mounted red dot sights
Open front magazine carriers use a rubberized passive retention system
Harness width up to 2.5 inches across shoulders to maximize comfort
Fits chests up to 56 inches
MSRP $229
For more information on the Parabellum 2.0 shoulder holster or other products from Galco, please visit galcogunleather.com.