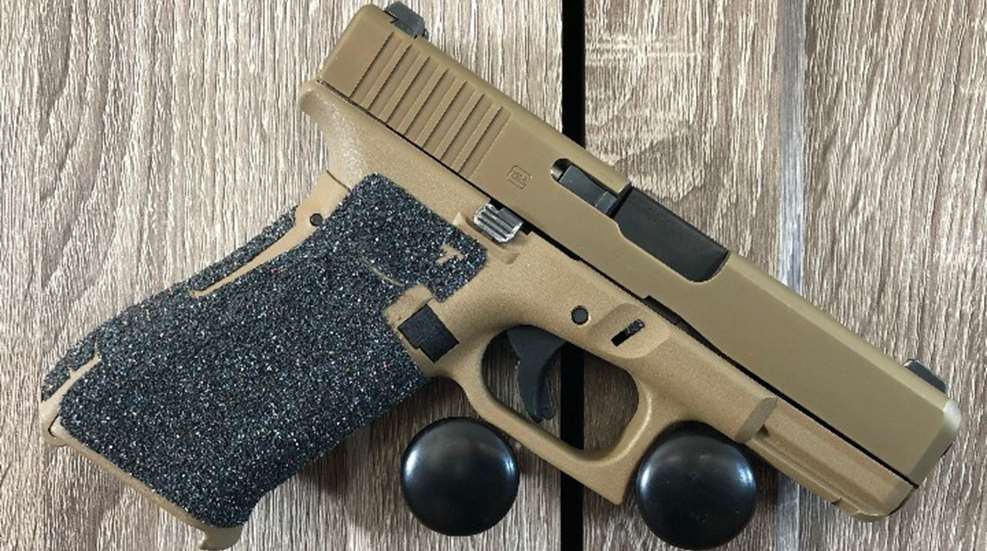 I've long been a fan of Talon Grips, precision-cut, stick-on appliques for polymer-frame pistols. I was and remain a fan of the M1911, but was an early adopter of the Glock. The only two areas where the Glock wasn't superior were the trigger pull and the grips. The former problem has largely been solved by companies like Ghost, Inc. connectors and Apex Tactical, while the latter was vanquished by innovative products like those from Talon Grips.
Talon grew out of the trend of shooters applying adhesive skateboard tape to the grip frames of their polymer pistols. Talon brought the virtues of mass production–specifically, precision and consistency—to the practice. The company uses two basic materials: a textured rubber (offered in black or moss colors) and a black granulate similar to abrasive skateboard tape. The rubber material provides good purchase without snagging clothing or abrading the hand. It even seems to offer a very slight reduction in felt recoil. It works quite well for concealed carry. The granulate offers tremendous purchase in all conditions, but is abrasive and works best for open carry (including uniformed duty use) and competition. The materials were originally die-cut for specific pistols. Now the grips are laser-cut and there are fits for more than 300 pistols.
Talon has now combined the best of the two materials in the company's new Pro Grip texture. The new material offers the all-weather purchase of the granulate, but the comfort and snag-resistance of the rubber.
Looking at the new texture, it looks like Talon literally combined the fabrication methods of the earlier grips. The rubber grips have a molded texturing, whereas the granulate seems to be made by adhering particles of black grit to the surface. Well, the Pro Grip texture—to my eyes—seems to be granulated rubber particles affixed to backing. The new material offers plenty of purchase, but is not at all tacky.
American-made, Talon Grips have always been a good value. Requiring neither the time nor cost of custom stippling, they look good when correctly applied. The grips come with detailed instructions and even an alcohol pad to degrease your grip frame prior to application. I have the rubber-type grips on three pistols and have yet to wear out a set. If I ever do, they're easily replaced. Moreover, if you ever desire a change, you can just remove them as they necessitate no permanent alteration of your firearm.
The new Pro Grip will retail for $24.99, but will be on sale (no promo code needed) April 29 and 30 for $19.99. For more information, visit Talon Grips' website at Talon Grips.