I have an office gun. Yup, I've become so decadent that I have a gun just for carrying at the office. Allow me to explain.
One of the perks of working at NRA Headquarters is the ability to open carry. No, it's not particularly dangerous here, but not having to put on and take off your personal protection pistol as you come and go to work makes life a lot more convenient.
A few months ago, I completed my dream carry gun, a Glock G19L, which is a DIY combination of a G17-length slide and barrel mounted on a G19 frame. (You have to get a Lone Wolf Distributors extended-length barrel as the G19 and G17 have different locking lugs.) After a modest series of tweaks, I decided that the pistol was perfect. However, my tailor and orthopedist conspired against me.
My orthopedist determined that, due to a degenerating vertebra in my neck, I should start using a standing desk. I did so, but that revealed the one problem with the G19L, given our office-attire requirements and my less-than-Olympian physique: Over the course of the day, the G19L would inexorably try to pants me. In jeans with a big belt for an hour or so, it was fine, but in dress slacks standing for eight hours, I was constantly hitching up my britches. You can look on that as an unexpected but minor hardship—or see it as an excuse to buy another gun.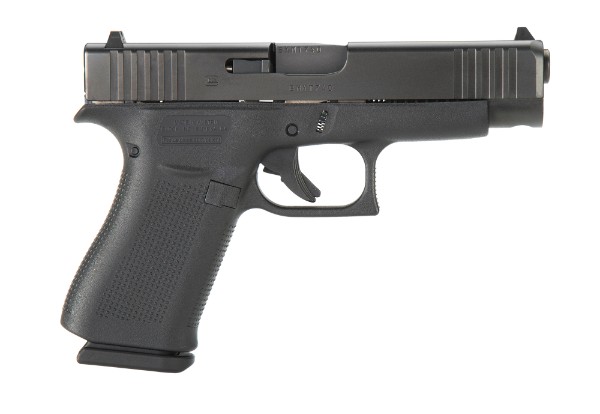 Oh, sure, I already had other, smaller pistols, most notably a much-loved Kahr PM9 that, while it can be worn on a belt, is most at home in a pocket or an ankle holster. I'm a big believer in carrying the most gun you practically can, and while the Kahr is about the maximum I find I can regularly carry in a pocket or on an ankle, there are better options for a belt gun. I just had to pick one.
I had had the good fortune to test the Glock G43 at its introduction. It was snappy but decent. The problem was I didn't quite like the size; too big for a pocket or ankle (at least for me, but I'm weight-sensitive) and not as shootable as a belt gun shoot be. Then the company introduced the G43X. Meh. As indicated by my G19L, I prefer a moderate-size frame and longer slide, the grip of a gun being the more difficult part to conceal.
Then came the G48. It was just right.
Introduced with relatively little fanfare, the G48 slightly stretched the dimensions of the small-frame G43. It is, more or less, a single-stack G19. It balances nicely and has a slight beavertail extending from the frame. Suffice to say it feels very good in the hand. With a few judicious aftermarket tweaks, I knew it would be a capable shooter beyond close range. I knew I'd found my office gun. I just had to customize it a little. Among the virtues of Glocks is the huge aftermarket. The G48 has been around long enough to generate enhancements, many of which were created for the G43, but which work in all slim-frame Glock pistols.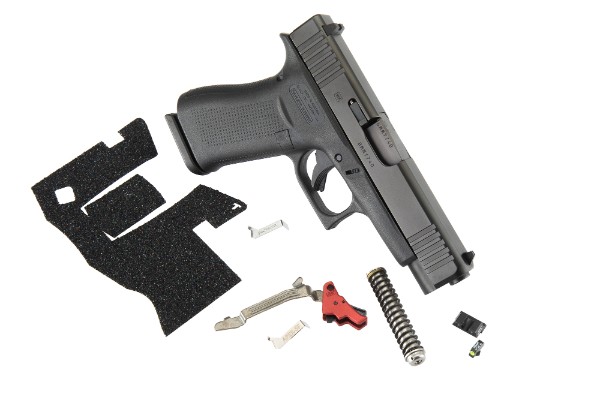 Sights
The first order of business was sights. From my experience with the G19L, tritium night sights with a relatively narrow front post were the way to go. The G19L wear AmeriGlos, but that company is now part of Trijicon. I contacted the latter and ordered a set of its HD XR night sights (MSRP: $175). Featuring a large U-notch in the rear flanked by unadorned tritium dots, the XRs also have a narrow post with a fluorescent green ring surrounding another tritium dot. The sight picture is fast and precise, and provides considerable confidence at a distance. The ledge-style profile also allows for emergency, one-handed racking.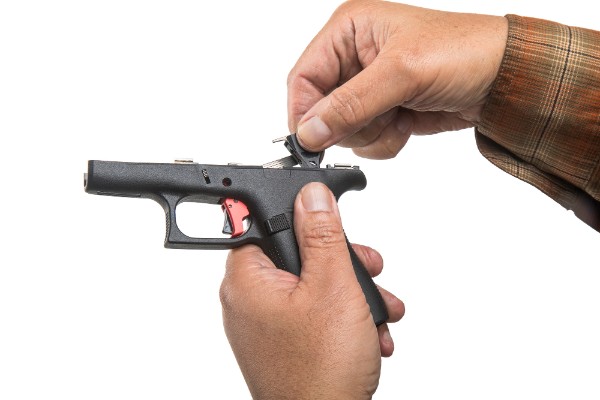 Trigger
The original trigger on the G48 was something short of spectacular. Oh, I know—it's a striker-fired trigger. What do I expect? I've owned three Glocks and, while this pistol's trigger was within spec, it definitely wasn't as good as the other stock Glock triggers that maybe I'd lucked into.
Anyway, regardless of the stock triggers, I've put Ghost trigger connectors in my previous Glocks. Having stumbled onto them several years ago, I happily ordered the company's Edge connector for what amounts to a drop-in trigger job.
Ghost claims it's the high polishing it performs on its connectors that accounts for the improvement in trigger pull. I don't know if polishing alone explains it, but you get a lighter, smoother trigger for a nominal price, little effort and very little mechanical skill. How little? I installed it.

While Ghost has outstanding customer service, in the two or three days between ordering the Edge connector and its arrival, I became aware of Apex Tactical's Action Enhancement Kit for Slim Frame Glocks (MSRP: $129.95), featuring a flat-faced trigger. I discovered with a Dan Wesson 1911 that I really prefer flat triggers. This one promised an improved pull and—wonder of wonders—it was available in red. Does that really matter? Well, anything that makes a Glock look better without compromising function is worthwhile in my book.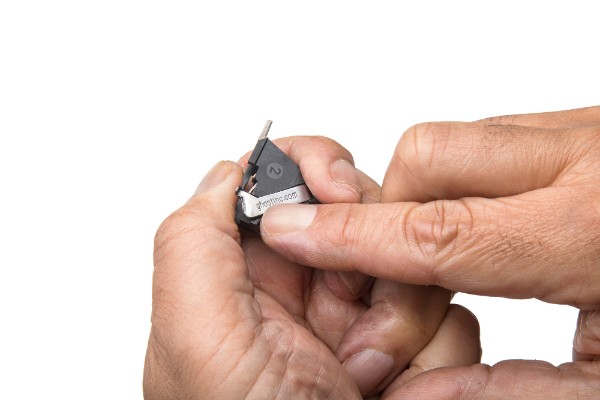 I received the Ghost Edge connector, dropped it in and it performed the expected magic. The pull was considerably lighter (yet safe) and smooth. It had a rolling break with a "bump" that was still there, yet contoured differently; smoother. All for $24.95.
The Apex Tactical trigger isn't just a connector; it's the entire trigger apparatus. Though it may look intimidating, it shouldn't be. If you can install the Ghost connector, you can install the Apex. In fact, there's one less step with the Apex installation since the connector is already in place.
Once installed, the Apex looked hella cool. The contours are distinctive and the scarlet tint contrasts powerfully with the pistol's matte-black plastic. The trigger pull, though, was a startling revelation. The trigger exhibits take-up until it is absolutely vertical, 90 degrees to the trigger guard and frame. Then comes the wall.
I hadn't used an Apex Tactical trigger before, and here's the best way I can think to explain it. The stock Glock trigger has the now-familiar long, mushy pull until you encounter an abrupt bump that you roll over by adding a little more pressure until the trigger breaks. The Ghost trigger pull is the same, just more so. It's a lighter, smoother pull ending at a bump, but a smaller, more "rounded" one. Apex, on the other hand, seems to be built on the paradigm of the single-action 1911 trigger. That is to say the company has designed a striker-fired trigger with a pull closely approximating the feel of a single-action 1911 trigger. It comes remarkably close, though it's measured 5-pound, 1-ounce pull was just slightly heavy by 1911-aficionado standards. Still, the wall is so hard, sharp and distinct that when the trigger broke you half expected to hear glass shattering.
Ghost and Apex Tactical offer two diametrically opposed approaches toward the same goal—a better trigger pull. Which is better? Which do you prefer, a "Glock" feel taken to the nth degree, or a pull reminiscent of the fabled 1911? The ghost is more affordable, but you get a flat face and eye-catching color with the Apex unit.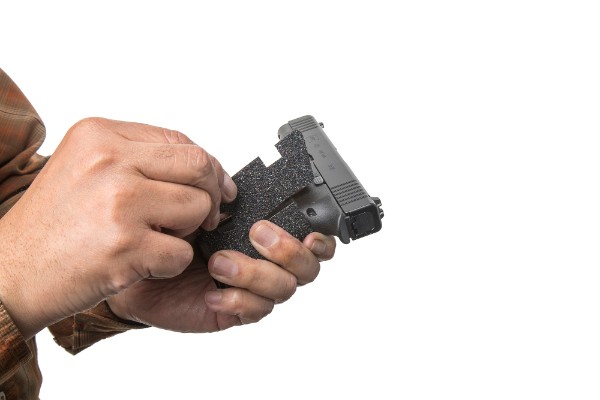 Grip
Sometimes you get lucky with timing. I'd already decided to put a Talon Grip on the gun, as I've done with all my polymer-frame carry pistols. Inspired by DIY shooters who'd started placing skateboard tape to the slippery grip frames of polymer pistols, Talon Grip brought precision engineering to the concept. It created custom-cut appliques in a choice of sandpaper-like granulate or rubberized material. The former is great for competition and open carry (including duty), while the latter is terrific for concealed carry. Just as I was inquiring about the rubberized version for the G48, Talon's Adam Spector emailed me and said he had a new product he'd like me to try and that he'd soon have some cut for a G48.

I received the new Pro Grip a few weeks later (thanks, COVID-19), and they are worth the weight and definitely worth the price (MSRP: $24.99). Combining the fine particles adhered to a surface like the granulate, but using rubber particles instead of hard grit, the new Talon Pro is a compromise that doesn't. It feels great, looks fairly snazzy (with tiny, colored particles added to the mix) and works like a charm. Purchase is excellent, yet it doesn't snag my clothing.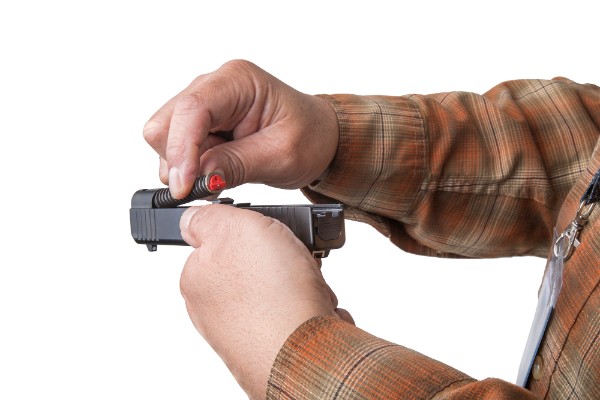 Laser
I wasn't going to put a laser on this pistol. Then I found out I could put a laser in this pistol. LaserMax has a unit for the G48 (MSRP: $279).
I've been a fan of this company from jump. Its stock-in-trade is making a laser that also serves as the recoil-spring guide rod. The fixed laser is installed permanently inside the guide rod. You just swap out the stock guide rod for the LaserMax unit and replace the takedown lever with the included LaserMax takedown lever/activation switch. The placement of the guide rod beneath the barrel means the laser is naturally, permanently aligned with the barrel. The new takedown lever/switch slides left or right to activate the laser and stays in a center detent with the laser off when not needed. The laser can thus be activated with the trigger finger or the support-hand thumb. Push from either direction.
I have a LaserMax unit in my G23. While testing it at 20 yards, it put four rounds into one hole (and not by a little) and the fifth just barely missed the party. The lasers are available in both red and brighter (but more energy-consuming) green and can be set for a steady or pulsing beam.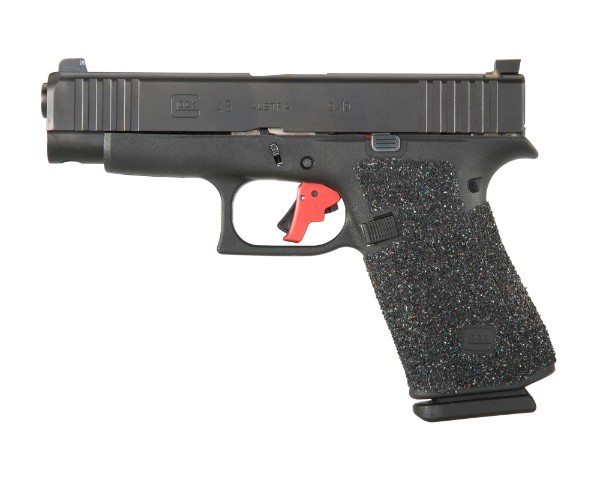 Finished Product
I couldn't be more pleased with the finished gun. It feels good, shoots accurately and rides comfortably even as I stand all day. The few ounces difference between it and the double-stack G19L with its added capacity, larger frame and longer slide don't seem like that big a deal, but they are, particularly over the course of 8 or more hours. The G19L still accompanies me whenever possible, frequently in a Galco Miami Classic II shoulder rig, but when it comes to all-day belt carry, that niche is ably filled by the G48.