My gun cabinet is becoming something of a museum of everyday carry. A friend perhaps better described it as my application to "Fuddhood." Every time I think I have the perfect everyday carry (EDC) gun or the perfect EDC rotation, there's some new innovation that upsets things. Yet, even though it was long ago supplanted by a pocket-size 9mm, my Smith & Wesson Model 38 Airweight J-frame .38 Spl. still frequently gets called out of retirement.
Revolvers, in general, have a few attributes that should not be overlooked. They are simple to operate, easy to check, function with a variety of bullet configurations and are not typically dependent on the correct functioning of the ammunition for cycling. (Though a bullet from a squib load can get stuck in the barrel-cylinder gap and prevent the cylinder from rotating. Don't ask me how I know this.)
The J-frames add the virtue of being small and concealable, and the Airweight (aluminum frame) or 340/360 (Scandium frame with a titanium cylinder) J-frames also offer light weight. The Model 38 (like the all-steel Model 49) ups the ante with a humpback extended frame shielding all but the spur of the hammer. It's every bit as snag-free as the DAO Centennials while giving you the option of single-action fire, if desired. The all-black aluminum-frame Model 38 and all-black Model 49 (both with carbon steel cylinders) of my youth were years ago replaced in the Smith & Wesson lineup by the Model 638 and 649, respectively, with stainless steel cylinders, the 649 also having a stainless-steel frame.
All that having been said, let us not forget the problems of little revolvers, all of which are shared by my Model 38. There are three: 1. They lack firepower. 2. They are very slow to reload, even with speedloaders or speed strips. 3. They are comparatively difficult to shoot well.
As for my gun, to those shortcomings I would add modest muzzle energy. The humpbacks are offered only in .38 Spl. (rated for +P). There are other J-frames chambered in .357 Mag., including one that weighs shy of 12 ounces. However, the humpbacks have always been .38 Spls. and, with their 1.88-inch barrels, generate around 200 ft-pounds of muzzle energy with the premium defensive loads of some major ammo manufacturers (although Federal's new Punch and some of Buffalo Bore's offerings up that considerably). In other words, with most loads it has just slightly more oomph than a .380 ACP.
So why did I carry it and why do I sometimes still rely on it? Because it has a virtue some overlook, but one I always harp on: Presence. Properly accessorized, it can be donned so quickly and worn so comfortably that it can always be there when you need it. So, what do I mean by accessorized? Stay with me; we are really going down the Fudd rabbit hole.
Smith & Wesson grip frames have always sat deeply in the hand. The reason is the void behind the trigger guard. Aftermarket grips eventually appeared that filled in that area. Smith's own stock grips are now similarly designed. Today's shooters don't realize how big a problem the grip-frame contour and contour-following grips were, nor how gradually the problem was addressed. Such seemingly simple innovation was awhile coming to market and the technological stepping stone was a product called the Tyler T-Grip Adapter. Attaching with clips that fit under the grips, it wedges behind the trigger guard and provides a new, contoured and comfortable frontstrap, making the gun easier to grasp than with the slender stock grips alone. It isn't a J-frame-only item. It is offered for K-frames and other makes and models of wheelguns, too. So, why not just install modern grips? Well, we're getting to that.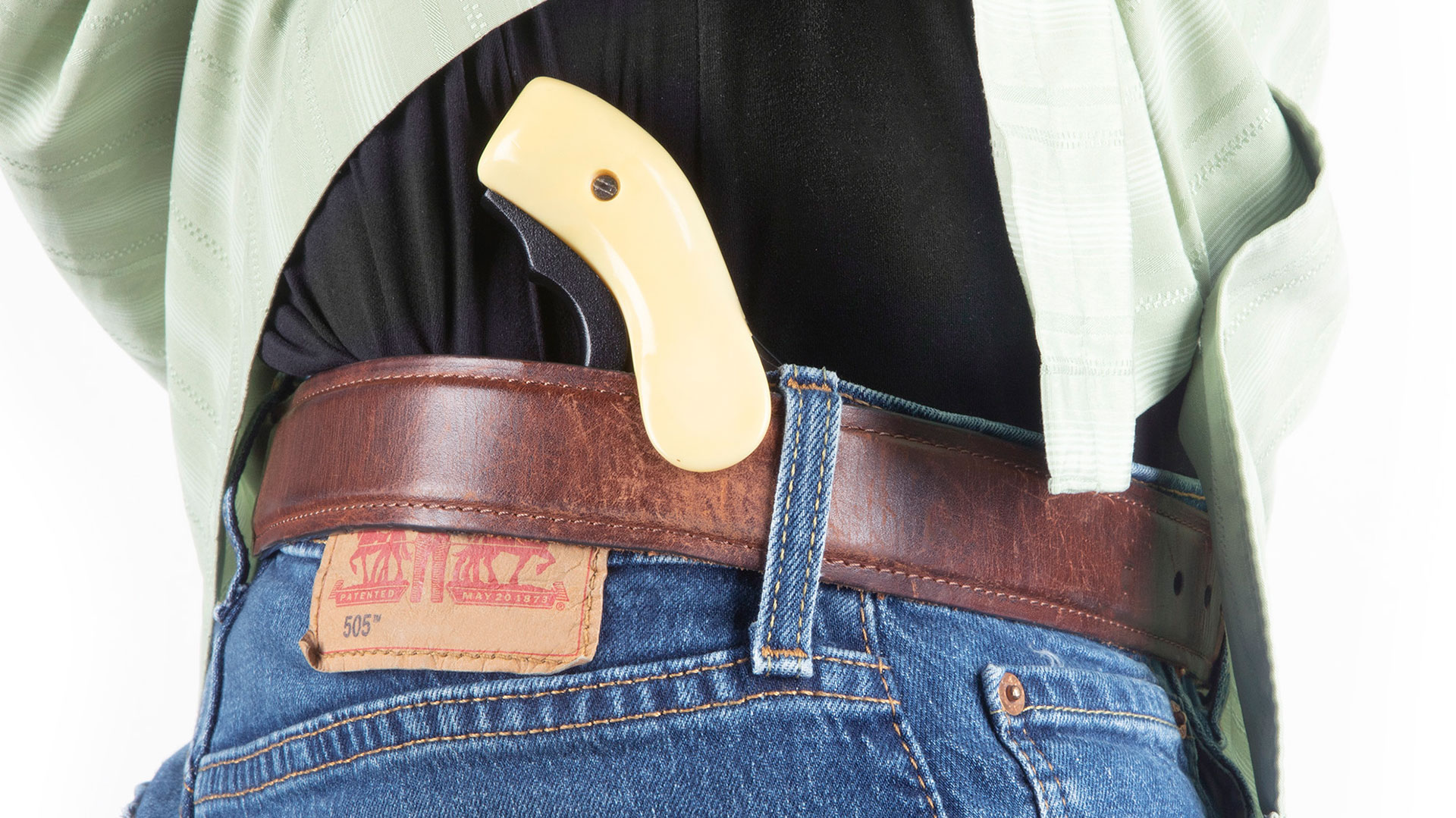 A bonus of the Tyler T-Grip Adapter is that it works so well with our second "old school" accessory, the Barami Hip-Grip. If there was ever a product I was skittish of—then endorsed—it was this one. Hip-Grips are a set of polymer panels following the grip-frame contours of the gun (and thus the need for the Tyler T-Grip Adapter), except for a large, rounded tab that projects from the top of the right grip panel, veering slightly away from the frame. With the Hip-Grips installed, the revolver is placed inside the waistband of trousers (but outside the underwear) and the tab is hooked over the waistband and belt. The belt is then tightened to hold the revolver in place. Carrying a gun without a holster? An uncovered trigger? Relying on gravity and a little belt pressure to secure your EDC piece? It all struck me as heresy—but it worked. To this day, when I occasionally don the M38, I'm still amazed by how well Hip-Grips function. The gun carries securely and the absence of a holster is like a little vacation.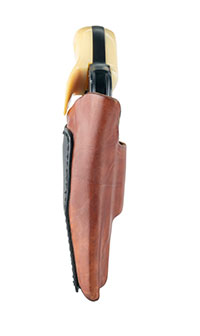 Should I not be wearing a cover garment, I can still stick the Model 38 into my Kramer pocket holster. The tab flares out just a fraction of an inch beyond the thickness of the gun and holster combination. If the tab prints at all (the holster itself looks like a wallet in the pocket), it sure doesn't resemble a gun.
Yet another quality of the Hip-Grip is that not only does it not interfere with shooting, it actually improves my finger placement on the trigger. Because they are otherwise narrow, without the tab Hip-Grips would allow my finger to pass too far through the trigger guard, placing the second joint on the trigger. By forcing my trigger finger a little out from the gun, the tab positions my first joint on the trigger, as preferred.
Of course, there's always a problem. In this case the problem is too much of a good thing. Believe it or not—speaking strictly for myself—the T-Grip-enhanced, Hip-Grip-equipped Model 38 offers too much convenience, too much comfort. It's so fast and simple to don that I'll carry it in place of other, better guns (in terms of firepower, muzzle energy, shootability and speed of reloading) that I have the time to put on and that will conceal as effectively if not as comfortably. On the scale of problems to have, that's not a very bad one. It's much better, in fact, than having no gun at all when you need one.
I keep my tricked-out little Model 38 for when I have to run out to my car late at night, walk the dog or if I'm just running late, heading out the door and don't have time to "gear up." Also, it's great for fishing and hiking. In the Kramer holster, it also carries well in the pocket of an overcoat in winter when I might not be able to quickly access my belt-carried or shoulder-holstered gun.
If you carry or intend to carry a J-frame, for whatever reason (and there are several valid ones), and would like to make it more convenient, the Barami Hip-Grip can be found at various online retail sites. Obtaining a Tyler T-Grip Adapter requires printing out the order form from the website, filling it out and mailing it in, along with payment. My understanding is that it's a very small operation and it may take several weeks, if not months, to have your order filled. The website promises that online ordering and payment will be available soon. The company may be reached at t-grips.com. My favorite J-frame pocket holster has long been the Kramer unit. It features boned leather on one side, but a Kydex square on the outside so that it resembles a wallet in your pocket. The rigid, flared lip catches the inside of your pocket on the draw, keeping the holster in your pocket as you pull the gun. It's available at kramerleather.com.