Support NRA Shooting Illustrated
DONATE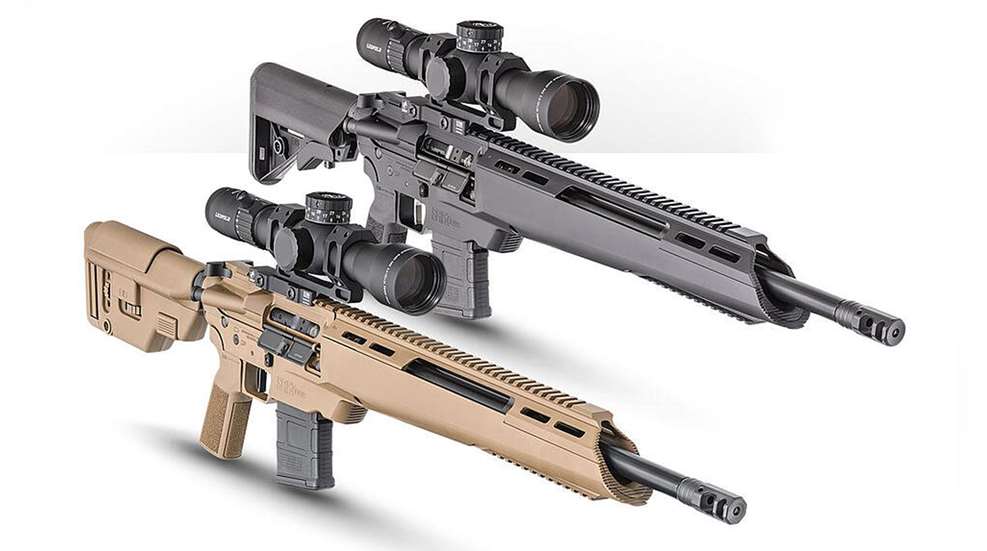 Springfield Armory recently launched the new Saint Edge ATC in .223 Wylde. The ATC (Accurized Tactical Chassis) delivers guaranteed sub-MOA accuracy for three shots with match-grade ammunition and, according to Springfield, a skilled shooter. 
The new ATC is designed to deliver maximum precision from the AR platform. The Saint Edge ATC features a patented chassis system made up of a one-piece monolithic lower machined from 6061 T6 aluminum. The free-floated design ensures that the barrel, barrel nut and gas system are totally free from any contact with the lower chassis. Adding to the precision performance, the Accu-Tite Plus tensioning system offers an adjustable set of conical set screws in the lower that eliminate any play between the upper receiver and lower chassis.
The Saint Edge ATC is offered in a standard black model as well as an Elite Coyote Brown variant. In addition to the Cerakote Coyote Brown finish, the Elite variant features a LaRue 2-Stage trigger and collapsible B5 Systems Precision Stock. The standard model comes with a B5 Systems Enhanced SOPMOD collapsible stock and a flat modular match trigger. A B5 Systems Type 23 P-Grip and 20-round Magpul PMAG complete the package on both versions.
"The Saint Edge ATC, in both standard and Elite versions, gives precision rifle shooters a great new option that maximizes the performance of the AR rifle," says Steve Kramer, Vice President of Marketing for Springfield Armory. "With guaranteed sub-MOA performance, the ATC is must-have addition to the collection of every serious precision shooter."
There are two versions of the ATC and both feature an 18-inch barrel in .223 Wylde manufactured by Ballistic Advantage, giving the rifle a high-performance foundation for maximum accuracy. Featuring a 1:7-inch rate of twist and a rugged Melonite coating, the 18-inch barrel provides impressive ballistics and amazing downrange performance. The .223 Wylde chamber provides the ability to fire both .223 and 5.56 NATO, but with a chamber throat that is tight enough to wring the most performance out of match-grade ammunition.
The Saint Edge ATC features an MSRP of $1,549, while the SAINT Edge ATC Elite comes in at an MSRP of $1,899. For more information, visit Springfield-Armory.com.