by
Shooting Illustrated Staff
posted on February 12, 2020
Support NRA Shooting Illustrated
DONATE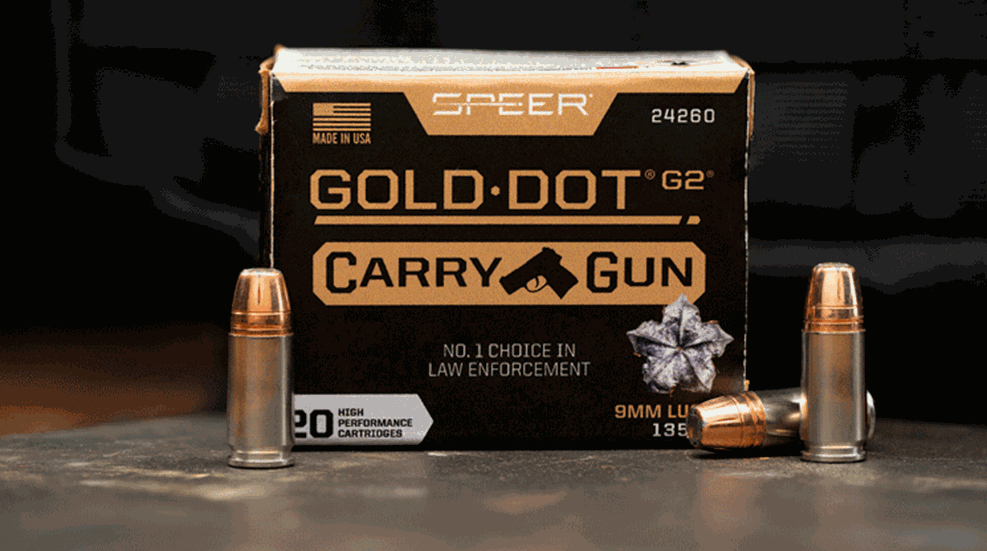 Speer has redesigned its well-known Gold Dot line of defensive ammunition to optimize it for compact and subcompact handguns, featuring an optimized G2 bullet design. The full lineup is called Carry Gun and will be offered in 9 mm Luger 135-grain, .40 S&W 165-grain and .45 ACP +P 200-grain versions.
"Speer's Gold Dot family of ammunition has been the leading choice of law enforcement professionals for almost three decades because it offers exceptional terminal performance and unfailing reliability," said Federal Handgun Ammunition Product Manager Chris Laack. "Last year, we began offering the enhanced Gold Dot G2 ammunition—which had previously only been available to law enforcement—to the public." 
The Gold Dot G2 bullet is a recent evolution from original Gold Dot, and was developed to achieve better FBI-protocol test scores than the preceding Gold Dot round. Both the standard Gold Dot and the new Gold Dot G2 bullets use Speer's UNICOR construction, but the G2's unique design is an evolutionary step forward in bullet performance. Rather than the traditional hollow-point design of the Gold Dot, the G2 bullet features a shallow cavity in the nose of the bullet that is filled with durable elastomer which prevents barrier materials from filling the nose cavity of the bullet that would inhibit expansion.
Duty bullets are designed and optimized for a full-sized duty pistol. As such, they struggle to perform as well with the lower velocities of a short-barreled carry or backup gun. By taking the Gold Dot G2 bullet and customizing it to function in short-barreled defense pistols, Speer has created a self-defense load that is optimized for the guns in which it will actually be carried everyday. 
Speer is rolling out the new Gold Dot Carry Gun ammunition in three initial offerings: 9 mm 135-grain, .40 S&W 165-grain and .45 ACP +P 200-grain. All three will be sold in 20-round boxes, and MSRPs range from $28.99 to $33.99. More information on this new round is available at speer-ammo.com.