by
Shooting Illustrated Staff
posted on May 8, 2022
Support NRA Shooting Illustrated
DONATE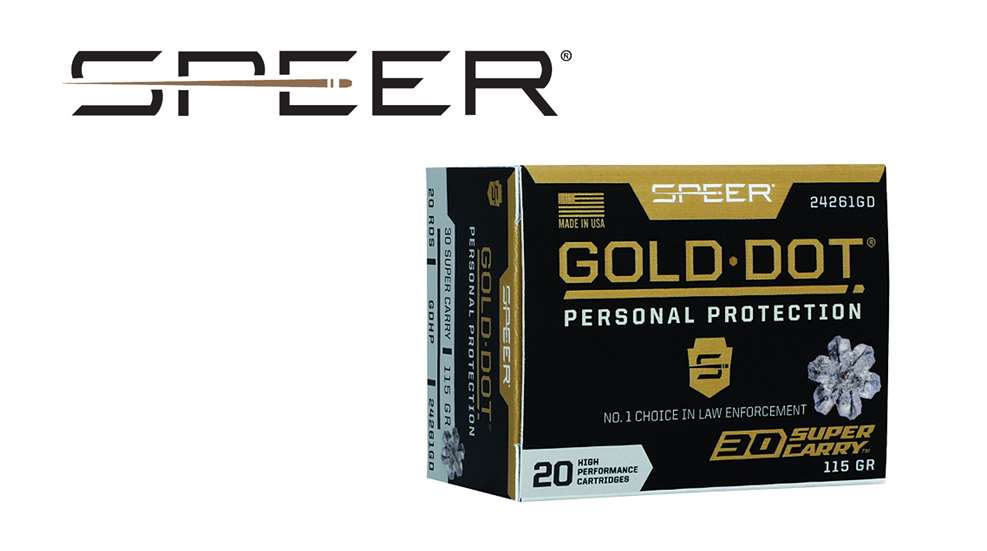 One of the top ammunition brands combined its popular defensive-ammunition with the newest handgun caliber to deliver a new self-defense round that should catch the attention of a lot of people. Speer Ammunition announced the addition of a 30 Super Carry load in its highly effective Gold Dot line of personal protection cartridges.
Introduced earlier this year, the 30 Super Carry cartridge is the same length as a 9mm round, but it is loaded with a narrower projectile: .313 inches instead of .355 inches. This gives the ability to pack more 30 Super Carry ammunition into a magazine of the same size as that of a 9 mm. Additionally, the 30 Super Carry packs bullet power that nearly matches defensive 9mm loads.
"We are excited to add this new cartridge to the line of the No. 1 bullet choice of law enforcement," said Jesse Whiteside, Federal's Senior Director of Product Management. "The new 30 Super Carry option packs all of the functional features that law enforcement and concealed carry users have trusted in a personal protection round. The Uni-Cor bonded Gold Dot Bullet is designed for better weight retention, deep penetration, and exceptional expansion. It's clear to see why the line of Gold Dot ammunition continues to be so popular."
The Speer Gold Dot load for the 30 Super Carry uses a 115-grain projectile. From a 4-inch test barrel, the load pushes the bullet to 1,150 fps at the muzzle. This works out to be 338 ft-lbs of energy which is definitely within the realm of possibility for a self-defense round. Compared to the 9mm Gold Dot load with a 115-grain bullet, the 30 Super Carry is only 60 fps slower at the muzzle.
"What I think shooters will like about the Gold Dot 30 Super Carry is that they get more performance from their everyday firearm without having to step up to a larger platform," continued Whiteside. "With the 30 Super Carry, a magazine the size of a standard 10-round 9mm will be able to carry 12 to 13 rounds of 30 Super Carry. Additional rounds can make a big difference in a real-world self-defense scenario."
Speer Ammunition offers these rounds in 20-count boxes. The suggested retail price is $35.99 for each box. For additional information on this load, visit the Speer Ammunition website at speer.com.