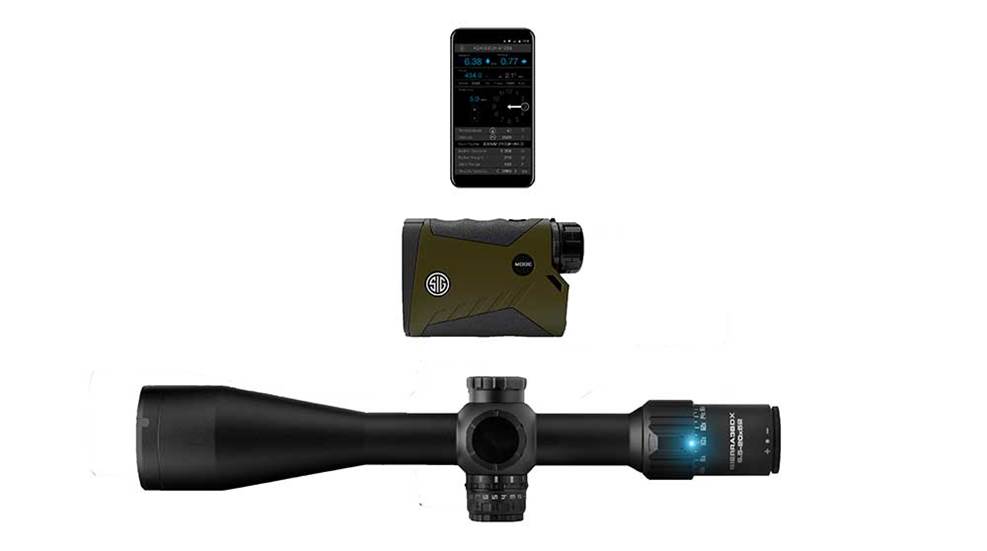 As shooting and hunting distances continue to increase, the potential for a missed shot or an incorrect holdover becomes ever-greater. The team at the
SIG Sauer
Electro-Optics division considered the issues surrounding increased distances, especially as it relates to hunting, and developed its groundbreaking BDX rangefinder-and-riflescope system. This all-new platform provides a streamlined, compact and affordable setup that enables the company's BDX rangefinder to "talk" to the company's Sierra3BDX riflescope in order to develop a shooting solution.
"Rangefinding riflescopes of the past have had two major shortcomings: they are either big, boxy and heavy, or extremely expensive," said Andy York, president of SIG Sauer Electro-Optics.  "The revolutionary and affordable BDX system packs advanced ballistics technology into a simple platform that looks just like the rangefinder and riflescope that every hunter is using today. It is extremely simple to use; range a target, put the digital ballistic holdover dot on target, pull the trigger, impact.  Incredibly accurate and extremely simple. Just connect the dot."
The system works via a downloadable SIG BDX app available for both Apple and Android products. Once the app is downloaded and paired to the Kilo BDX rangefinder and Sierra3BDX riflescope, users can develop a ballistic profile tailored to their particular rifle/load combination and head to the field. Once a target is located, users determine its exact range using the rangefinder. On board the rangefinder is the company's Applied Ballistics Ultralight technology, which calculates the ballistics dope. With Bluetooth technology, the rangefinder sends this information to a compatible riflescope. On the reticle, the windage and elevation holdover point will illuminate. Then shooters simply place the illuminated dot onto the target and pull the trigger.
Four separate rangefinders are available in the SIG BDX family, along with one combination rangefinder/binoculars. Each of these models are loaded with features found on other non-BDX-equipped rangefinders in the company's lineup, using the same Lightwave DSP rangefinder engine, Hyperscan mode that ranges four times a second, RangeLock and the company's illuminated display that automatically adjusts to ambient lighting.
These rangefinders can pair up with a number of models in the Sierra3BDX riflescope lineup. Models are available in 3.5-10x42 mm, 4.5-14x44 mm, 4.5-14x50 mm and 6.5-20x52 mm sizes and magnification ranges. The optics are built on 30 mm main tubes and are loaded with the same high-definition lenses, parallax adjustments and the company's innovative LevelPlex anti-cant system. The optics also include the company's specially designed BDX-R1 reticle, designed to provide accuracy up to 1 MOA out to a maximum distance of 800 yards. 
For hunters, the SIG Sauer BDX system also includes another unique features: the kinETHIC transfer indicator. Simply plug in the ballistic profile of a particular hunting round and set a kinetic-energy threshold. The rangefinder will automatically alert users when the distance is too far to provide the energy desired on target.
"KinETHIC is a feature that asks the hunter to make an educated and ethical decision beforehand by taking into consideration what the velocity and energy capabilities of your bullet and load are to deliver a killing shot," York said. "It then lets you know if the shot you are about to take will fulfill this contract. If not, it provides a visual affirmation to stalk-in closer. Knowing your maximum effective hunting range is more than just knowing what you can hit."
The SIG Sauer BDX rangefinders sell at a starting MSRP of $299.99, and the compatible Sierra3BDX riflescopes start at a suggested retail price of $599.99. Rangefinders and optics will be available from dealers starting in July 2018.