by
Shooting Illustrated Staff
posted on November 10, 2018
Support NRA Shooting Illustrated
DONATE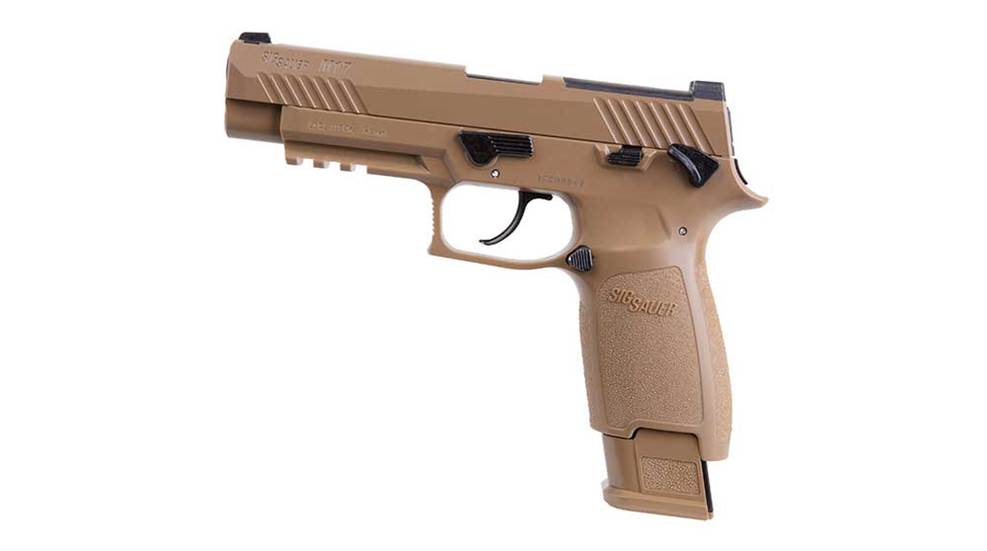 Following the U.S. military's adoption of the
SIG Sauer
M17 as its official issue sidearm, consumers clamored for a commercial variant that would allow them to experience the contract-winning features found in the P320-based platform. SIG answered in the form of the SIG Sauer P320-M17, which shares many details in common with the military-issue gun, and now the company also offers its SIG AIR M17 ASP air pistol as an additional option for consumers.
One of the benefits of having a similarly built and contoured air pistol to the commercially available P320-M17 is the availability of a ready-made training tool that can be used off the range. No longer will M17 owners have to content themselves with dry-fire practice, unfamiliar airguns or non-functioning blueguns. Every feature found in the SIG AIR M17 ASP is designed to provide as much cross-compatibility as is possible in a C02-powered pistol.
"SIG AIR engineers have incorporated the finest features from all of our air pistols to date into the new M17 ASP Air Pistol," said Joseph Huston, vice president and general manager of SIG AIR. "It handles exceptionally well, is fun and accurate to shoot and a very effective training tool, especially with the drop magazine for quick reloading. Current M17 owners will also appreciate that it field strips like the U.S. Army M17 pistol."


The SIG AIR M17 ASP is designed to fire commonly available .177-caliber pellets and is powered by 12-gram C02 cartridges, loaded into the grip frame of the air pistol via the company's patented cam-lever loading port. Alongside the C02 port, consumers will find SIG's unique, 20-round Rapid Pellet Magazine, which provides similar shot capacity and manipulation as the company's P320-M17 firearm. Other similarities include components that field-strip similarly to the commercial handgun, as well as the white-dot sights, all-black fire controls and coyote-tan finish.
During firing, the M17 ASP features a cycling slide, giving users the most-realistic experience possible when training with this air pistol. To mimic the weight and feel of the company's M17 handgun, the grip frame is constructed from polymer, while the slide is made from metal, with the whole unit weighing in at 2.13 pounds. The frame features a Picatinny-railed dust cover that can accommodate lights and lasers. The pistol is capable of launching .177-caliber air pellets at a maximum muzzle velocity of 430 fps, but the company warns that this measurement is highly dependent on pellet weight, ambient temperature and altitude.
A single, 20-round magazine is included with each air gun, and the suggested retail price on the SIG AIR M17 ASP air pistol is $139.99.