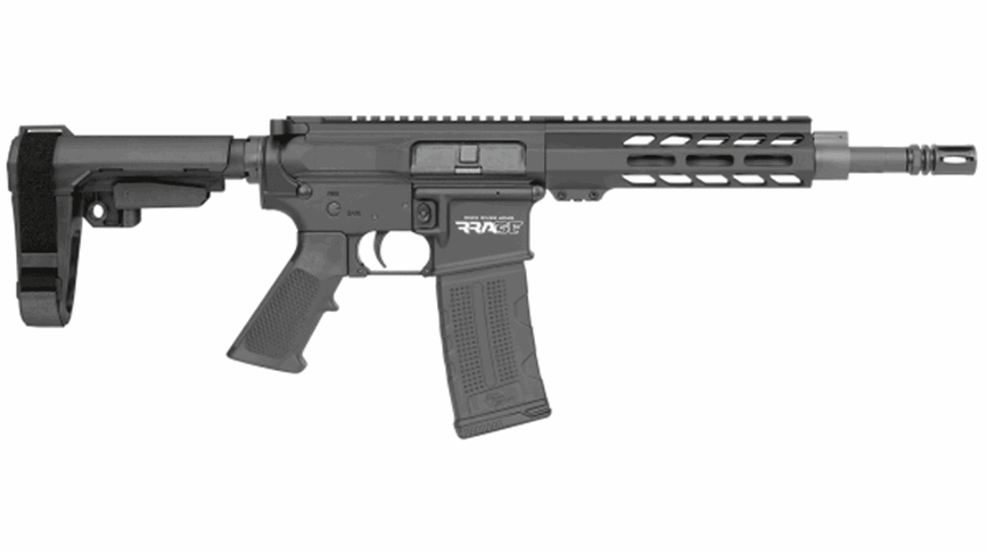 Rock River Arms, committed to providing its civilian, law enforcement and military customers with custom products and services, is expanding its line of AR-pattern pistols with the introduction of the RRAGE, with a 10.5 inch barrel, the latest gun in the growing line of rifles and pistols based on the RRAGE platform.
The RRAGE 10.5 pistol is built on RRA's RRAGE upper and lower receiver and handguard assemblies to deliver a sleek profile and an almost unitized appearance.
Chambered in 5.56 NATO, the pistol features a 10.5-inch chrome moly barrel with a 1:9-inch twist rate and a low-profile gas block. At the rear of the pistol is an SB Tactical SBA3 stabilizing arm brace that is adjustable for five different positions to ensure an optimal fit for any shooter.
The handguard on the RRAGE 10.5 pistol is slim and smooth with M-Lok compatibility to add on a light, laser or other accessories. With its lightweight aluminum construction and free-float design, it adds little to weight and bulk while still providing a full-length top rail for accommodating an optic at whatever eye-relief distance you choose.
Rock River Arms RRAGE 10.5-inch Pistol Specifications:
Caliber: 5.56 mm NATO

Lower Receiver: Forged RRA LAR-15

Upper Receiver: Extruded aluminum A4 w/o forward assist

Barrel: 10.5-inch chrome moly construction, 1:9-inch twist rate

Gas Block: Low-profile

Muzzle Device: A2 flash hider, 1/2-28 thread

Trigger: Single stage

Handguard: RRAGE lightweight aluminum free-float, 7.25-inch, M-Lok compatible

Pistol Grip: A2

Arm Brace: SB Tactical SBA3 adjustable stabilizing arm brace

Weight: 5.7 pounds

Length: 28.25 inches
Perfect for home defense, vehicle carry or recreational shooting, the pistol presents top performance at a budget price. MSRP for the RRAGE 10.5-inch Pistol is $885, and more information on this pistol as well as other firearms from Rock River Arms is available at rockriverarms.com.