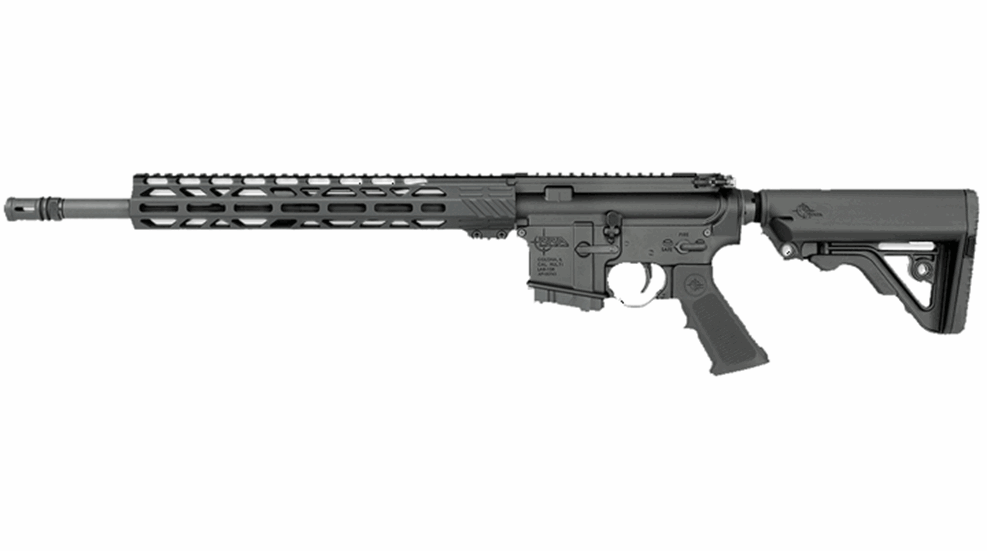 Rock River Arms continues its legacy of building quality firearms based on the AR-15 platform with a new 350 Legend carbine. This latest entry into RRA's LAR lineup is meant to be a modern hunting firearm with minimal recoil and dominating short- to mid-range capabilities. 
The RRA LAR-15M CAR A4 350 Legend takes advantage of the straight-wall 350 Legend cartridge to open up new opportunities for hunters. The rifle delivers the power and accuracy you expect from RRA's precision rifles, along with reduced recoil. The 350 Legend features a 16-inch chrome moly (also available in stainless steel) cryo-treated barrel with 1:16 twist and sports an RRA military-style muzzle brake. The rifle has an RRA winter trigger guard, allowing you full dexterity while wearing gloves, while the RRA two-stage trigger provides a crisp break for a precise shot. 
The RRA LAR-15M 350 Legend comes equipped with a six-position Operator CAR stock, an overmolded A2 pistol grip and a 13-inch extended lightweight free-float handguard which covers a low-profile gas block and CAR-length gas system. The full-length top rail of the rifle fits an almost limitless variety of optic systems, while M-Lok compatible handguard allows you to mount accessories such as a bipod and light source. A 10-round magazine, owner's manual and warranty are also included with the rifle.
RRA LAR-15M .350 Legend Specifications: 
Caliber: 350 Legend

Lower Receiver: Forged RRA LAR-15M 

Upper Receiver: Forged A4

Barrel: 16-inch Chrome-moly or stainless steel, 1:16-inch twist, ½-36 Thread

Muzzle: RRA military-style brake

Gas Block: Low-profile gas block

Trigger: RRA two-stage / RRA winter triggerguard

Safety: RRA Standard

Handguard: RRA 13-inch lightweight freefloat, M-Lok compatible

Buttstock: RRA Operator CAR stock

Pistol Grip: RRA Overmolded A2 grip

Weight (w/empty magazine): 6 pounds, 13 ounces

Length: 33-inches (collapsed)

Includes: One 10-round magazine, RRA case, manual and RRA limited lifetime warranty
MSRP for the Model LAR-15M with a chrome-moly barrel is $1,100, and MSRP for the same gun with a stainless steel barrel is $1,150. More information on both these rifles and the rest of the Rock River Arms line can be found at rockriverarms.com.