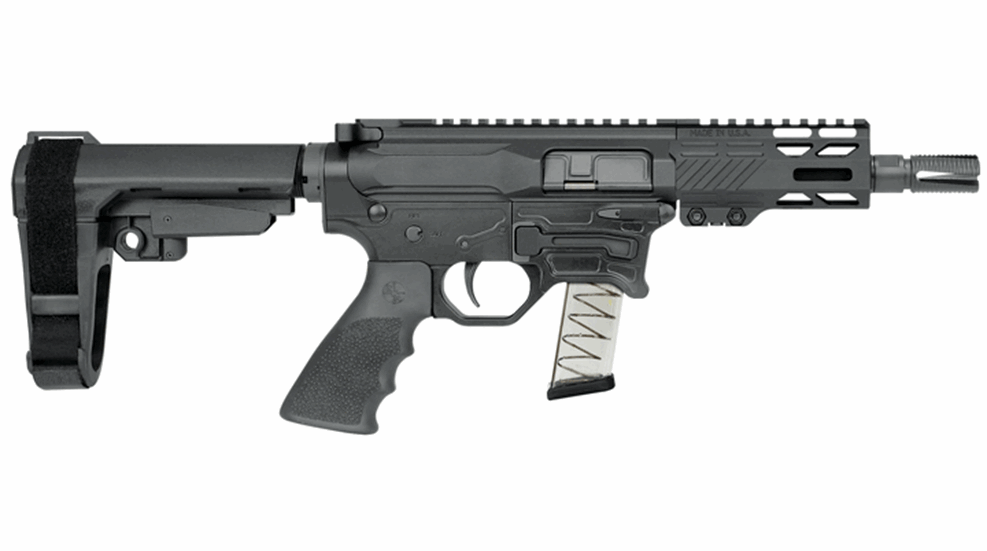 Rock River Arms, known for its modern sporting rifles and pistols, has expanded its series of AR-pattern pistols chambered in 9x19 mm with the new BT-9 line. These pistols have an SB Tactical SBA3 Arm Brace that is designed to work with Glock-style magazines for optimal cross-compatibility with Glock back-up carry pistols, taking personal-defense systems to a new level.
The BT-9 series is based on RRA's billet aluminum lower receiver with a Glock magazine-compatible flared magazine well. Built into the lower is a unique winter-style trigger guard which offers comfortable room for the trigger finger when wearing tactical or cold-weather gloves. The pistol includes Rock River Arms' latest extruded aluminum upper receiver and comes standard with a freefloat handguard that has attachment points for M-Lok compatible accessories.
The chrome-moly barrel features a 1:10-inch twist, with a Smith Vortex flash suppressor along with 1/2-36 tpi threads. The BT-9 pistol incorporates the SB Tactical SBA3 pistol brace with a five-position LOP adjustment, along with an overmolded A2 pistol grip and two-stage trigger. These features add up to an ultra-compact and highly portable AR-platform 9 mm pistol that is ideally suited for use as a home or personal-defense firearm.
Rock River Arms' new BT-9 series offers consumers the choice of four firearms consisting of three pistol configurations and one rifle configuration. The choices include: 
BT92152: 4.5-inch barrel length pistol with a 4.25-inch pistol length, M-Lok compatible handguard

BT92133: 7-inch barrel length pistol with a 6-inch pistol length, M-Lok compatible handguard

BT92142: 10.5-inch barrel length pistol with a 9.25-inch pistol length, M-Lok compatible handguard

BT91700: BT-9 competition model with a 16-inch barrel, 

15-inch extended handguard

and a six-position CAR-style collapsible stock
For more information on the BT-9 series 9 mm AR-pattern guns, as well as other firearms and products from Rock River Arms, please visit rockriverarms.com.