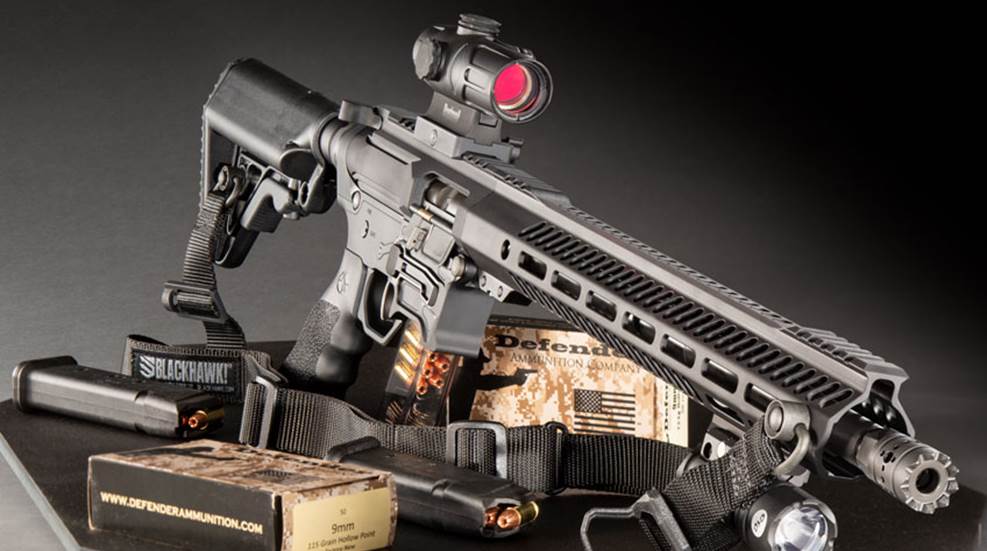 PCCs (Pistol Caliber Carbines) are the buzz of many shooting forums and are the hot, new thing around the "practical shooting" communities. Not only are they far easier to shoot when compared to their handgun brethren of the same caliber, they hit harder and farther in the process. I am a latent fan of the PCC in the competition circles. At first, my attitude was that PCCs are so easy to shoot well in such a short period of time that new participants to the shooting sports might not pick up and learn to shoot a pistol. That attitude has changed to thinking we should all shoot these crazy-fun ballistic tools.

PCCs are not a new thing. The "Tommy Gun" is literally a century old and served in World War II alongside numerous other pistol-caliber submachine guns. H&K, Beretta, IWI, Kel-Tec, CZ and SIG Sauer all offer or have offered 9 mm PCCs that are not of the AR layout and construct. Here, though, my focus is on this fantastic 9 mm, AR-15-based, blowback carbine from Rock River Arms.

Many of you know me as a 3-gunner and competitive shooter and while that is my predilection, this fast, fun and accurate Rock River carbine would be right at home as a first-rate home-defense tool. You just can't beat "fast and accurate" when the chips are down, not to mention the added ballistic energy one gets out of the BT-9 R9 Competition's 16-inch, light-contour 1:10-inch-twist barrel.
Weighing in at 6.8 pounds and sporting a nice two-stage trigger, the BT-9 should have me smiling with its blistering speed and allowing me to accurately place shots at distance. Have I told you I really like good-quality PCCs?  Speaking of good quality, there is a rush to buy these go-fast 9 mm carbines, and some makers are taking the easy way out. Rock River's BT-9 Competition is a handsome and well-machined unit. Just looking at it, one can see the attention to detail you may not find in other market offerings.

Notice the blending and contouring of the upper and lower do not just match, but "flow" together; a point of pride in ownership. Not that the BT-9 R9 needs it, but a nylon-tipped upper/lower tensioning screw is in place to keep this unit tight. Look at what I think is a handsome and wonderfully functional handguard. It is not festooned with "pic-rails." The guard is narrow where it needs to be, yet fully capable of holding a light, fore-grip, laser or what have you, either on the built-in, short Picatinny-rail sections or via the M-Lok mounting holes. Rock River has added a locating pin to keep the handguard square to the receiver, along with a well-thought-out, screw-and-clamp system to keep it all in place.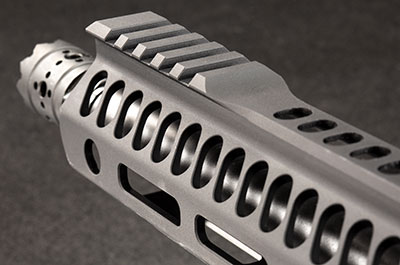 I love the fact that this carbine comes complete, from the muzzle brake and high-quality trigger to the nice and comfortable buttstock (complete with storage compartments). Then, you have some things as simple and effective as the safety-lever design and dimpled takedown pins fore and aft. There are also touches as intricate as the last-round, hold-open arrangement that uses a stamped-steel "bail" to act against the magazine follower to trip the bolt lock. With the high bolt speeds found on many blowback-operated PCCs, Rock River added a spring-rebounding, "floating" firing pin to prevent the possibility of slam fires. This Rock River PCC shows itself to be a well-engineered carbine ready to work (and look good doing it). The next step is to add ammo (lots of ammo) to see if this PCC's beauty is more than skin deep.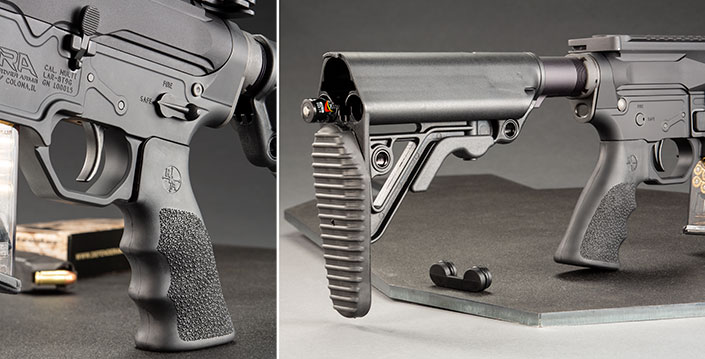 Having snapped some photos, I grabbed a pile of ammunition and headed off to my local public range. This fun little carbine ran through a "break-in period" with some Federal 115-grain American Eagle "Red Box" ammunition and my favorite non-magnified optic, the AR-1X from Burris. It was a blast. Just about as fast as you can think it, the Rock River R9 hits it. From MGM plate racks to B/C zone steel from 10 to 80 yards, nothing on this particular range bay is out of reach.
While at the public range, I sent better than 400 rounds of assorted 9 mm ammunition downrange during this session alone, without a single hiccup. I made it a point to test and try every magazine on hand. Various Glock 17- and 33-round mags, the affordable Magpul PMags and the factory-supplied ETS all worked perfectly. Then it was time for some defensive loads, and those, too, were gobbled up without issue. Now, I'll grant you that while an outing just shy of 500 rounds is not a definitive reliability test, it does give a glimpse into what we might expect. What I did not expect was to have the BT-9 run perfectly with 147-grain, flat-point bullets. I have a good supply of Federal 147-grain FP's and none of my other PCCs will run them reliably. I love this load as it is soft shooting and meets my accuracy needs. Now I have a PCC to run them.
Considering that this Rock River will have a role in defense of home and hearth, I spent some time running a few handgun-versus-carbine drills just to see what's what. The upshot is (as you would expect) the carbine was faster on target from the "low ready" and with a greater hit percentage. At 10 yards, the handgun was a fair match, but I was having a good day. That all changes as we add some distance. From 15 yards and out, the BT-9 R9 carbine bests me on a good day with a handgun, hands-down. I am confident that if something goes bump in the middle of the night, this fast-handling and surefire carbine will get the job done.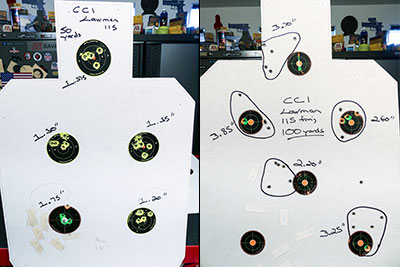 Accuracy? Yup, the RRA BT-9 R9 Competition has it in spades. After bolting on a Burris XTRII 1-8X scope, I set the magnification to the highest setting and settled into some sandbags. Five, five-shot groups were collected at 50 yards, and the average for all 125 shots with five types of ammo was just a shade more than 2 inches. Based on my time behind a few other PCCs, I was rather impressed with the BT-9's accuracy, so much so I punched some holes at an even 100 yards with 25 rounds of CCI's Lawman 115-grain FMJs and they averaged 3 inches. Quite nice, indeed.
So, we have a great-running, speed-dealing, accurate PCC. What kind of velocity gains (if any) do we see?  Glad you asked.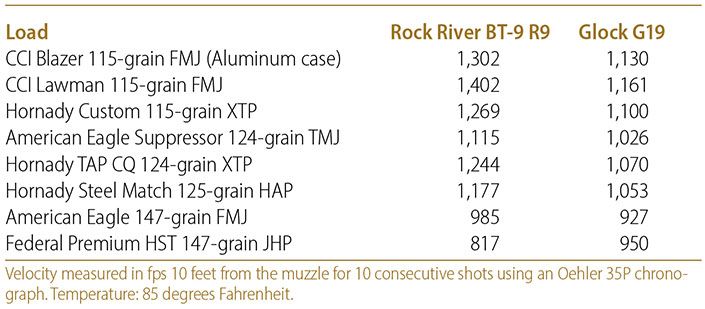 Interestingly, the Federal 147-grain HST Personal Defense load was slower out of the longer barrel. That ammunition is truly optimized for "personal" (handgun) defensive tools.
Again, I am a competitive shooter, but that does not mean I am wholly ignorant of what makes a good home-defense gun. If more power, more controllability and ease of use are qualities you think are good for your defensive needs, then the Rock River BT-9 R9 should be at the top of your list. Contributing to that controllability is something many competitive shooters (and aftermarket suppliers) are focusing on: The buffer system. Rock River has a unique buffer that is a "buffer within a buffer" where a second buffer element telescopes inside the standard-looking buffer. The outside buffer makes contact and full-rearward travel with the buffer tube end and the second, internal buffer dampens that contact further by reducing the spike we would otherwise feel. Rock River has also equipped the BT-9 R9 with what it calls a "9 mm Mini Brake." Mini it may be, but it seemed to help me maintain hits at speed. All in all, it is one of the softest-shooting pistol-caliber carbines in my collection.
Shooting PCCs in general is wicked fun and owing to their lower recoil impulse, weight and ease of handling, they are a great way to introduce centerfire long guns to newer shooters. I am sold on this excellent little PCC. It does everything just the way I want it to, and it looks good doing it. It exudes quality at every glance. This could be one of the truly "double-duty" guns in your collection. Be it a focus on competition or the desire to have the right tool at hand at home, Rock River Arms has seen to it that one does not have to choose between competition or home defense with the BT-9 R9.