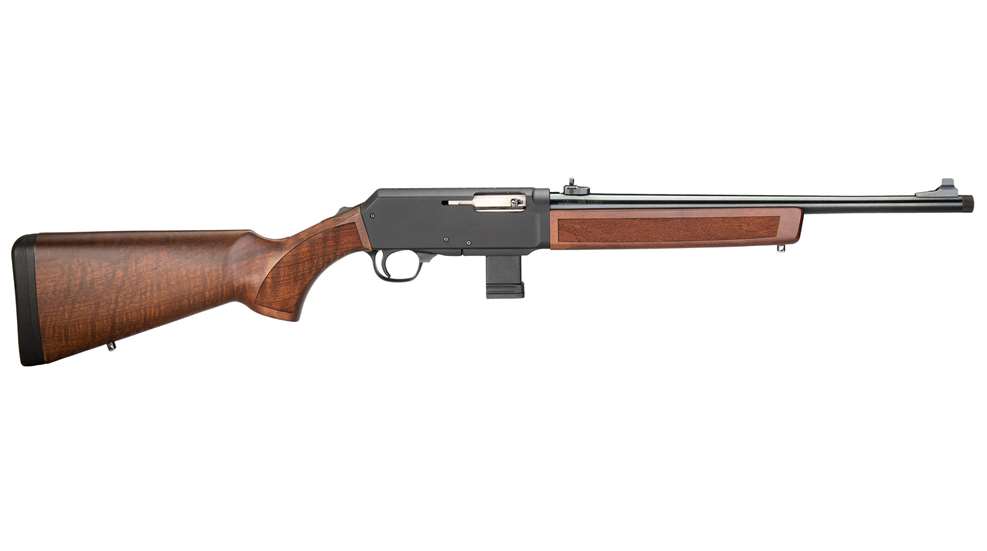 I know, I know. This one took me by surprise as well. Henry, known for decades for lever-action rifles in rimfire and centerfire chamberings, has offered the Homesteader carbine, a semi-automatic 9 mm that feeds from removable-box magazines. Yes, that Henry. Now, Henry is not exactly a novice when it comes to removable-magazine-fed, semi-automatic rifles; the company has offered its take on the .22 LR Survival Rifle—first pioneered by ArmaLite—since the late 1990s.
The Homesteader, though, represents a new direction for Henry, and one the company has adopted with the style and grace you would expect. Rather than a polymer-stocked, rail-festooned carbine or AR-15-style PCC, the Homesteader maintains the wooden stock and fore-end found on Henry's lever-action rifles, but mated to a blowback-operated, semi-automatic action and a removable magazine. Three variants exist: one that takes proprietary five- and 10-round magazines, one that takes Glock magazines and one that can take magazines from either the SIG Sauer P320 or Smith & Wesson M&P. The last two use replacement mag wells similar to the Ruger PC Carbine, although the single unit for both SIG and M&P magazines is unique. The unit we received for testing used the proprietary Henry magazines, so we have no data on how the interchangeable mag wells function.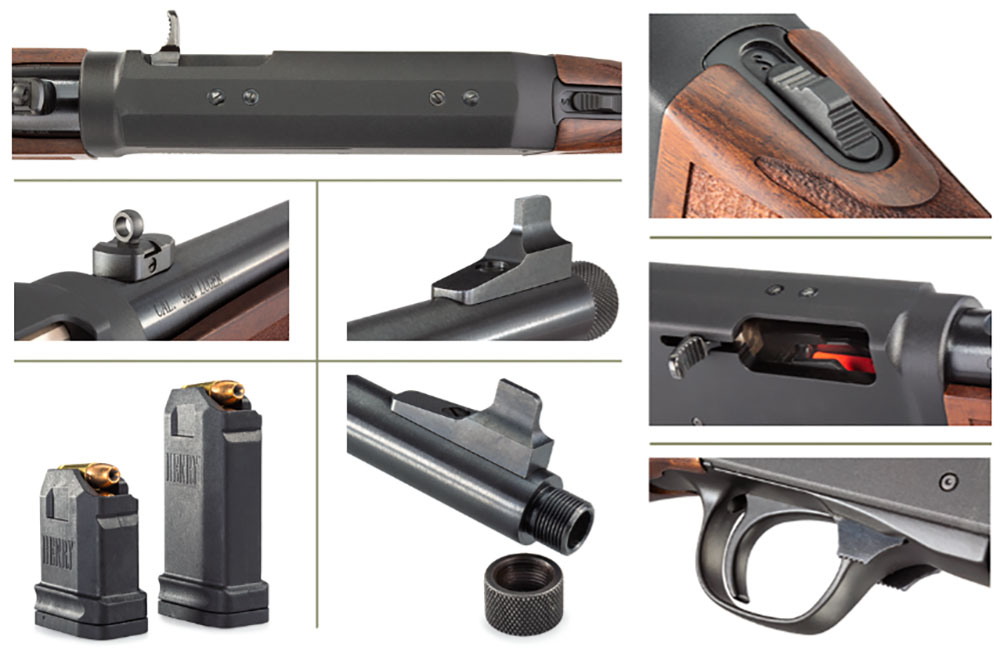 Why the Homesteader? Well, there's a variety of reasons. Having lived in the state of Massachusetts, which extended the 1994 Assault Weapons Ban in perpetuity upon its Federal sunset in 2004, I appreciate a carbine with a removable-box magazine that does not fall under those guidelines—this is a home-defense carbine that homes in many restrictive areas can own. Then, there's aesthetics. Not everyone is a fan of the super utilitarian, post-modern façade of the AR-15 and its PCC variants. There are many fans of classic, wood-stocked rifles who might appreciate a handy carbine for home defense. Of course, the age-old "because it's neat and I want one" is an absolutely valid reason, too.
In operation, Henry's new carbine is a study in simplicity and efficiency. Operating on a blowback system, the Homesteader has been engineered to be as simple and ambidextrous as possible—the bolt handle can be swapped to the left side of the rifle for left-handed shooters, while the safety is mounted on the tang for easy access by either hand. The magazine release is located in front of the magazine well, accessible to either hand. Obviously, the ejection port will still be on the wrong side for lefties, but the Homesteader is about as left-hand friendly as one can find in a non-lefty-specific carbine.
Up top, the Henry is drilled and tapped for a Weaver rail, and comes standard with a ghost-ring rear sight and screw-on front sight. Ghost-ring setups are valued for offering a good mix of speed and accuracy, while the ability to add a red-dot option or magnified scope opens up more possibilities. To help mitigate recoil, both a generous rubber buttpad and a reciprocating mass in the fore-end have been added to the Henry carbine to make the Homesteader easy to control for a wide variety of shooters. It's clear the Homesteader is the result of careful planning and painstaking attention to detail to make it as shooter-friendly as possible, whether for southpaws, new shooters or those averse to recoil.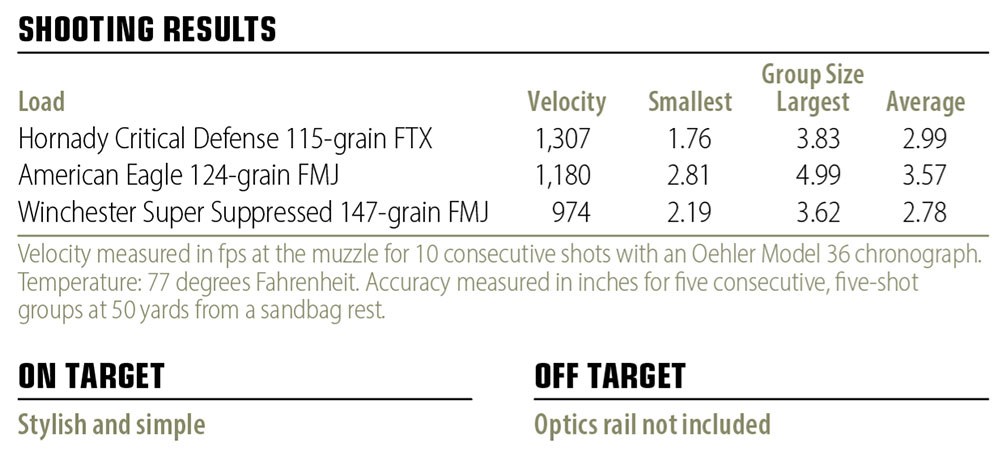 In excess of 200 rounds were fired through the Homesteader with no failures of any sort. The ghost-ring sight provided rapid target acquisition, but left a little to be desired for 50-yard accuracy; a red-dot sight would shrink groups appreciably. Everything from subsonic FMJ to complex hollowpoints fed, fired and ejected without incident.
When it comes to home-defense carbines, the Homesteader adds another option, which is always a good thing. Whether you want to keep the classic lines clean with the Henry five-round magazine or add a bit more capacity with a Glock 33-round magazine (magazine well sold separately), the Homesteader can accommodate. More pistol-caliber carbines are always welcome, even more so when they are in a classic, attractive package.