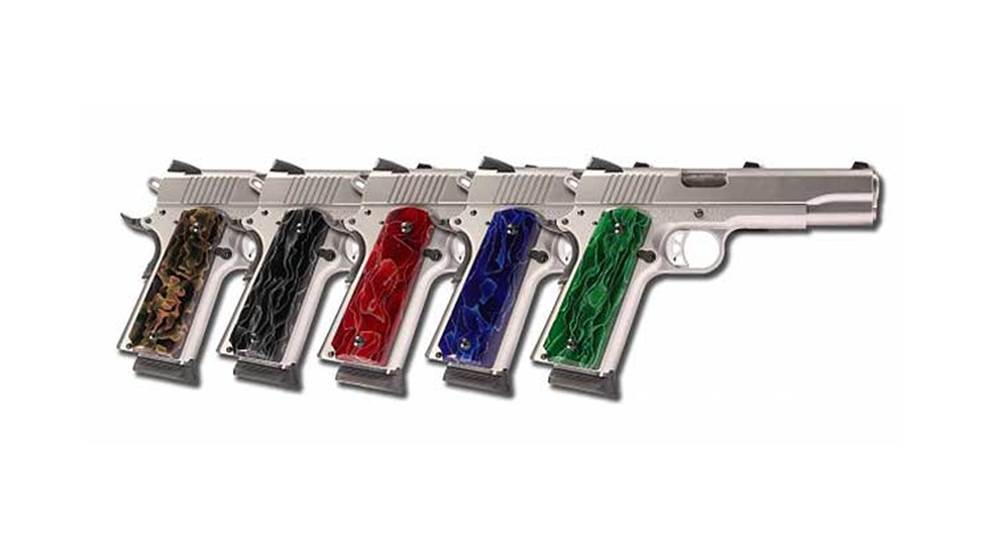 Getting a tight grip on your 1911 is great. Getting a tight grip on a 1911 that looks fantastic? Well, that's just a bonus! Pachmayr is known all over the gun world for being the "go-to" grip solution for any number of firearms, and now, with the Alume Series grips by Raffir for the 1911, they've created a new look for John Browning's masterpiece. Made for Pachmayr by Raffir, a Danish company with more than a decade of experience in developing and treating materials to reach new heights of aesthetics and durability.

"The depth and patterns Raffir achieves in their Alume products is truly amazing," said Trevor Mullen, VP of global marketing and business development for Lyman Products, Pachmayr's parent company. "The Pachmayr Alume grips are the ultimate bling for your treasured 1911, but don't be fooled, these beauties are virtually indestructible."

The new Raffir Alume grips use a composite with aluminum mesh enclosed in a transluscent epoxy resin. The material has a unique 3-D dimensional texture with contrasts between satin light grey aluminum and deep colored, semi-transparent resin, giving your 1911 a distinctive look yet still allowing you to grip it tightly. Pachmayr is offering this new material in five different colors for your 1911: black, blue, brown, green and red. The high-gloss, polished finish is almost indestructible and is impervious to water, weather and chemicals with an elegant and sophisticated style and still allows you to maintain a comfortable firing grip on your pistol.

The new Pachmayr Alume Grip Series for 1911s are available in Dark Knight, Emerald Rush, Blue Storm, Crimson Wave and Copper Canyon. MSRP on the grips is $99.98 and more information is available at lymanproducts.com/brands/pachmayr.