by
Shooting Illustrated Staff
posted on May 22, 2022
Support NRA Shooting Illustrated
DONATE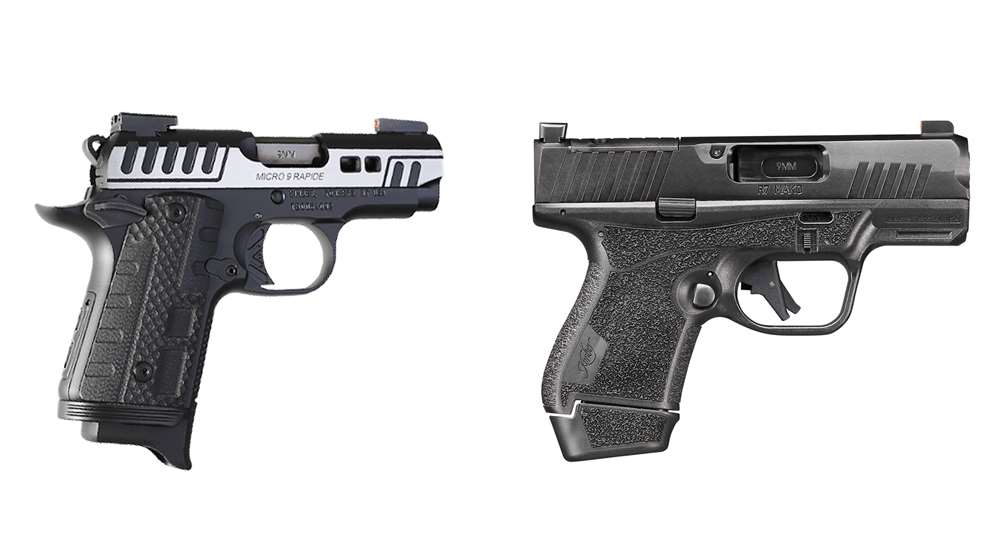 Kimber Manufacturing is adding to its diverse array of handgun offerings for 2022. They are expanding their Rapide line of Custom 1911 pistols, giving more options to its defensive concealed carry customers with the R7 Mako line, and offering a limited edition of the Micro 9 Raptor to celebrate the return of the NRA Annual Meetings for the year 2022.
The Kimber Micro 9 Raptor (Shadow) special edition has been released since early May 2022 and will be sold through August 31, 2022, to celebrate the return of the NRA Annual Meetings. This special version of the Micro 9 Raptor is built to the same dimensions as the Micro 9 Raptor (Stainless) but features the black KimPro II finish on its stainless steel slide and aluminum frame. The (Shadow) also ships with black micarta stocks, comes with Meprolight night sights and includes the new Micro 9 Tac-Mag with 7+1 round capacity. The stainless steel cut match barrel on the Micro 9 Raptor (Shadow) also has an ultra durable DLC finish.
The Rapide family of five-inch Custom 1911 pistols is known for guns built with stainless steel slides, stepped cocking serrations, slide lightening cuts, 5-inch stainless steel match grade barrels and Kimber Mfg's proprietary Stiplex front strap texturing. They also include G-10 stocks and Truglo TFX Pro Day/Night sights. The newest members of the Rapide family (the Dawn and Scorpius variants) will also retain these legendary features and the same type of stainless-steel finish that have helped Kimber Rapide 1911 pattern pistols stand out from the crowd. The new releases include more caliber options such as the venerable .45 Auto and the potent 10mm Auto in addition to the classic 9mm Luger offering that the RAPIDE handgun line is known for. The 10mm (Dawn/Scorpius) will retail for an MSRP of $1,733 and the .45 Auto (Dawn/Scorpius) will retail with an MSRP of $1,713. All pistols will ship with one eight round single stack 1911 magazine.
The R7 Mako, Kimber's flagship 9mm Luger compact concealed carry handgun is now shipping with new ten round capacity magazines which will make this defensive carry pistol available for sale in certain US states with magazine capacity restrictions. Kimber plans to ship both the optics ready and the optics installed versions with these ten round capacity magazines. These magazines will also be available to purchase with flush-fitting base pads or with finger extensions starting at an MSRP of $34.99 on Kimber's website.
For additional information on the 1911 Rapide, R7 Mako, Micro 9 Raptor Shadow and other product offerings from Kimber, please visit kimberamerica.com.