Support NRA Shooting Illustrated
DONATE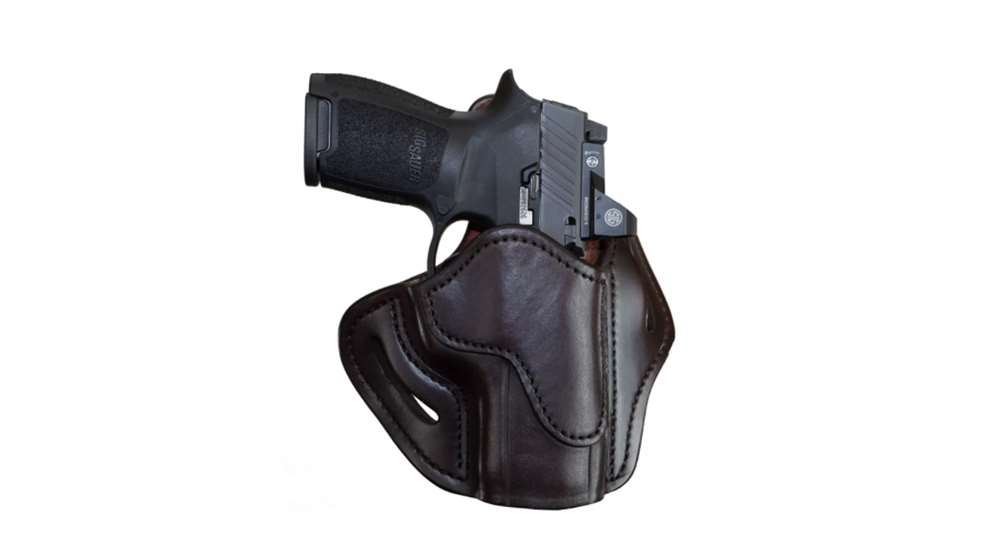 Using a red-dot optic on top of your defensive pistol gives you a number of advantages. The dot allows you to focus on the target, rather than the front sight. Using a dot also helps you engage targets at longer distances than can be easily engaged with conventional iron sights. A red-dot optic is also useful for people who have trouble seeing the front sight because of vision issues of one kind or another.
There are, however, downsides to a red-dot optic on your pistol. It can be expensive to add one to your gun, often costing as much as the gun itself. Adding a red dot can also change which holsters work with your pistol, which is why 1791 is adding more red-dot-compatible holsters to their lineup.
The first optic-ready holsters from 1791 Gunleather were well-received by firearm owners looking for a new way to carry their pistols.Now these new optic-ready holsters are ready to continue the legacy of quality with the added functionality that gun owners need from a holster that works with their optic of choice.
The new holster models include the standard belt holster as well as Paddle Mount and Ultra Custom configurations. Other holster options from 1791 that are compatible with red-dot optics include the Open-Top 2.4, 2.1 and 2.4S Multi-Fit Holsters, the Compact Multi-Fit Holster and the 1911 and 1911 Commander Size holsters. 
Just like other 1791 Gunleather products, the new optics-ready holsters are made using 100 percent American certified steerhide leather which blends modern production techniques with old world leather craftsmanship, making each holster worthy of your favorite firearm.
1791 Optic Ready Holster Features
Built to accommodate most pistol optics
Multi-fit design
Sweat guard
FBI Forward Cant


For more information on the full line optic-ready holsters or other products from 1791 Gunleather, please visit 1791gunleather.com.