by
Shooting Illustrated Staff
posted on August 27, 2020
Support NRA Shooting Illustrated
DONATE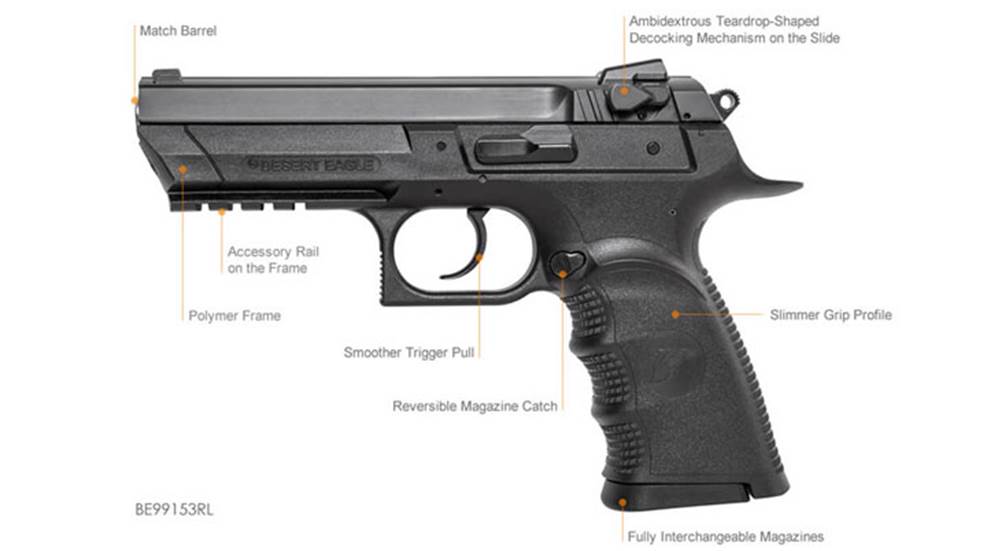 The Baby Eagle pistol has been an icon of the shooting world since the introduction of its ancestor, the Jericho pistol, in the 1980s, which in turn uses elements of the iconic CZ 75 pistol. Now the new Baby Eagle III series is the latest version, imported by Magnum Research and manufactured in Israel by BUL Transmark.

The Baby Eagle III series steel frame guns feature the slimmest grip ever offered on a Baby Eagle handgun, making it easy for any shooter to grip its double-stack frame. The new pistol also features a smoother profile than previous Baby Eagle models, which adds to the already sleek Baby Eagle appearance. The steel frame guns will be offered in either 9 mm and .45 ACP, and polymer framed models will be available in either 9 mm and .40 S&W. Both the steel and polymer guns will be offered in either full and semi-compact sizes.
Joby Goerges, director of manufacturing and engineering with Magnum Research, stated that the Baby Eagle "..continues to be in high demand, and is very popular with fans. It is well known from appearances in popular movies, television shows, and video games. This gives the Baby Eagle a huge fan base, and in particular, feeds big demand amongst younger shooters."

Like its big brother, the Desert Eagle, the Baby Eagle is an icon of both popular culture and the shooting community. In addition, the full-length dust cover and weight of the steel framed Baby Eagle helps it soak up recoil and keep it on very soft shooting. The traditional double/single action (DA/SA) trigger of the Baby Eagle has a 12-pound trigger pull (DA) and 4-pound pull for single action. All versions of the gun have three white dot fixed sights and ships with two magazines.  
MSRP on the Magnum Research Baby Eagle III starts at $646, and more information is available at magnumresearch.com.