by
Shooting Illustrated Staff
posted on February 6, 2022
Support NRA Shooting Illustrated
DONATE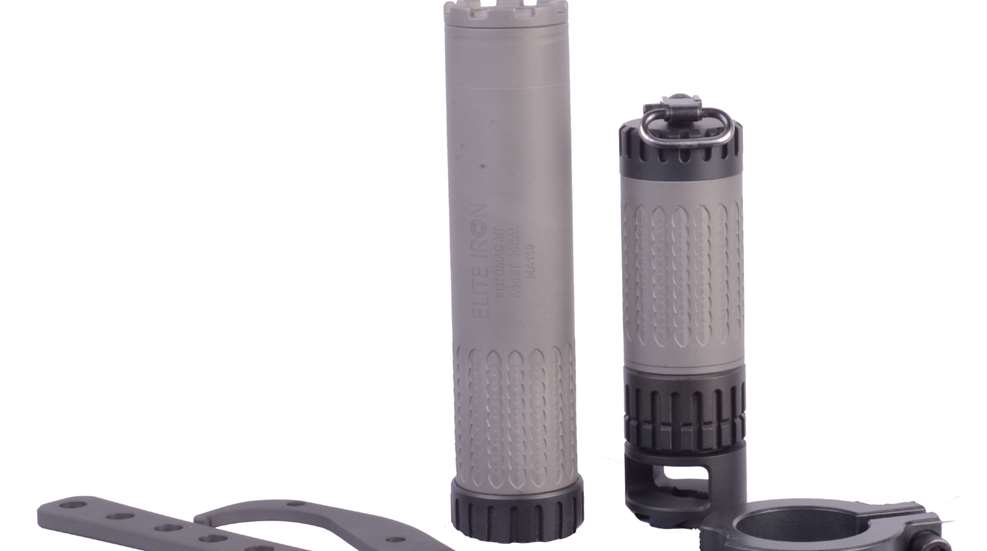 Elite Iron is a designer and manufacturer of high-quality firearms suppressors, bipods and accessories. Now the company is adding the modular, multi-caliber ASSET suppressor to their product line.
The new patented ASSET suppressor is an all-modular design and is available in either .30- and .375-caliber models. Titanium, aluminum and 4140 heat-treated construction of the ASSET gives you a rugged yet lightweight suppressor for your firearm of choice. The ASSET .30-cal weighs in at 23.5 ounces fully assembled with the muzzle brake attachment, and removing the 2nd stage lowers the weight to 16.5 ounces. The ASSET .375-cal weighs 40 ounces with the brake or 32 ounces with the 1st stage and brake, and 27 ounces for the 1st stage with castle nut. The interchangeable direct thread mounts allow for modularity from .223 Rem. to .300 Win. Mag. for the ASSET 30-cal. and .300 Norma to .375 CT for the .375-caliber ASSET.
The ASSET can help improve your long range accuracy by controlling the gas flow from the barrel. The internal design allows the pressure to spread out along the base and body of the projectile, resulting in less disruption of the bullet in flight.
The ASSET has four different configurations out of the box. The first stage can be used with the castle nut when a compact size is more desirable, or use both stages with the muzzle brake with your ASSET  if maximum suppression and flight control is your goal.
The 1st and 2nd stage of suppressor, castle nut, muzzle brake and 2 tools for disassembly is included with each ASSET suppressor.
MSRP for the ASSET .30 cal is $1,495, and the MSRP for the ASSET .375 cal is $1,795. For more information about the range of gear available from Elite Iron, please visit eliteiron.com.