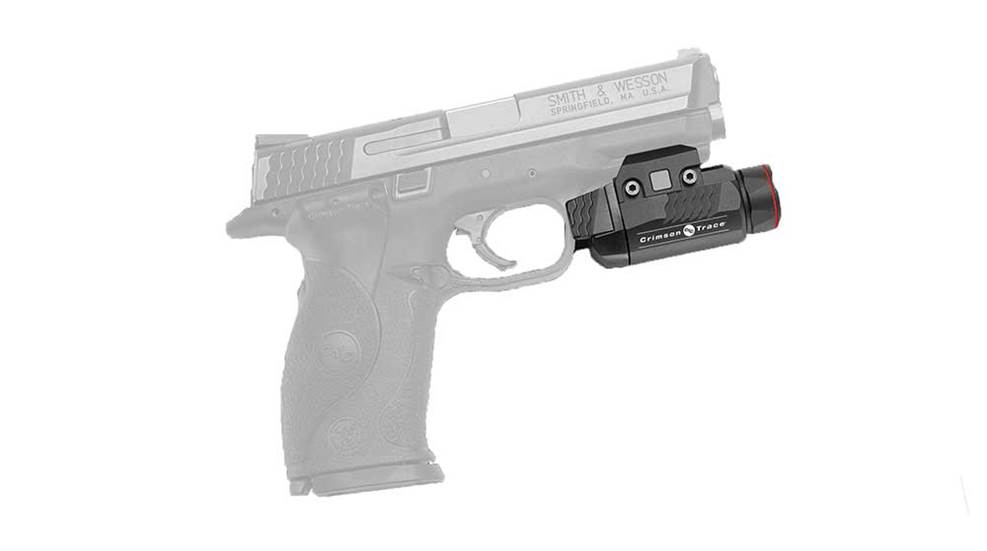 Whether for home-defense or personal protection in the wider world, having an illumination tool to light up potential threats in dark surroundings is imperative. While some may choose to use a handheld light in the support hand, having a firearm-mounted tactical light ensures users can have a solid, two-handed grip on their defensive firearm or a free hand for other tasks, and the
Crimson Trace
CMR-208 Universal Tactical Light is one of the latest on the market.
While the company has had firearm-mounted laser/light and light-only products in its product line for a number of years, the new CMR-208 takes the tactical weaponlight to the next level, having an up-armored housing machined from anodized aluminum instead of the molded-polymer models previously offered in the company's Lightguard lineup. This provides impact resistance rated for drops of up to 1 meter and a waterproof rating in standing water up to a meter deep.
The other enhanced element of the new Universal Tactical Light is increased output. Other light-only models in the Crimson Trace product line provided maximum outputs of around 100 lumens, such as the company's Lightguard and Rail Master Pro. The CMR-208 provides a maximum output of 420 lumens, ensuring that users have a much more powerful illumination tool that brightens every dark corner and reaches out further than ever before.
Additionally, the new tactical light is available with a number of different user-activated modes, such as high, low, strobe and momentary-on. The light's low mode is still more powerful than many of Crimson Trace's earlier models, providing a maximum output of 110 lumens. Powered by a single CR123A battery, the light's battery life in high is 1 hour, 5 minutes. In low mode, that battery life stretches to nearly two hours. With a battery installed, the entire CMR-208 weighs just 4.1 ounces. 
Users activate the light's modes through two paddles located at the rear of the unit. When mounted on a firearm's accessory rail, the paddles are positioned just forward of the trigger guard, providing an intuitive activation point for both left- and right-handed users. The light will fit any firearm equipped with a Picatinny accessory rail, but owners of
Smith & Wesson
M&P handguns will notice that the textured surface of the CMR-208 Universal Tactical Light matches the slide serrations used on popular M&P series guns. Suggested retail price is $99.99.