by
Shooting Illustrated Staff
posted on October 31, 2017
Support NRA Shooting Illustrated
DONATE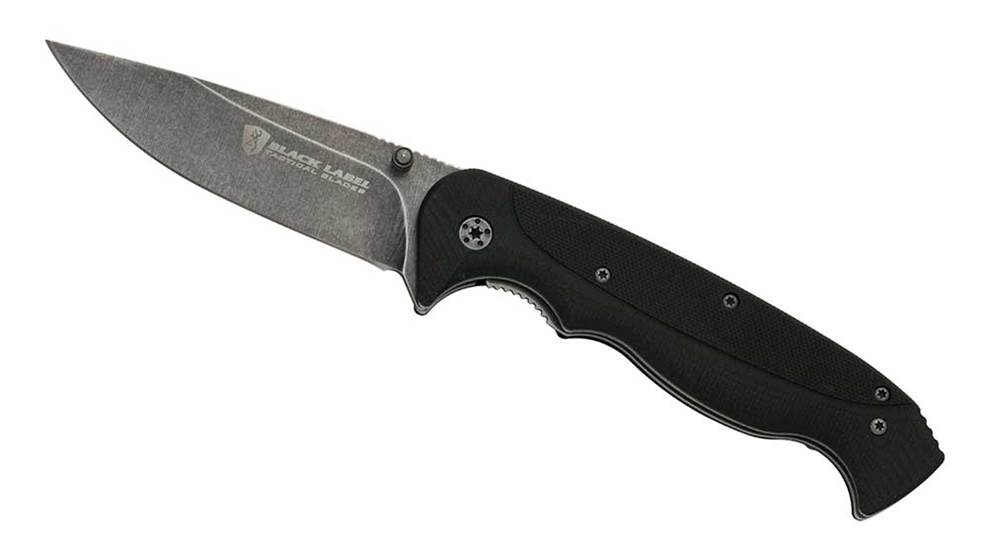 In late 2017,
Browning
rolled out several new additions to its line of tactical knives. One of the newcomers to the company's Black Label collection was The Equal, a tactical, everyday carry design built to handle the rigors of daily use.
Browning's Black Label collection is developed with the input and experience of Jared Wihongi, a noted instructor in the use of edged weapons for law-enforcement officers and military members. Wihongi has his own line of blades with Maori-inspired designs, but his expertise spills over into other tactical and daily-carry blades designed by Browning, like The Equal.
The Browning The Equal folding knife is constructed with ergonomic scales machined from weatherproof, textured G-10 fiberglass laminate. These durable scales include specially designed non-slip grooves that ensure users maintain absolute control over their knife, even with wet hands. The scales also feature an ergonomic cut that allows for a comfortable, secure grasp on the handle when the blade is deployed.
Between the scales, owners will find a folding blade made from 7Cr17MoV stainless-steel. This steel features a larger percentage of vanadium than other blade steels, offering a tougher, more wear-resistant blade that holds an edge well. The Equal measures in with a Rockwell Steel Hardness of 56-58. The metal features an attractive black-stonewash finish.
The blade is cut with a traditional drop-point design, which is popular for many daily-carry and general-use knives on the market today. The drop-point blade style features a fine point that allows for fine precision cutting, while the large slicing area on the belly of the blade enables users to perform broad cuts when needed.
Specs-wise, the Browning The Equal knife features a blade length of 3.5 inches. When deployed, the overall length of the knife is 8.5 inches. With the blade folded away, the overall profile of The Equal measures in at 5 inches.
To deploy the blade, Browning equipped The Equal with thumb studs on both sides of the blade, allowing for use by both left-and right-handed individuals. In addition to the thumb studs, The Equal can also be deployed through the use of an integrated flipper, providing knife enthusiasts with multiple opening methods. Once the blade is deployed, a liner lock secures it in place.
The Browning The Equal folding knife is available with black scales only and comes equipped with a pocket clip. The suggested retail price on the knife is $24.99.