by
Shooting Illustrated Staff
posted on October 28, 2021
Support NRA Shooting Illustrated
DONATE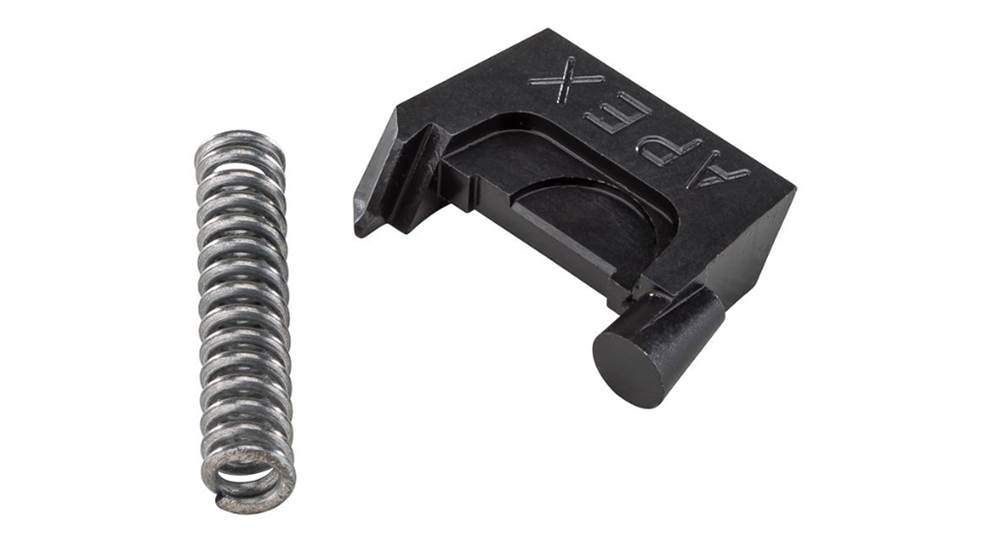 Today's firearms are more robust and more reliable than ever before. However, even perfection can use a helping hand now and then, which is why there is a robust market in aftermarket pistol parts designed to improve the reliability of your gun.
Now Apex Tactical Specialties is adding to its line of Failure Resistant Extractors with the release of two new extractors, one for the SIG Sauer P320 model pistols in 9 mm, .40 S&W and .357 SIG, and one for the slim frame Glock models G43, G43X and G48. These new extractors join Apex Tactical's already extensive line of aftermarket parts for pistols built by Smith & Wesson, Ruger, Walther, CZ and more.
The Apex Failure Resistant Extractor is designed with a more robust extractor claw and improved geometry in order to produce a more durable extractor that will deliver consistent extraction and a more uniform ejection pattern. The extractor is machined from a billet of heat-treated stainless steel and the critical engagement surface features Apex's custom extractor hook geometry. As an added touch, the extractors are Black Melonite finished at Apex Tactical for enhanced durability.
Apex already offers Failure Resistant Extractors for the Gen 3/5 Glocks, Gen 4 Glocks, FN 509, Springfield Hellcat, M&P and M&P M2.0 model pistols. Like all aftermarket parts from Apex Tactical, the Failure Resistant Extractor for the SIG P320 or Glock G43, G43X and G48 are available directly online as well as through other dealers, online retailers and distributors.
Failure Resistant Extractor Features and Specifications:
Replaces factory extractor
Features Apex's custom extractor hook geometry
Provides consistent, reliable extraction
Easy to install
Fits the SIG Sauer P320 in 9 mm, .40 S&W and .357 SIG
Separate model available for the Glock G43, G43X and G48
MSRP for the Failure Resistant Extractor is $59.95, and more information on this item and other products from Apex Tactical is available at apextactical.com.